Taking Home Inventory Up a Notch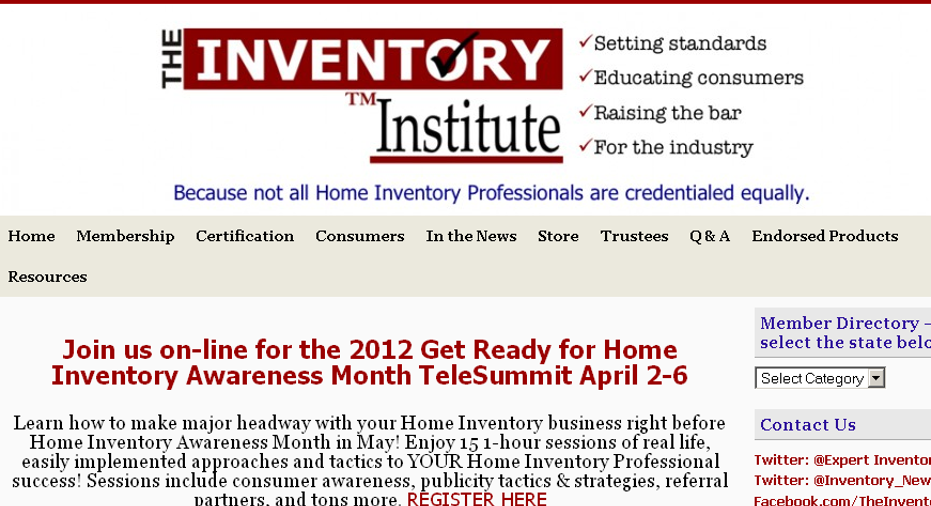 We're highlighting small businesses from around the country as nominated by you, our readers. If your favorite small business is using Twitter to communicate with customers, let us know about it @fbsmallbiz with the hashtag #mysbc, and it may be featured as an upcoming Small Business of the Day.
Small Business of the Day: The Inventory Institute
Who: Founder Michelle Ketterman, 44, @expertinventory
What: A membership and certification organization for home inventory professionals
When: 2009
How: Ketterman has worked part-time in the home inventory industry since 1996, and decided to pursue a full-time career in 2008. She sought to align herself with an organization for such professionals and found there was no such group.
"It was born out of a need for legitimacy in the industry," she said. "There was no organization where home inventory professionals could get together, collaborate and have peer-to-peer conversations and support."
Where: Dallas
Biggest lesson learned: "At the end of the day, your reputation is everything," she said. "Your reputation and brand follows you everywhere so you need to be transparent and operate with integrity."
To view more Small Businesses of the Day, click our interactive map.