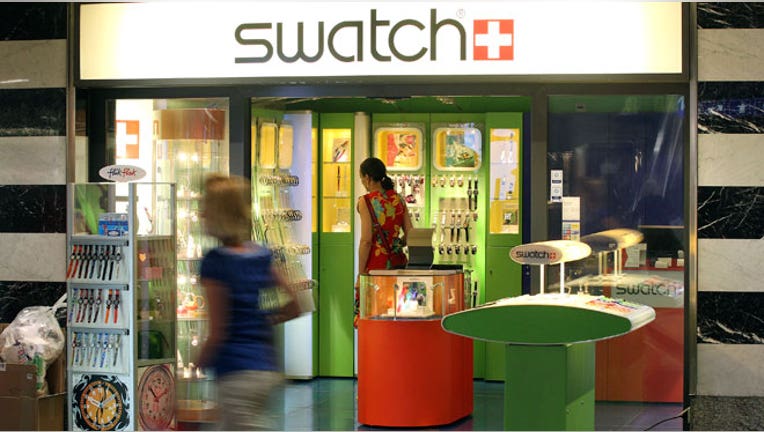 Swatch Group on Tuesday warned of an uncertain outlook for its major market Hong Kong after reporting an 11.5 percent fall in first-half profits due to a strong Swiss franc, costs linked to the Sochi Olympics and a factory fire.
Chief Executive Nick Hayek said he was concerned about the situation in Hong Kong, where pro-democracy protesters have clashed with police in past weeks.
"There's a lot of uncertainty because of this ... conflict. Fewer people visit Hong Kong and our stores there. But the main problem is with wholesale. Retailers are worried and buy fewer watches. This uncertainty will persist for some time," he said.
Hong Kong accounted for nearly a fifth of total Swiss watch exports in the first half, worth some 2 billion Swiss francs. Last year, Swatch's sales to Greater China were 3.2 billion francs, 38 percent of total group sales.
Swatch, the world's largest watchmaker, has already been grappling with sluggish demand for high-end watches in the Chinese market where a crackdown on gifts for favors has hurt watch sales.
Barclays analysts said of Hong Kong: "Given that this a high margin and important region for the sector and has seen weaker retail sales data recently this may be a focus today."
Swatch shares, which have underperformed peers with a 13 percent drop this year, were down 1 percent by 1019 GMT, lagging a 0.7 percent rise in the European sector index.
The company does expect margins and sales to recover in the second half of the year as the negative impact from the strong Swiss franc wanes and demand in the United States and Japan holds up.
"Our watches and jewelry sales rose at a double-digit pace in local currencies in July and we expect that trend to continue in the second half," Hayek told Reuters.
He said demand in Europe was still sluggish, but the United States and Japan were robust. Mainland China also picked up, with Swatch and Harry Winston brands doubling their sales and Omega returning to growth, while high-end Breguet still struggled.
Swiss watch exports overall rose 1.4 percent in June and 3.0 percent in the first half, data also showed on Tuesday. Exports to Hong Kong in June were down 2.2 percent.
MARKET SHARE
Marketing expenses for the Olympic Games in Sochi, for which Swatch's Omega brand did the timekeeping, the fire at its production unit and a strong Swiss franc squeezed net profit and margins in the first half.
Net profit at the group fell to 680 million Swiss francs ($757.24 million), just below a forecast for 690 million francs in a Reuters poll, and the operating margin fell to 20.2 percent, from 22.7 percent a year ago.
Gross sales rose 4 percent to 4.347 billion francs, also short of a 4.438 billion forecast in the poll. When excluding currency swings, they rose 8.5 percent.
The fire at Swatch Group's Swiss production facility ETA knocked about 200 million francs off gross sales and also hit profitability. Hayek said things had returned to normal in July.
"Our reported sales in the second half should be above the first half's level and I also see upside potential for the margin as the negative currency impact lessens," he said, adding the comparative basis for currencies was getting easier.
Swatch generally puts more emphasis on market share than margins. Hayek said the company would continue to give market share gains priority over price increases.
"We are not convinced that Swatch will see a significant improvement in revenue growth in the second half, and management's margin guidance for the year remains unclear following significant margin compression in the first half," Citi analyst Thomas Chauvet said in a note.
Speculation about a possible launch of an iWatch by Apple have weighed on Swatch's share price, but when asked whether he would consider teaming up with a tech group to create such a wearable device, Hayek said: "We already have all the knowhow, we don't need a partnership!"
He dismissed concerns sales of the group's lower-priced watches could suffer.