Surging Groupon Faces Skepticism Amid Wave of Wannabes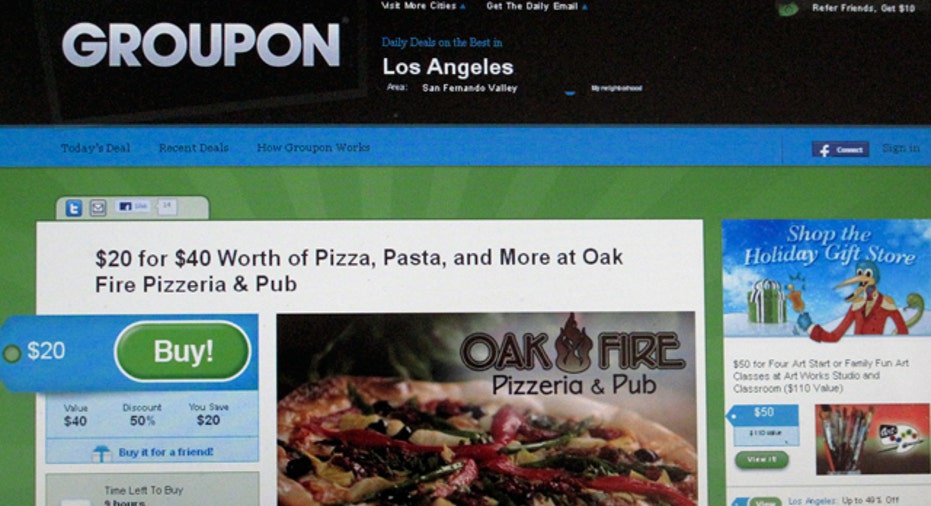 Groupon has climbed aboard a rocket ship of explosive growth to soar near the top of the Web 2.0 world, but the deals site may be headed for turbulence as it gears up for an expected IPO and fends off a never-ending line of new competitors.
It's hard not to be impressed by Groupon's transformation from a start-up to an imposing force in the e-commerce world. Over the past year, Groupon has grown from 200 employees to 6,500, from 3 million subscribers to 70 million, and has seen its potential price tag surge from $1.4 billion to more than $25 billion.
Groupon's breathtaking growth has attracted scores of wannabes -- some with deep pockets like Google (NASDAQ:GOOG) and Facebook -- who realize the company's business model isn't all that hard to replicate. In business jargon this is referred to as barriers to entry -- and in this case those barriers are very low.
The emergence of all those competitors has led many to question how durable Groupon's perceived competitive advantages really are, and thus how realistic its soaring valuation really is.
"Right now, as Groupon is currently constituted, there is tremendous current and coming competition," said Scott Kessler, head of technology equity research at Standard & Poor's. "Without question that's a big risk, especially given the exponential growth the company has achieved."
The competition question isn't the only one facing Groupon, which must also lure a new No. 2 exec to its Chicago headquarters after Rob Solomon announced his departure last week.
To be sure, Groupon is one of a cluster of Internet companies like Twitter, LinkedIn and Pandora currently riding the coattails of social-networking darling Facebook.
"It is kind of 1999 revisited," said Roger Kay, president of Endpoint Technologies, alluding to the dotcom bubble more than a decade ago. "There is this kind of frothy quality to these social era companies right now where valuations rocket."
In its defense, Groupon spokeswoman Julie Mossler said the company has attained crucial "knowhow" in the local deals space that "clones" lack. Specifically, Mossler points to expertise in marrying merchants with customers and Groupon's ability to closely scrutinize the data it has gleaned from customers.
"It's easy for someone to set up a site and find a merchant and a deal. But it's the before and the after that separates us," said Mossler.
Gobbling Up Groupons
Don't feel left out if you haven't heard of Groupon. The deals site was launched by Andrew Mason just over two years ago, but has since been dubbed by Forbes the fastest-growing company ever.
Groupon emails its surging list of subscribers daily discounts -- dubbed Groupons -- for a wide range of activities, from dinners and movies to Caribbean resorts and skydiving. The revenue from the discounts are typically split 50/50 between Groupon and the merchant, which hopes to have just captured a customer it never would have otherwise.
It would be an understatement to say the idea has caught on. Groupon has grown to 44 countries in the past year and its deal-of-the-day business is poised to generate $3 billion to $4 billion in 2011, far surpassing 2010's $750 million, according to Bloomberg's BusinessWeek.
"When things move quickly like that, sometimes they aren't done thoroughly, [leading to] questions about how it will hold up under unknown future forces," said Kay. "If I was the board and management, I'd want to get my money and get out sooner."
Now Groupon is gearing up for an initial public offering that it hopes will come later this year with a lofty price tag north of $25 billion. To put that into perspective, eBay (NASDAQ:EBAY), which was founded in 1995 and brought in $9 billion in revenue last year, is worth just $40 billion.
"Right now their revenues are way out of line with these extreme valuations," said Rob Enderle, principal analyst at the Enderle Group. "By no means would this be a conservative investment."
The crux of Groupon's problem, which it seems to realize, is that there is little stopping rivals from replicating or even topping its model by offering deals that are more heavily discounted or more targeted.
"Google has algorithms that are pretty complicated. It has a technological defense. Groupon has a brand and an infrastructure. But could anyone else just do it?" said Kay.
Seeing the tremendous valuations Groupon has captured, competitors have swarmed to the deals space. Groupon faces pressure from startups like LivingSocial, BuyWithMe and Bloomspot, as well as from heavyweights like Yahoo! (NASDAQ:YHOO), Microsoft (NASDAQ:MSFT), Google and Facebook. Media companies like The New York Times Co. (NYSE:NYT) and digital lifestyle publisher Thrillist have also entered the fray.
"While Groupon tries to be all things to all people, there is the potential to lose a lot of share of customers only interested in certain things," said Mike Rothman, general manager of Thrillist Rewards, which says it targets its "sweet discounts" and "limited-time-only experiences" to a niche group of affluent men in their 20s and 30s.
The wide field of competitors puts a premium on time, sparking a race to see who can expand their business at the fastest pace and lay claim to the deal space.
"Everybody else is behind Groupon, but Groupon has to scale out very rapidly or they will find themselves displaced," said Enderle.
Groupon 2.0?
Attempting to raise the low barriers to its business, Groupon is currently beta testing a more sophisticated service in Chicago that offers real-time deals based on one's location and desire.
Called Groupon Now, the new program asks smartphone users if they are either hungry or bored and then serves up a limited number of deep discounts aimed at marrying a merchant's needs with a customer's cravings.
For example, a local deli that turns into a ghost town during lunch hour on rainy days could offer a slew of 50%-off Groupons to attract customers. Groupon would arm business owners with the technology to make the incentives in real-time.
Groupon Now is expected to be rolled out in the next several weeks in three or four other cities, potentially including Washington D.C. and San Francisco.
Thanks to pockets that are flush with cash from recent investments, Groupon has the means to invest heavily in this new technology, beating the startups to new ground.
"What they're trying to do is move up the sophistication chain," said Kessler. "Then it becomes something that not everyone can achieve."
Of course, tech titans like Google and Microsoft already have the cash and technology to offer location-based deals.
In an effort to head off those with the means to copy this strategy, Groupon is filing a patent around the idea of offering discounts based on time and location, BusinessWeek reported.
Meanwhile, Groupon has concerned some by announcing the departure of Solomon, its president and chief operating officer. Groupon is apparently looking for someone with a deeper resume to help drive its next stage of growth, akin to Facebook's savvy 2008 addition of Sheryl Sandberg from Google.
"This is one of the fastest growing companies I have ever come across and now they're left with a vacuum at the COO position. That strikes me as inherently problematic," said Kessler.
The situation is complicated by the relative inexperience of Mason, 30, and the fact that many Silicon Valley types who would be candidates for this Chicago-based job prefer to stay in, well, Silicon Valley.
"The opportunity to work at the fastest company of all time and change the face of local commerce… outweighs whether or not it snows where you live," said Mossler.
Groupon could still lure a world-class COO to jump on board soon. And questions about a lack of experience also dogged future-tech rock stars Bill Gates and Steve Jobs.
"Their bench isn't very deep but sometimes that means they can be more agile and take more risks," said Enderle.