Super Bowl 50 Security Ready After Paris, San Bernardino Attacks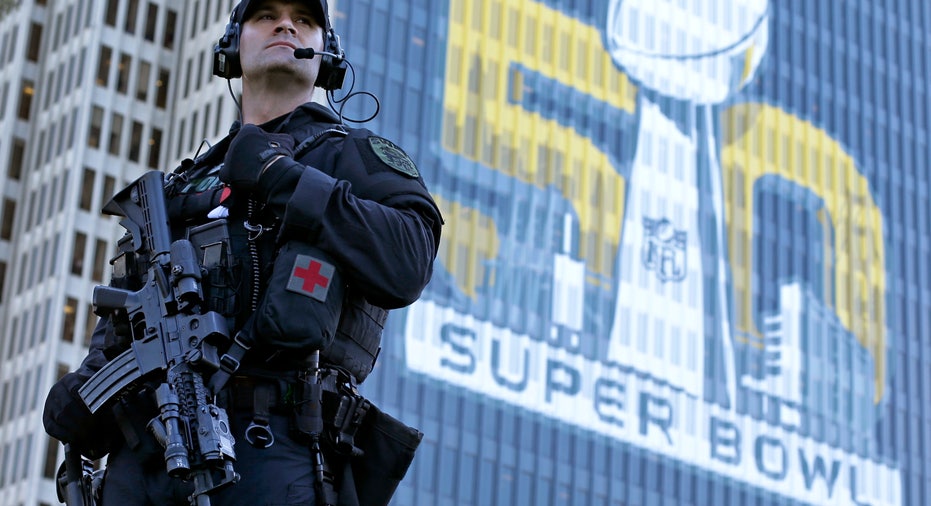 Law enforcement authorities are engaging in a massive, collaborative effort to safeguard the hundreds of thousands of civilians traveling to the San Francisco Bay area for Super Bowl 50. Representatives of about 30 federal agencies, as well as state and local officials, will be on hand at Levi's Stadium in Santa Clara when the Denver Broncos face off against the Carolina Panthers on Sunday.
While there isn't a specific or credible threat to Super Bowl 50 or its tens of thousands of attendees, the Department of Homeland Security has classified the game a Special Event Assessment Rating level 1 (SEAR 1) event, just below the classification that was applied to Pope Francis' visit to the United States last year, Fox News learned this week.
Officials from the FBI, Secret Service, ATF and various other branches are teaming up with local law enforcement to ensure the game remains safe and secure. F-16 fighters will be on standby, as will SWAT teams and cybersecurity experts. Tatum King, the ICE Homeland Security Investigations San Francisco deputy special agent in charge, has been designated "federal coordinator" for Super Bowl 50, responsible for overseeing all security operations.
Security has always been a paramount concern at events like the Super Bowl, where the presence of so civilians and millions of television viewers make stadiums a target. But the evolving threat posed by hackers and "lone-wolf" terrorists, such as those who targeted San Bernardino, California and Paris with deadly attacks in recent months, has forced authorities to rethink their strategies for safeguarding sports fans.
"There are these high-profile, high visibility events that, because there are so many people attending, whether there's specific intelligence or not, they're considered a very attractive target," John Cohen, a former counterterrorism coordinator at the U.S. Department of Homeland Security and professor at Rutgers University in New Jersey, told FOXBusiness.com.
Planning for the Super Bowl begins months, if not more than a year, in advance of the actual event, according to Cohen. Officials in charge of the Big Game often attend the previous year's event to observe safety protocols, sit in on meetings and get a sense of what is required to protect a crowd of this size. Months before the game starts, law enforcement officials conduct a threat assessment to determine the biggest safety risks and concerns.
As preparation ramps up for Super Bowl events and tourists start to arrive in the host city, authorities step up video surveillance around the stadium and begin to screen individuals near the venue. Local law enforcement officials pay close attention to reports of suspicious activity. Stadium workers are subject to increased scrutiny, and officials may set new rules on what sorts of packages can be brought into the arena.
By the time Super Bowl 50 kicks off on Sunday night, authorities will have secured the airspace near Levi's Stadium and set up mobile and fixed command posts around the area. Radiological and chemical detectors will be installed around the stadium and carried by police officers to rule out the presence of bombs or other deadly devices.
Multiple SWAT teams will be on standby nearby and ready to respond to any danger. Law enforcement officials have developed and practiced plans for exactly how to deploy their resources should a threat arise.
"If you have a major 'active shooter' type of event, how are you going to respond? Where are people going to stage? Where are you going to triage people? If you have an explosive type of event or a biochemical weapons event, they've developed plans and playbooks on what to deal with those issues," Cohen said.
Crowd surveillance is a key element of security at events of the Super Bowl's magnitude. Officials rely on hundreds of cameras – both temporary and permanent – that are set up around the stadium to gather intelligence and act as a deterrent. Camera systems also allow officials to strategically dispatch police officers and crisis responders.
"You want people to feel secure, but not have so much security that they feel threatened or they feel there's an immediate danger," said Fredrik Nilsson, a top executive at Axis Communications, which has collaborated with authorities on events such as the Little League World Series and the Academy Awards.
"You also want to make sure there's enough deterrents for people that might have plans to do anything, but not so much deterrents that people feel it's so cumbersome to get in, so they stop going to those events. You need to have a certain flow to manage this amount of people for crowd control," Nilsson added.
Authorities dedicate months of planning and millions of dollars in resources long before the Super Bowl occurs to ensure that everything runs smoothly on game day.
"That's what this whole planning process is about – minimizing, to the greatest degree possible, the risk posed by those who may see this as an opportunity to further their terrorist cause," Cohen said.