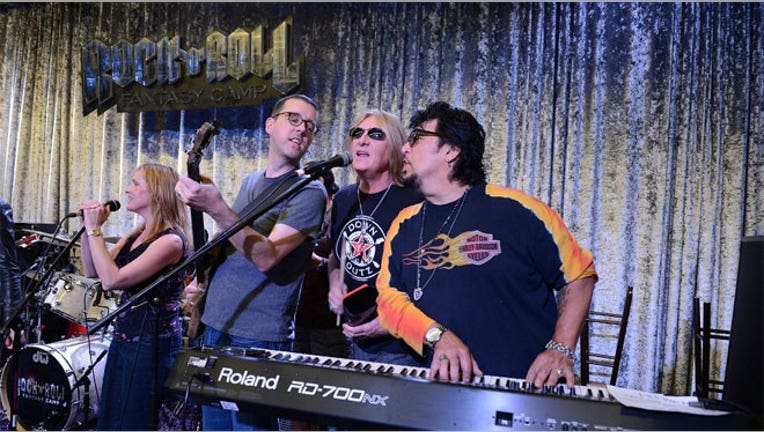 Mary Carboni knew she had to do something big for her husband Bob's 50th birthday. So she sent him to Las Vegas to become a rock star, and she went as his groupie.
"It was really unbelievably awesome, there's no other way to describe it. It was a life-altering experience: I met musicians I am huge fans of and they treated me like a peer….that's when you start to feel like, 'Hey, I am a rock star, too,'" reminisces Bob.
The couple, who live in New Jersey, attended Rock and Roll Fantasy Camp earlier this summer for five days where Bob was assigned to a band and a counselor (who happened to be Mike Pinera) and had the chance to record and perform live at MGM Grand Hotel & Casino.
"All the counselors and headliners make it a great time for you. We would hang out with them, share lunch, stories, jam together…at the end of the week, they were giving out their e-mails and told me to call them when I start recording. Nothing beats that feeling."
It's memories like Bob's, who could hardly contain his excitement when retelling his experience, that is behind the resurgence of adult camps.
"Nothing beats summer camp memories," says Nancy Diamond, managing partner from The Camp Professionals. "As we get older and get more involved in adult things, you find yourself longing for summer camp days of making new friends, bonding, camp fires and playing games and learning new skills."
But recreating camp memories doesn't come cheap—Bob's experience was $4,999, but experts say just like kids camps, the price tags vary for adult programs. The American Camp Association says the average weekly cost for an adult program is $900.
"Accommodations can range from luxury to rustic and offer a variety of experiences, which means the price point can run the whole gamut," says Diamond.
The focus of the camps vary, with some looking to recreate traditional camp memories while others offer specific skill-building activities like surfing, wine tasting, writing, learning a musical instrument, clown tricks, and even bird calling.
"As we get older and get more involved in adult things, you find yourself longing for summer camp days of making new friends, bonding, camp fires and playing games and learning new skills."
Adult camps have been around since the 1980s, according to Peg Smith, CEO of American Camp Association, but have recently become more popular as people are looking to disconnect from the demands of working life and reconnect and make new friends.
"Everybody is always on Facebook and on their phones and they just need to be able to take a break and really bond with people," says David Schreiber, owner and director of Club Getaway, which offers adults-only camps on the weekend in upstate New York. "It's not so much all the activities we offer, it's that people are coming together to reunite, meet new people and experience something together."
Earlier in the year, Schreiber put WiFi throughout the entire camp. During the week, when he runs a kids camp, he says the network's use is pretty high. It's on the weekends it gets a rest. "We thought the adults would freak out if we didn't offer wireless access so we spent a lot of money to connect the whole campus, but the adults barely use it."
Based on the American Camp Association 2010 Site and Facilities Survey, the most common age group headed to adult camps is 24-64.
Baby boomers, like Bob, are also behind the resurgence of adult camps, according to Diamond, as the generation looks to maintain their health and increase their skill set.
"We are living longer and staying active longer and boomers still want to learn and practice new skills and a camp environment is good for that."
Bob, who taught himself how to play guitar at age 12 and played heavily through college, had to put his passion aside to start a more steady-paying career in the software industry.
"The camp brought back my spark, I am now practicing more, looking into getting new gear to start recording and writing new songs."
Family camps are also becoming more popular as unique vacation alternatives and chance to bond in a different setting.
"Everybody is running around doing their own thing during the week and even on the weekend. Family camps allow them to get away and participate and reconnect as a family," says Diamond, who attended an adult art camp in Italy last year.
For adults looking to either recreate their summer camp memories or build their first ones, experts offer the following tips:
Call the Director. Camp directors are more than willing to talk to interested campers, says Smith.
"Call them and ask about their philosophy, what support system they offer, what the facilities are like and what their emergency procedures are."
Identify Your Expectations. If you are looking for a specific skill or environment, make sure you verify your needs will be met.
"Choose a camp like you would for children, make sure it meets your end goal and plugs in with your location and personal interest requirements," says Smith
Check Your Budget. The price tags of camps vary, but it's important to understand the full cost of a program. Check to see if the cover price includes things like meals, transportation, lodging and supplies. Also make sure you have the necessary required equipment for the camp.