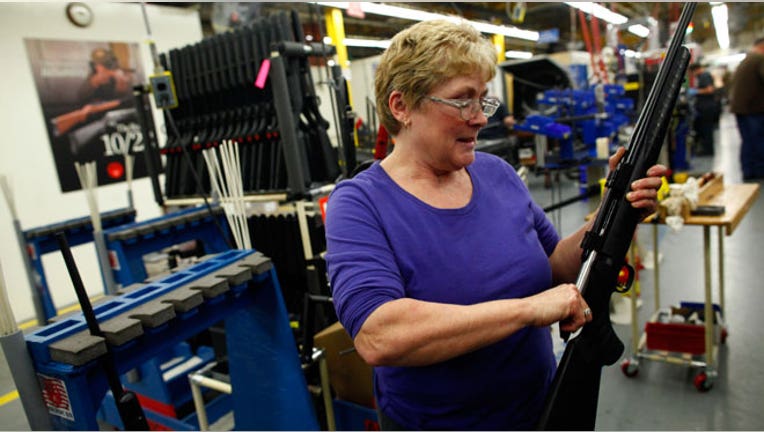 Sturm, Ruger & Co.'s (NYSE:RGR) first-quarter earnings raced 53% higher, as strong demand for firearms continued.
Like other gun manufacturers, Connecticut-based Ruger has benefited from a surge in demand for firearms.
According to the FBI, monthly background checks through the National Instant Criminal Background Check System—the industry's best gauge of overall demand—have soared in  recent years, while this year is on pace to be the strongest. January set a monthly record with more than 2.49 million background checks, and the first three months of 2013 have totaled more than 7.01 million checks.
In the latest quarter, Ruger's profit was $23.7 million, or $1.20 a share, surpassing Wall Street estimates of $1.04 a share. The company reported a profit of $15.5 million, or 79 cents, in the year-ago period.
Sales climbed 39% to $155.9 million, above estimates of $131.7 million.
Ruger also announced that its board approved a dividend of 49 cents a share for the first quarter. The dividend will be payable on May 24 for shareholders of record as of May 10.
The company will hold its annual shareholder meeting on Tuesday.
Shares of Sturm, Ruger closed Monday up 3.91% at $50.97. The stock is up about 12.2% so far this year.
Last week, hunting and outdoor retailer Cabela's (NYSE:CAB) reported a 24% increase in same-store sales in the first quarter amid rising firearm sales. Excluding firearms and ammunition, same-store sales growth was 9%.
For both firearms and ammunition, sales are constrained by limited supply. Smith & Wesson (NASDAQ:SWHC), another firearms manufacturer, has warned that it is struggling to meet the surge in demand in recent months.
"Right now, we're just basically selling everything we can make," Smith & Wesson CFO Jeffrey Buchanan said last month during an earnings call.