Student Debt: Crippling for All Ages and Not Going Away Soon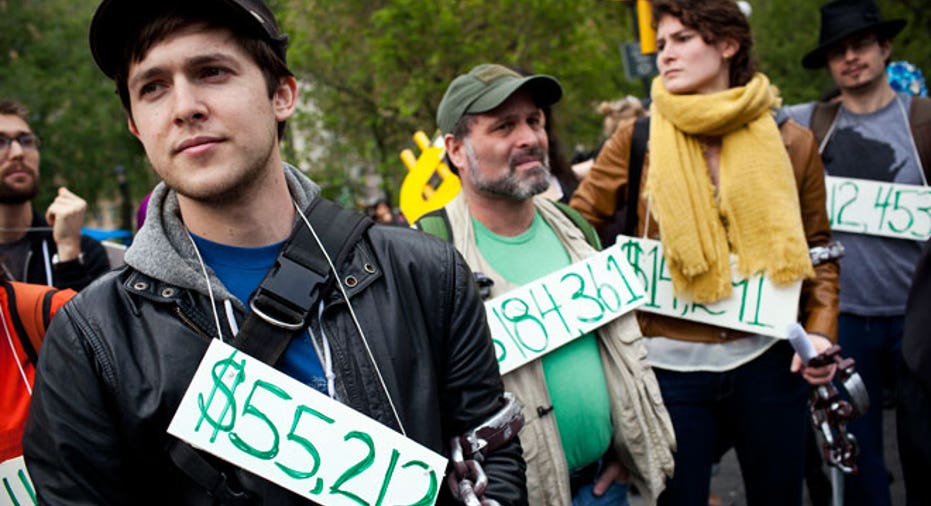 It's a looming tornado; a trillion-dollar problem that -- because of its staggering statistics and massive economic effect -- has gotten heavy media attention and been discussed extensively by Congress. But while many think of student debt as a young-person's problem, with more than 20 million Americans over 30 years old paying off college loans, it is anything but.
"This is not just a problem for the so-called 'traditional students,'" says lawyer and student loan expert Heather Jarvis. "The majority of people currently making payments on student loans are in their 30s and older."
Jarvis is right. According to research conducted by the Federal Reserve Bank of New York, while the under-30 age group has the most borrowers at 14 million (owing a total of $292 billion) -- borrowers age 30-39 owe the most, with a crippling $307 billion in debt.
The 40-49 age group follows, owing $154 billion; the 50-59 age bracket is at $106 billion; and the over-60 category currently carries around $43 billion -- for a total outstanding debt of $902 billion.
"The problem of student debt is not just 'economic' in the narrow sense," says Alan Cafruny, a professor and author at Hamilton College. "Debt has all kinds of consequences for society: it imposes social discipline, circumscribing young people's options, making them more acquiescent and conformist in all sorts of subtle and not so subtle ways."
Twenty-six-year-old Scott Meyers has made huge life decisions based on debt.
Myers and his wife, Erin Rose, owed around $130,000 in student debt after graduating from Colorado Christian University in 2009. Myers, whose scholarships paid for half his tuition, quickly began paying down the debt (he now owes $60,000), but it has not been easy.
"My wife and I decided to be very strict with things," says Myers. "We both have the same cars we had when we were 16 years old. We also rent since all our money goes to loans -- and we are holding off on having a family because we don't want to be hindered and we don't want our kid to be hindered."
"Debt has all kinds of consequences for society: it imposes social discipline, circumscribing young people's options, making them more acquiescent and conformist in all sorts of subtle and not so subtle ways."
Myers says he assumes full responsibility for taking out those loans and is not complaining about that. He pays every month and has now consolidated his loans, though he says he has had issues: student lender Sallie Mae would not apply his payments to the loans with the highest interest rate, which were at a staggering 10.5%. (He called his congressman and the issue was resolved.) Yet, while Myers recognizes that he is part of what he calls a "sickening" situation, he does point out that at 18 years old, he was not aware of the repercussions.
"I'd never change anything," says Myers, who met his wife in college. "But I wish I had known early on when I was filling out those applications that were quick and easy that the $1,000 I was borrowing would end up costing me $4,000…. It hinders a lot of people to expand and grow and reach their potential."
"People are very affected emotionally and socially by these loans," says loan expert Jarvis. "And while it's easy to say they shouldn't have taken them out if they can't afford to pay, as a society, we don't have great access to financial literacy and it's not surprising at all that people don't understand the problems."
Mathew Holmes says he didn't know what he was getting himself into when he began taking loans out at 17 to pay for his tuition at Johnson and Wales University in Rhode Island.
His parents split the cost with him, and he ended up owing $24,000 at the end of his four years. He was one of the lucky college graduates offered a job a few hours away in Boston, but the salary, which was just north of $39,000, was too low for him to cover his monthly loan balance (he tries to pay more than the minimum when he can) -- and pay rent in an expensive city. So, instead, he took a job close to his parents' home in East Hartford, Conn., where he lives to save money. He is also a graduate student at the University of Connecticut, but he has managed to attend without taking out more loans.
"I have friends who didn't go to college who were able to buy houses during the downturn," says Holmes, now 24. "I would have liked to, but all my savings are going towards loans – and the 6.8% interest that are on them."
But Holmes finds it unsettling that as he struggles, Washington profits. The Congressional Budget Office estimates that the federal student loan program will earn the government $184 billion in the next 11 years.
"That's just not right to profit like that," says Holmes.
Americans don't realize how disastrous the situation can easily become, explained Lynnette Khalfani-Cox, a personal finance expert and author of the upcoming book College Secrets.
"A lot of people are just on autopilot, paying the minimum amount, which really means the maximum payments in the long run," she says.
Right now, student-loan rates are 6.8% on newly-issued subsidized Stafford loans, a popular type of loan for students who demonstrate financial need (It doubled from 3.4% on July 1.) Unsubsidized Stafford loans have the same 6.8% rate, and Plus loan rates are at 7.9%.
Last week, the Senate passed legislation tying student-loan interest rates to current market rates -- a good thing for current students, who will pay a 3.86% interest rate for this coming school year because borrowing costs are unusually low. But, many argue, this is bad and expensive news for future students when rates go higher (though the legislation still needs to be approved by the House of Representatives).
"It really was a missed opportunity to get Americans to compete globally," says Jarvis, who believes capping interest rates is a better alternative.
She says the pressure in the U.S. to achieve a high level of education -- tied to Americans' hope of gaining opportunity and success because of that degree -- weighs heavy on the consciousness of the nation. But the debt that is incurred because of it is, ironically, seen as irresponsible, and in some sense, shameful.
"Debters are seen as bad actors in some sense just by virtue of owing money," said Jarvis "And that shouldn't be the case because people have the best intentions."
According to the CBO, about $1.4 trillion in new direct loans will be made to students between 2013 and 2023; student-loan debt is the only type of consumer debt that has continued to rise since the start of the financial crisis, increasing from $550 billion to nearly $1 trillion at the beginning on 2013.
Helping to inflate those numbers is the staggering rise in the cost of getting a degree.
Over the past decade, the rate of increase in college tuition has tripled. According to the nonprofit College Board, the average public college tuition is $20,000 a year and the average private school cost is $40,000, while the most selective colleges average around $56,000.
"My father has owned a diesel company in a small town in Colorado my whole life," says Myers. "He took risks to have his business… and to work hard, take those risks and to have that freedom is the American Dream. In today's America, with all the debt, we don't have that."