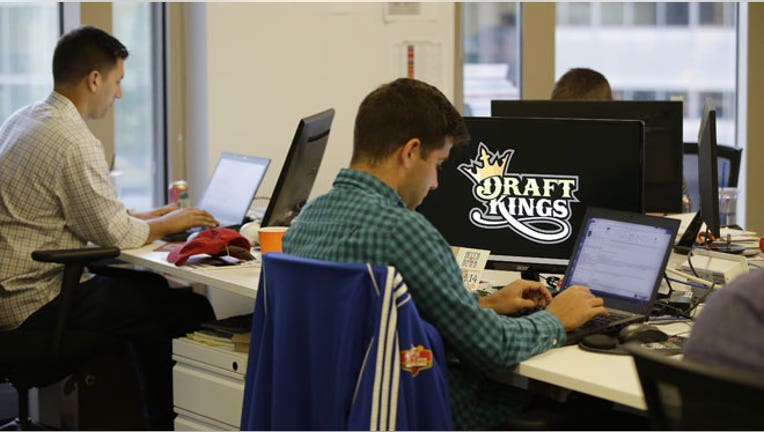 A storm of online criticism has roiled the two largest fantasy-sports companies in North America, casting a spotlight on an industry already under scrutiny for lacking government oversight.
Billion-dollar startups FanDuel  and DraftKings  run online contests in which people draft virtual teams of professional athletes and compete against each other based on the athletes' real-world performances.
A number of posts on fantasy-sports sites such as RotoGrinders criticized the companies for unfair practices after last week's admission by a DraftKings employee that he prematurely released data about the site's biggest contest before some of the National Football League games involved in it had started.
The venture-backed companies released joint statements Monday asserting that they have "strong policies in place" to ensure proper handling of company data.
DraftKings employee Ethan Haskell said on a message board that by accident he prematurely published data to the company's blog from the lineups of players submitted to the DraftKings site for its Millionaire Maker contest.
"I've fixed the error and we'll be putting checks in place to make sure it doesn't happen again," Mr. Haskell wrote on RotoGrinders. "I was the only person with this data and as a DK employee, am not allowed to play on the site. 100% my fault and I apologize for any issues."
Mr. Haskell won $350,000 on a $25 buy-in on rival site FanDuel the same week, DraftKings and FanDuel said.
Attempts to reach Mr. Haskell through DraftKings were unsuccessful.
DraftKings Chief Executive Jason Robins said Mr. Haskell won the money fairly because the employee, a content manager who joined the company in June 2014, received the data at a time when it was no longer possible to change his FanDuel lineup to his advantage. FanDuel confirmed Mr. Haskell wouldn't have been able to change his lineup at that time.
DraftKings concluded that while Mr. Haskell did prematurely publish data from a company analyst on customers' picks of players, the move was unintentional and he didn't benefit from it financially.
"We interviewed everyone involved and they all corroborated what really happened," said Mr. Robins, also a co-founder of the company. Mr. Haskell "didn't do anything ethically wrong," he added. "He made a mistake in his job and he'll certainly hear about it."
In some of the largest and most lucrative games offered on FanDuel and DraftKings, thousands of players vie for the top prizes. The lineups chosen by all of the contestants aren't revealed until after the games have started. If one person has advance knowledge of whom others selected, he can choose different lineups that don't overlap--and thus give him a better chance of winning in such large fields.
For example, if a person knows that most other contestants picked Aaron Rodgers as quarterback, he could potentially get an advantage by being one of relatively few contestants to pick Peyton Manning.
Adam Krejcik, a partner at Eilers Research who follows the fantasy sports industry, says Mr. Haskell's act doesn't suggest that it is a rampant problem. "It wasn't like this was pure fraud or money being stolen from other people's accounts," he said. But he added that the incident "couldn't come as a worse time for the industry," as legislators in New Jersey, California and Massachusetts have recently proposed initiatives aimed at regulating fantasy sports in some fashion.
FanDuel and DraftKings together control some 95% of the North American daily fantasy market and have respective valuations of $1.3 billion and $1.2 billion. Neither has made a profit, though, due to heavy ad spending to draw in customers. For instance, during just one week last month, DraftKings had 5,800 television commercial airings for about $20 million, according to ad tracker iSpot.tv.
The sites generate revenue by keeping a portion of the money their users pay to participate in the contests. FanDuel said it generated $57 million in revenue in 2014 and awarded $564 million in cash prizes, while DraftKings said it made $30 million in revenue last year and gave away $300 million in prizes. FanDuel has said it would dole out $2 billion in prizes this year, while DraftKings has pledged to give away at least $1 billion in prizes this year.