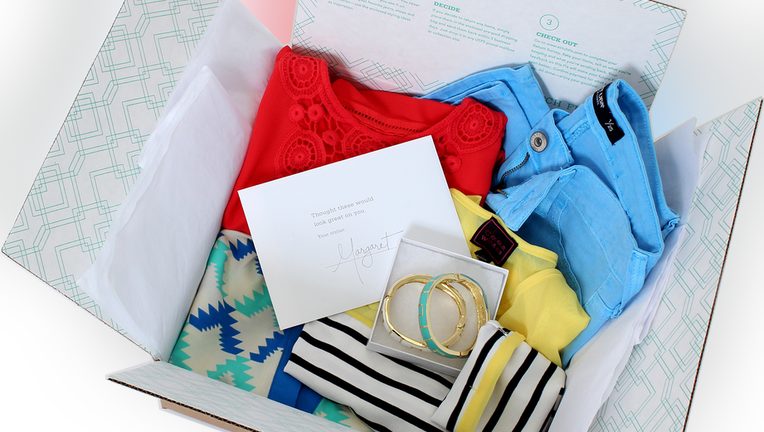 San Francisco-based startup Stitch Fix just scored a fresh $12 million to help dress today's busy fashionistas.
On Thursday, Stitch Fix announced it closed a $12-million, Series B funding round led by Benchmark Capital. Benchmark general partner Bill Gurley and Marka Hansen, former president of North America for Gap, Inc. and Banana Republic, will be joining the digital personal-styling startup's board.
"Our model is designed to be a personal stylist for the everyday woman," said founder Katrina Lake. "The experience is meant to pull together the best parts of shopping but also offer the convenience of ecommerce."
Personal styling services have been popping up online in the digital era in hopes of profiting from making the average woman's life easier. Stitch Fix launched in the spring of 2011, with an aim of providing "a curated box of accessibly priced items directly to doors across the United States," according to its website. Based on their uploaded profiles, users receive a box in the mail of five hand-picked clothing items—from blouses and pants to accessories.
In February, the company announced an initial round of Series-A funding worth $4.75 million, that one was co-led by Baseline Ventures and Lightspeed Venture Partners with participation of Western Technology Investment. In March, it shipped its 10,000th "fix." Since its first funding announcement in the beginning of 2013, the company reports growth of 500%.
Just like a typical retailer, Stitch Fix buys its items at wholesale and sells them at retail prices. Today, the company works with more than 200 brands, ranging from up-and-coming labels to more established designers. Lake said building long-term relationships with vendors has been a key to the startup's early success.
"It's important to be able to negotiate better terms and receive products that are exclusive to us," said Lake. Unlike typical retailers that often clearance more than 10% of their items, Stitch Fix sells 86% of its inventory at full price during each season.
Thanks to word-of-mouth referrals, which accounts for 95% of new customers, Stitch Fix has grown from 10 employees in 2011 to more than 150 today -- and counting, as they announced several new executives Thursday.
"We're bringing on new top talent, and are welcoming Lisa Bougie, former [general manager] of Emerging Markets for Nike, as Chief Merchandising Officer, Jennifer Olsen, former chief marketing officer at Crate & Barrel, as our CMO, and Meredith Dunn, former senior director customer & stylist delight at Stella and Dot, as our [vice president] of styling," said a company spokeswoman. These new members join the likes of Mike Smith and Eric Colson, the former Chief Operating Officer of Walmart.com and former Vice President of Data Science & Engineering at Netflix, respectively.
Growth and scale has not been a problem yet for Stitch Fix, but on the other hand, Lake says one of the biggest challenges since inception has simply been keeping up with customer demand. For instance, when this reporter sampled the site and scheduled my "fix," the wait time was three weeks.
"We used to ship items once a week, on Mondays, and everyone would come into work in yoga pants and workout clothes," Lake said. Now, the nation-wide service is shipping six days a week to all 50 states.
One of the main concerns for companies offering the online shopping experience is making sure they are sending items that the customer is going to want to keep. This is where data and algorithms come into play. Lake said that this has been the most important part of the company's success.
"The data on customer preferences helps both our users and the stylists, as this is a very consumer-centric industry," she said. "At the end of the day, it's having this data and using it well that makes us successful. Even our vendors love the fact that we have all of this information. We're able to tell them which of their items are doing well and with which demographic." More than 80% of customers keep at least one item and 70% return for a second fix, the company said.
"I see it growing if they find their niche customer and they figure out what that group wants," said Ilse Metchek, president of the California Fashion Association.
Metchek said that for the fashion industry overall, the average return online is 36%, and for footwear it's more than 50%, showing the importance of picking the right items for customers.
When consumers sign up for a personal-styling website, typically they fill out an online profile. The amount of detail the consumer is asked to provide will vary, but it took this reporter about 15 minutes to fill out a profile on Stitch Fix. The questions range from what sizes you wear to giving your opinion of different outfits. This information, along with the climate, your age, price points and other data is then used in an algorithm to help stylists select and send the items you are most likely to keep. There is a $25 styling fee, but only if everything gets sent back. Otherwise, it gets built into the overall price. For instance, if you decide to keep $50 of clothing, you only pay $50, not $75. Lake also said that the average price customers pay for any single item in their fix is about $60.
"I really love the way Stitch Fix exposes me to new brands and quality product," site member Julie Fagan said. "At first I had to play around with the price points because some of the items I received were out of my budget, but once I provided feedback and noted that I wanted to receive clothes and accessories that were more budget-friendly, my experience has been only positive."
According to Lake, digital-styling services attract women from across the country for different reasons.
"People on the coasts do it more for the time that it saves, while others do it because they have fewer stores that are accessible," Lake said. She added that roughly 50% of Stitch Fix customers are located in the South and the Midwest, but she had just styled a "fix" last week for a woman in Anchorage, Alaska.
The demographic will also vary, with the average customer being in their young thirties. Stitch Fix currently does not have extended sizes or styling for men or children. Lake wouldn't rule out the possibility of this type of expansion or eventually going global, but the company has no such plans for the near term.
"Right now we are just focused on filling the strong demand that we have," said Lake.