Steve Scalise's security detail took down gunman
Updated
U.S. Capitol Police officers assigned to protect Rep. Steve Scalise (R-La.) took down the gunman that opened fire at a Republican baseball practice Wednesday morning.
Fox News reported that Scalise, a Capitol officer and at least one other person were shot at a baseball field in Alexandria, Va., which is located across the Potomac River from Washington, D.C. Rep. Roger Williams (R-Texas) was also seen taken away on a stretcher, but his office released a statement saying he was not shot. However, a member of his staff was wounded in the attack. Another officer was hit with fragments, Fox News said.
The two wounded officers on the scene returned fire and struck the shooter, Alexandria Police Chief Michael Brown said. Fox News' Chad Pergram reported that a female officer assigned to Scalise's security detail was shot in the foot and was being treated at the same hospital as Scalise.
President Donald Trump confirmed in a message on Twitter (NYSE:TWTR) that Scalise, 51, is expected to fully recover after being shot in the hip. Alexandria police initially said the shooter was in custody. Later, in a speech from the White House, Trump said the assailant has died.
U.S. Capitol Police (USCP) has provided protection for Congress since 1828, according to the House of Representatives' website.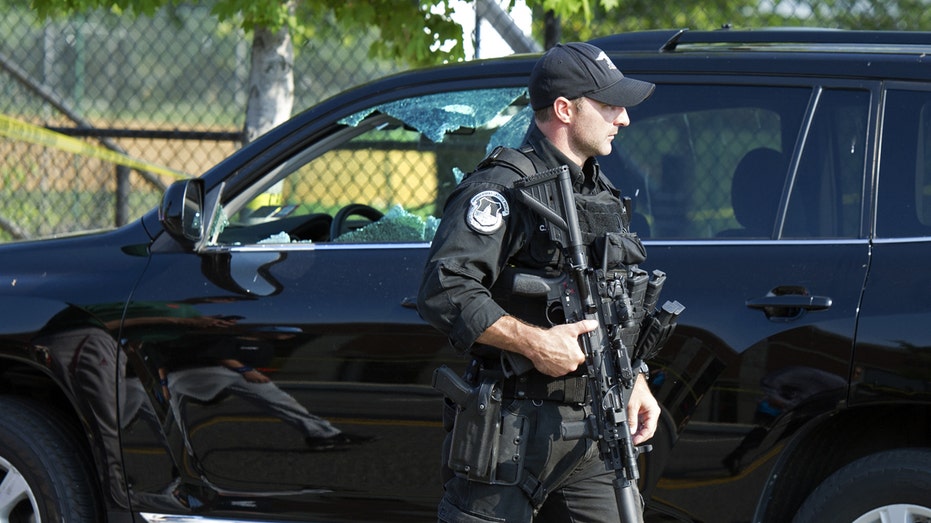 A report published by The Hill in 2013 noted that members of the leadership in both the House and Senate receive around-the-clock security details, but other members do not unless there is cause for concern.
Personal security details were created after a shooting at the Capitol in 1998 that left two officers dead. Initially, only the top four members of Congress—each party's top two members in the House and Senate—were assigned USCP officers. After the 9/11 terrorist attacks, USCP expanded security details to the whip level. Officers who protect members of Congress train with the U.S. Secret Service, former D.C. police detective Rod Wheeler said in an interview on Fox News.
Scalise is the Republican majority whip. Among his duties as whip, Scalise conducts unofficial vote counts among members of his party. He has represented Louisiana's first district, including New Orleans, since 2008.
Other members of Congress present at the field, where Republicans were practicing for an annual congressional game at Nationals Park, described the attack. The shooting began around 7:15 a.m. ET and lasted about 10 minutes, Fox News reported.
Sen. Rand Paul, who was on the field when the shooting began, told MSNBC that he heard 50 to 60 shots.
"These are brave men and women. We were really lucky that they were there," Paul said of the Capitol Police officers. "The only reason why they were there is because we had a member of leadership on our team."
Paul also told Fox News that Scalise's security detail was near a black SUV parked close to the field.
Rep. Ron DeSantis (R-Fla.), speaking to FOX Business Network, said he was leaving the practice when someone approached him and asked "whether it was Republicans or Democrats that were out there."
"We said it was Republicans and he started walking to the field. I don't know if that was the guy, but it's important to put that information out there," DeSantis said.
Rep. Jeff Duncan (R-S.C.), who was with DeSantis, confirmed to reporters on Capitol Hill that photos of the shooter, identified by Fox News as James T. Hodgkinson of Illinois, matched the person they encountered as they left the area.