Stellar April for Chrysler; GM, Ford Sales Slip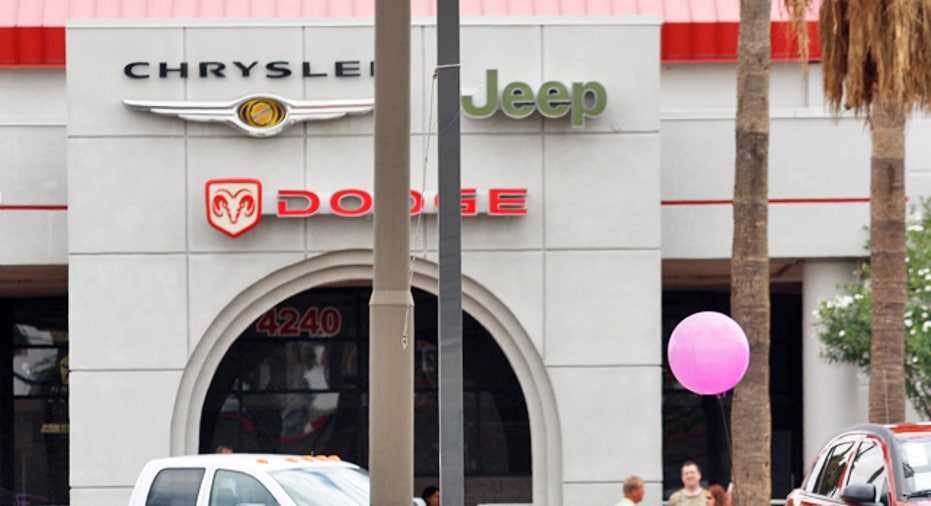 Chrysler's monthly sales jumped 20% in April compared with a year ago, marking a sharp rebound for the Detroit auto maker just three years removed from bankruptcy.
Meanwhile, General Motors' (NYSE: GM) sales fell by 8% due to a big decline in fleet sales, and Ford's (NYSE: F) sales slipped 5% despite strong demand for its fuel efficient models.
GM and Ford both attributed the decline in sales partly to three fewer selling days in April 2012 compared with a year ago.
Gas prices soared toward $4 a gallon earlier this year, prompting consumers toward fuel efficient models. The high price of gas was strongly reflected in March auto sales and the same factor came into play in April although gas prices have leveled off in recent weeks.
Chrysler, which is owned by Italian car maker Fiat, reported U.S. sales of 141,165 units versus April 2011 sales of 117,225 units. It was Chrysler's best April since 2008, ahead of the financial crisis that nearly the company out.
Bankruptcy proceedings in 2009 allowed Chrysler to shed debt and forced it to streamline its operations and merge with Fiat. That combined with a government bailout have apparently set Chrysler on its feet again.
The Chrysler, Jeep, Dodge, Ram Truck, and Fiat brands each posted sales increases in April compared with a year ago. Fiat, which specializes in small, fuel efficient models, reported a 336% year-over-year sales gain, which was the largest percentage increase of any Chrysler Group brand in April.
"April was another strong month for Chrysler as our sales increased 20 percent, we recorded our 25th-consecutive month of year-over-year sales growth and we reported our strongest quarterly profit in 13 years," said Reid Bigland, President and CEO – Dodge Brand and Head of U.S. Sales. "This business is all about product and the quality and fuel efficiency of our current vehicle line-up has never been better which is evident in our results."
Analysts had predicted a strong month for Chrysler.
General Motors also passed through bankruptcy in 2009, emerging a leaner company. In a statement, GM, once the biggest auto seller in the world, said fleet sales fell by 25% in April "due to the timing of rental customer deliveries." That pulled down overall sales.
GM said its retail sales essential equaled those of April 2011.
However, based on a better than expected first quarter for the entire auto industry and assuming that the economic recovery will gain steam in the 2012, GM increased its full-year sales projection.
"We expect gradual improvement in the economy going forward," Don Johnson, vice president, U.S. Sales Operations, said in a statement.  "Over time, strength in the manufacturing sector and strong retail sales will lead to more job creation.  That will help more consumers put the recession behind them, gain even more confidence and drive vehicle sales higher for both the industry and GM."
GM's shares rose 14 cents, or 0.61%, to $23.14 in morning trading.
Meanwhile, several of Ford's most fuel-efficient models set records for April, including the Ford Fusion and Edge. The Explorer sports utility vehicle reported its best April sales since 2005, the company said.
The Fusion set an April record with 21,610 sales. Focus sales were up 13% for the month, hitting 19,425 cars. Year-to-date Focus sales are up 57%, marking the strongest start for Focus since 2001, Ford's statement said.
Ford's shares were down 3 cents, or 0.27%, at $11.25.
Ford was the only Big Three Detroit auto maker to avoid bankruptcy and reject government bailout money during the worst of the recent financial crisis.
Toyota reported an 11.6% sales gain, while Volkswagen said sales rose 31.5%.