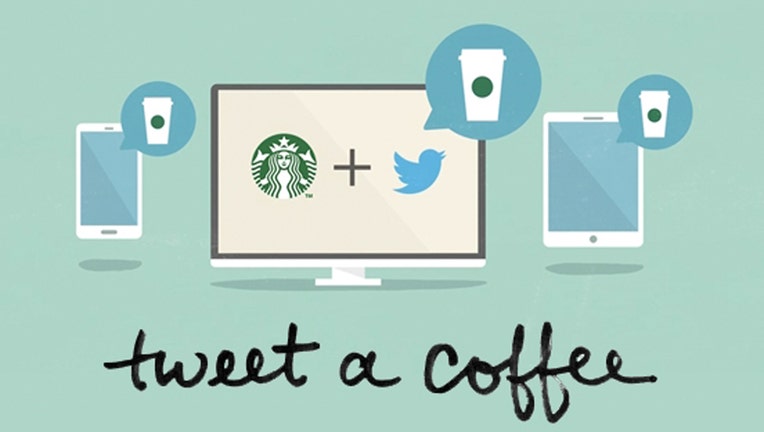 Starbucks (NASDAQ:SBUX) said Monday it is looking to make rewarding random acts of kindness easier by harnessing the power of Twitter. The Seattle-based coffee giant introduced a new way to gift its beverages via Twitter through a new platform called Tweet-a-Coffee. The idea is simple: It allows anyone to send $5 worth of coffee via a tweet. Starbucks introduced the idea, still in beta testing, through a tweet on its verified Twitter account Monday morning.
The coffee giant said the idea behind the new program is to "encourage spontaneous gifting on Twitter"….and it's out just in time for the 2013 holiday season. Users who want to give it a shot need to first sync their Twitter accounts to their Starbucks account. Once that's completed, users are free to tweet the handle of the recipient to @tweetacoffee, and include a personal message. Instantly, the recipient will receive a $5 digital e-gift. The gift is redeemable by printing out the receipt, loading it to the Starbucks mobile app, or showing it from a mobile device at checkout. "We love the possibilities that the Twitter community can unlock to share acts of kindness with one another," Starbucks chief digital officer Adam Brotman said in a press release. "Tweet-a-coffee is a key next step as we innovate our social digital gifting offering." And Twitter seems to be on-board with the coffee company's new idea. "Starbucks is really breaking ground here," Joel Lunefeld, vice president of brand strategy at Twitter, said in a statement. "Shared experiences such as a television show, a sporting event, or someone sharing a gift, are at the heart of the Twitter experience. It's also central to what it means to be a modern brand."
For many customers and tweeters alike, cyber security remains a concern and priority, especially with a program involving credit card information and access. Starbucks told FOX Business its standard eGift payment screening processes remain in place with the Tweet a Coffee program to catch fraudulent activity.
"Customers will receive a receipt via email for every tweet-a-coffee transaction made using their account. If a customer notices any suspicious activity, they should immediately contact their credit card company," Linda Mills, Starbucks senior global brand PR manager, said.  Beginning Monday through November 6, the first 100,000 customers who use the platform to tweet a coffee to a recipient using a Visa (NYSE:V) card will also receive a $5 Starbucks e-card in return.