Starbucks Scoops Up China Coffee Beans for Asia Sales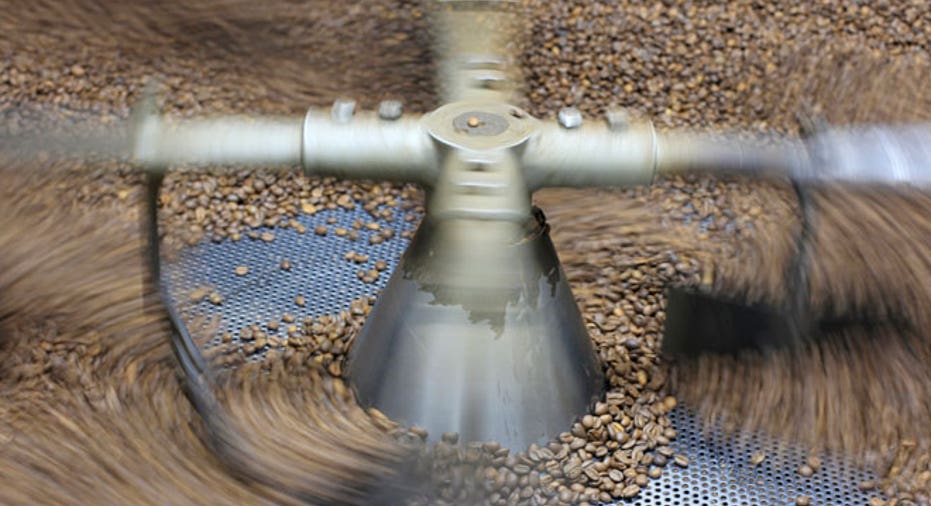 Starbucks Corp (NASDAQ:SBUX) has this year bought coffee beans from China at its highest volume ever, shipping data show, reflecting the country's burgeoning role as bean supplier amid supply concerns among traditional exporters.
The world's biggest coffee chain imported nearly 14,000 bags of arabica beans from China into the United States in the first nine months of 2014, more than five times last year's total, according to data from shipping intelligence firm PIERS, which aggregates cargo manifest details from customs data.
That is a fraction of total coffee imports by Starbucks - also the leading overall importer - from across the globe in the January-September period, but the company's purchases represent more than half of China's coffee imports in the United States.
The jump this year from less than 2,600 60-kg bags in 2013 partly reflects growth in Starbucks' nascent retail business in China, where a growing urban population is drinking more coffee.
Some of the beans are roasted in the United States and then shipped back to China for sale in the fledging consumer market, a spokeswoman said in an email. The rest are included in blends available globally, she said.
Starbucks two years ago launched its first operation in Yunnan, China's main coffee-growing province, but does not have a roasting facility in Asia, she said. Nestle SA has been active in the region for decades.
News last month that Volcafe, the coffee arm of London-based commodities trader ED&F Man, will set up shop in Yunnan was the strongest sign yet that merchants are taking China seriously as a supplier of high-quality arabica beans on the global market.
SPECIALTY APPEAL
Yunnan's catimor beans, a hybrid of arabica and lower-quality robusta, have in the United States and Europe mainly been mixed into commercial-grade blends, importers said.
Another big buyer has been Miami-based family-owned trader Coex, which the data show has purchased between 2,000 and 7,000 bags each year since 2011. CEO Ernesto Alvarez said China is not a reliable high-volume supplier, but that its beans are an option when they are available.
Yunnan is unlikely to catch up with output in top grower Brazil's Minas Gerais state anytime soon, but the inflow comes as some roasters look for alternative supplies as drought and disease threaten output in Brazil and Central America.
China's coffees have also begun to catch the eye of the U.S. specialty market.
"Given what's going on in Central America with leaf rust and the drought in Brazil, you want to look at other options," said Craig Holt, owner of Seattle-based Atlas Coffee Importers, which caters toward specialty U.S. roasters.
Holt has never purchased Chinese coffee before, but plans to travel to the country's Yunnan province in December after sampling a coffee that he described as clean, bright and free of defects.
In 2014, the United States is on track to import almost 75,000 60-kg bags from China, more than 2013 and up from an average of 5,700 bags a decade ago, according to U.S. International Trade Commission data.
(By Luc Cohen; Additional reporting by Marcy Nicholson, editing by G Crosse)