Star Wars Rakes in $1.6 Billion Worldwide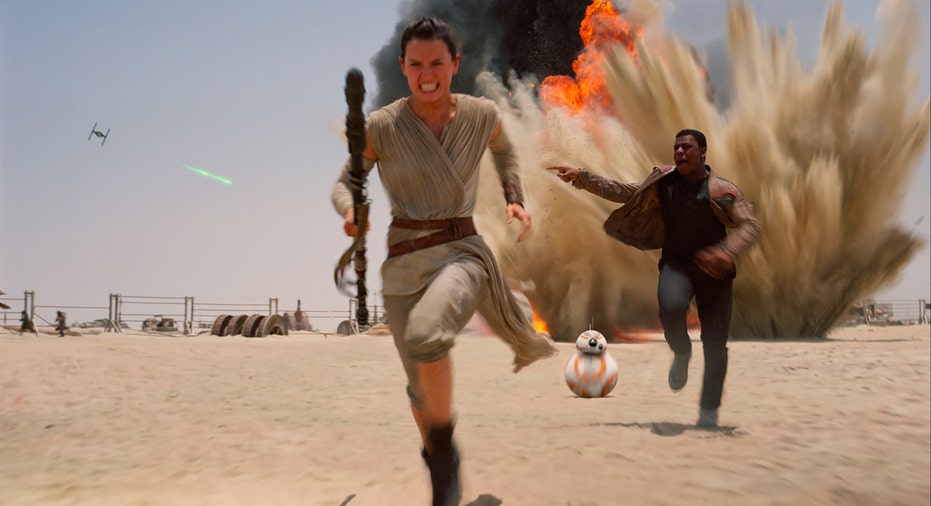 "Star Wars: The Force Awakens" has stayed spectacular following its record-setting Christmas weekend, adding $70.8 million on Monday to push its worldwide gross to a stunning $1.16 billion after only 13 days.
The space saga took in $31.4 million on Monday in U.S. theaters and another $39.4 million in international showings. The domestic total has hit $571.4 million and the international cume is at $589.7 million.
The seventh "Star Wars" film is already the fifth-biggest domestic grosser of all time, trailing "Avatar" at $760 million, "Titanic" at $658 million, "Jurassic World" at $652 million and "Marvel's The Avengers" at $623 million.
Disney's "The Force Awakens" is now the 10th highest box office performer on a worldwide basis. Monday's performance moved it forward five slots past "Transformers: Age of Extinction" ($1.104 billlion), "Skyfall" ($1.109 billion), "The Lord of the Rings: The Return of the King" ($1.12 billion), "Transformers: Dark of the Moon" ($1.124 billion) and "Minions" ($1.157 billion).
"The Force Awakens" has a shot at becoming the top film on the all-time worldwide list, which is topped by "Avatar" at $2.78 billion, "Titanic" at $2.19 billion, "Jurassic World" at $1.67 billion, "Marvel's The Avengers" at $1.52 billion and "Furious 7" at $1.515 billion.
It will likely move up several spots on the list by the end of next weekend. "The Avengers: Age of Ultron" is sixth at $1.41 billion, followed by "Harry Potter and the Deathly Hallows -- Part 2" at $1.34 billion, "Frozen" at $1.28 billion and "Iron Man 3" at $1.22 billion.
"The Force Awakens" began its international release on Dec. 16 and opened two days later in the U.S.