Star Wars 'Force Friday II' kicks off 'Last Jedi' marketing push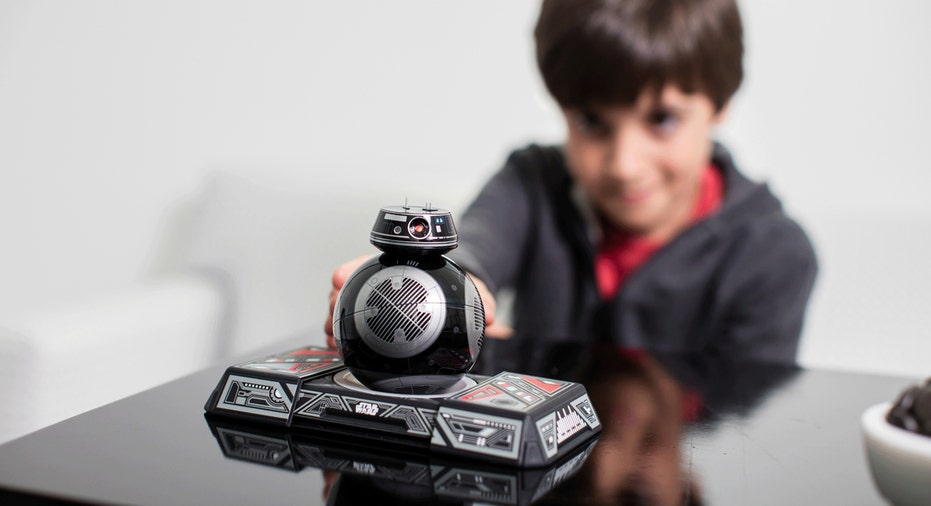 Disney is kicking off the marketing blitz for "Star Wars: The Last Jedi" this week with the second edition of "Force Friday," which marks the global release of the film franchise's newest toys and memorabilia.
Dubbed "Force Friday II," this year's event features a massive augmented reality (AR) "treasure hunt" that will allow fans to use the Star Wars app to search for new and old characters at more than 20,000 store locations around the world. Several top retailers and toy companies, including Walmart, Toys "R" Us and Target, are set to participate in the event, which runs through Sept. 3.
"Star Wars has always championed new technology, and we are excited that augmented reality will allow fans to experience the universe in a whole new way," said Lucasfilm President Kathleen Kennedy in a statement about the promotion.
The first "Force Friday" event in 2015 was a major boon to Disney and licensing partners like Hasbro and Lego ahead of the release of "Star Wars: The Force Awakens," which kicked off a new trilogy of films for the venerable franchise. "Star Wars" toy sales generated more than $700 million in U.S. sales in 2015 alone, according to NPD Group.
The projected total global sales haul for "Force Awakens" merchandise was expected to approach $5 billion, according to various estimates. The film itself earned more than $2 billion at the worldwide box office.
FOX Business breaks down how some of the top retailers are approaching Force Friday II. "Star Wars: The Last Jedi" hits theaters on Dec. 15.
Walmart
The Arkansas-based retail giant is planning exclusive #BeJediReady "Force Friday II" events at midnight in 10 cities, including Boston, Chicago and Los Angeles. Fans will be able to train with lightsabers, play Star Wars-themed games and try out new toys exclusive to Walmart, the company said in a press release. More than 4,000 locations are participating in the AR treasure hunt.
Exclusive product offerings include a "smart" version of the iconic R2-D2 droid for $75.
Target
Target is opening more than 500 store locations nationwide at midnight to kick off Force Friday II. The company says it will unveil "hundreds of new toys, collectibles, apparel, books and more" and have interactive activities for both children and adults. The retail chain's Star Wars promotions are highlighting Rey, the new trilogy's heroine, played by actress Daisy Ridley.
The Hollywood Reporter notes that Target will exclusively sell the First Order Stormtrooper Executioner toy for $19.99.
Toys "R" Us
Toys "R" Us is pulling out all the stops for "Force Friday II," opening all of its U.S.-based store locations at midnight, as well as select stores around the globe. The toy retailer is participating in the "Find The Force" treasure hunt, with five "triggers" that unlock special Star Wars content in every store, according to a press release.
The chain also has several exclusive product offerings, including a battery-powered, kid-sized version of Luke Skywalker's Landspeeder for $499.99.
Best Buy
Aside from participating in the "Find the Force" treasure hunt, the electronics retailer is offering Star Wars product demonstrations at select stores and selling franchise movies, video games, toys and other merchandise. For example, a complete set of the first six Star Wars films on Blu-Ray is on sale for $69.99.