Star Wars Day: A Retail Force Awakens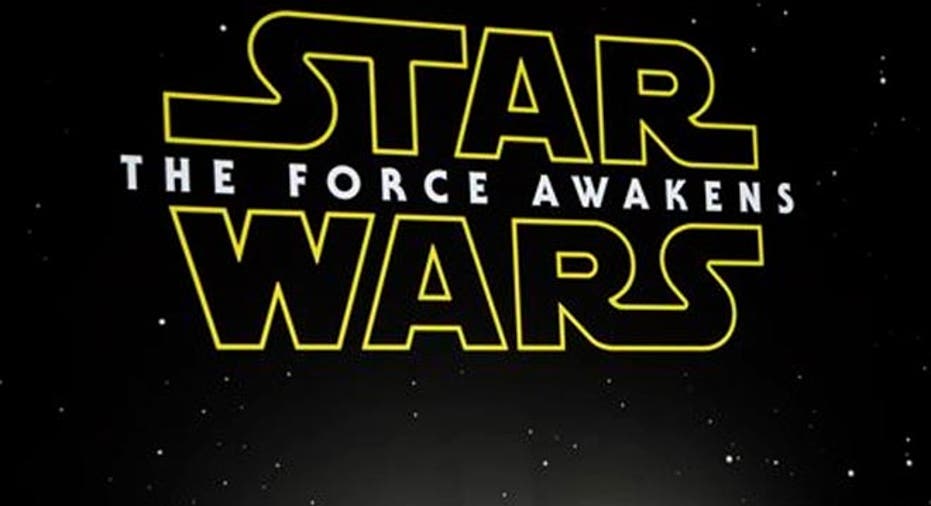 The Force may be particularly strong with toy and novelty retailers today, especially those selling all things related to a certain galaxy far, far away. It is Star Wars Day after all, by some reckonings it's the fifth annual commemoration for what has become a tentpole event of sorts.
In true Star Wars fashion, the day chose the movie. "May the 4th (be with you)" is serendipitously close to the pop culture icon's most famous catchphrase, "May the Force be with you."
Star Wars Day has gone beyond the cult fan clubs and into the mainstream in recent years. The memorabilia empire's sales may go galactic this year as fans champ at the bit for the first new Star Wars film in a decade.  "The Force Awakens" hits theaters a week before Christmas.
"Christmas will come earlier, and later, for all Star Wars fans, and will last deep into 2016," predicts Sean McGowan, an analyst with Needham & Co. "This will be the biggest franchise of the year, and will add to Star Wars' legacy of being the biggest toy franchise of all time."
It is difficult to pinpoint exactly how many Republic credits—or dollars--the franchise has generated since 1977, but Statistic Brain puts sales of Star Wars toys alone at $12 billion—nearly 45% of the total $27 billion haul it gives the franchise since George Lucas broke through with the mega-hit that literally changed the way people looked at science fiction films.
Clearly Mel Brooks was on the money in his Star Wars parody "Space Balls" when he joked, "Merchandising is where the real money from the movie is made."
Walt Disney (NYSE:DIS) clearly saw unlocked value in Star Wars and has rebooted the series after buying the franchise in its $4 billion purchase of Lucasfilm in 2012. Disney wasted no time in creating an ambitious production and release schedule. A Star Wars Anthology film that's not part of the epic's main storyline, "Rogue One", is slated for next year, and Star Wars VIII is now set to open in May 2017.
Hasbro (NYSE:HAS) certainly stands to benefit as a major licensee for Star Wars past and present. It makes legacy and forthcoming film character action figures and other toys and games related to the Star Wars universe.
On the retail side, everyone from Disney Stores to Toys"R"Us to Amazon.com (NASDAQ:AMZN) have been running Star Wars promotions over the weekend and many will continue for this entire week.
Toys"R"Us is billing itself as the "source for the Force" and officials from the retailer tell Fox Business that they are celebrating Star Wars Day for the second straight year, offering weeklong "out-of-this-galaxy" deals on all Star Wars products. A spokeswoman says the company expects Star Wars merchandise "to be among the most popular products of 2015".
Novelty retailers such as Spencer's and ThinkGeek are also getting in on the act with promotions tied to Star Wars paraphernalia.
"We're betting big on Star Wars," says Ty Liotta,
ThinkGeek's vice president of merchandising and chief product officer.
The company manufacturers original Star Wars gift items under license from Disney, which it sells on its own website and also at wholesale to retailers including Target (NYSE:TGT) and Hot Topic. ThinkGeek also sells other sci-fi merchandise.
Liotta says pent-up demand is driving consumers out in Force already—150,000 devoted fans last month traveled from around the globe to Anaheim, CA to dress as their favorite Star Wars characters, meet some of the actors, and live out long-held fantasies from a long, long time ago. The ThinkGeek executive said they sold out of all their merchandise at the show as fans snapped up everything in sight.
"Last year we had an amazing May 4th, one of our best days ever. It was more than double a regular day," Liotta says, adding he anticipates today will be even bigger.
Startup Geek Fuel is banking on Star Wars to boost its monthly mystery box business.  The company is giving away a special Star Wars-themed box, which includes a Darth Vader wallet, Star Wars luggage tags, and Yoda studded earrings among other items, to customers that sign up for a Geek Fuel box subscription this week.
The company's co-founder Chaz Gray says, "The growth of Star Wars Day over the past few years has been tremendous and we know that the Geek Fuel community will be celebrating along with us."
And while Gray anticipates another Star Wars holiday of sorts for "I am your Father's Day", the Star Wars fervor may well jump into hyperspace at midnight on September 4, aka "Force Friday", when new toys and merchandise for "The Force Awakens" officially go on sale.
"It's big. It's been 10 years (since the last Star Wars film)," notes Needham's McGowan, describing the franchise's expected effect on retail. "There are higher prices, more countries with higher consumer purchasing power, more products—it all adds up to a massive sales increase in the 12 months beginning in September. And there is (standalone Star Wars film) 'Rogue One' right after that (bowing in December 2016)."
In other words, a retail Force has reawakened.