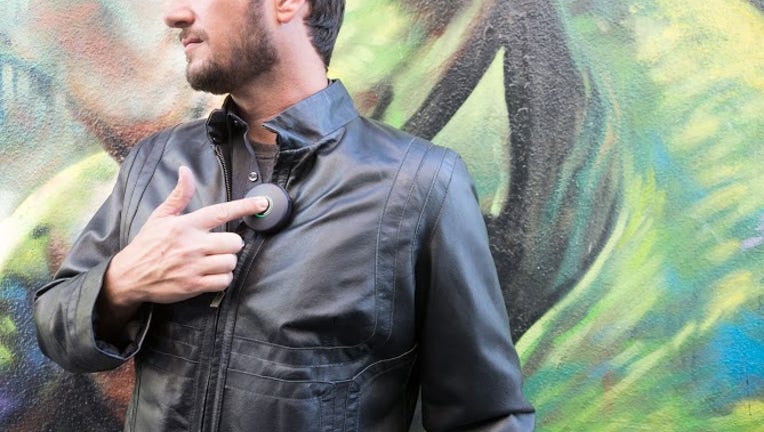 It's science fiction no longer: A device inspired by the Star Trek communicator is here.
OnBeep's Onyx device, a lightweight wearable device, promises real-time group communication at the touch of a button. The Onyx connects to the OnBeep smartphone application using Bluetooth, allowing users to communicate over wireless and cellular networks.
A single Onyx device is available for preorder online for $99; a pair costs $195.
Founder and CEO Jesse Robbins, a serial entrepreneur and volunteer firefighter, said he was looking to use his unique background in tech and emergency management to make a difference.
"Nextel or radio systems … have been an essential part of every great moment I've had," Robbins said. "And essentially a part of every great moment for humanity."
The 46-gram plastic device can clip on to shirts, belts, purses or jackets. In order to communicate, wearers press and hold the button on the front of the device to communicate with other Onyx users. On the app, users can create different groups of users and toggle between them.
The battery, charged by USB, lasts for 12 hours of active use. While the device operates using cellphone data, Robbins said Onyx voice messages use significantly less data than streaming services such as Spotify.
The Onyx is being marketed as a consumer device, to be used for on-the-go communication or for coordinating groups. But Robbins said he also foresees a business market for Onyx, citing potential uses in event planning or retail sales.
"The organization selling takes a little longer, so we decided to focus on going to the people who were hungriest first and then over time beginning to offer that type of [business] service," Robbins said.
OnBeep has raised $6.25 million in a Series A round of funding. The company is partnered with PCH Access, a hardware accelerator manufacturing the devices in Shenzhen, China.
While technically a preorder campaign, Robbins said OnBeep plans to ship the Onyx devices as quickly as possible.
"We are not going to guarantee in time for holidays, but we're going to do everything in our power to [ship] as quickly as possible," he added.