Staples Announces $1.2B Strategic Plan as it Closes Stores, Invests Online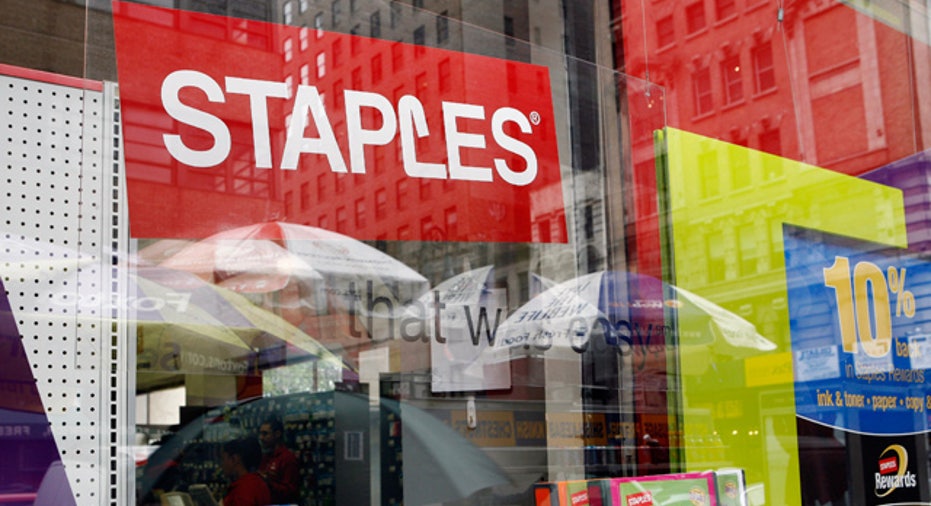 In an effort to expand beyond just office supplies and build out its mobile and online presence, Staples (NASDAQ:SPLS) said on Tuesday it is launching a growth plan and aiming to save some $250 million annually by the end of fiscal 2015.
The moves, which include the closing of some 60 stores and the sale of its European printing business, will lead to pre-tax charges this year of as much as $1.2 billion, with at most $920 million being recorded in the third quarter.
The strategic plan will enable Staples to restructure under a single global brand, widen its product offerings and improve the shopping experience for customers by investing in online and mobile e-commerce, the company said.
"Our vision is to establish Staples as the single-source product authority for millions of businesses," Staples Chief Executive Officer Ron Sargent said in a statement.
Staples is hoping to better integrate its online presence with its retail stores and as part of that effort announced on Tuesday that it is combining the business units of U.S. retail and Staples.com under the leadership of Demos Parneros.
Joe Doody will continue to lead Staples' North American Contract and Quill.com and will also assume leadership of supply chain and customer service in North America. Both will report to Sargent.
The Framingham, Mass.-based retailer is looking to reduce retail square footage in North America by about 15% by the end of 2015 and is accelerating its plan to close 15 U.S. stores, which will result in a pre-tax cash charge of about $35 million during the fourth quarter of 2012.
In Europe, Staples plans to close 45 stores and several sub-scale delivery businesses. The store closures in Europe will cost about $145 million to $195 million this year and Staples says it expects to record a pre-tax non-cash charge in the range of $790 million to $850 million for the impairment of goodwill and other assets.
The retailer has appointed John Wilson as president of Staples Europe, where he will be responsible for streamlining the business and improving performance. Wilson will be based in Amsterdam and is replacing Rob Vale, who is retiring.
Staples, which plans to continue hunting for additional operational and strategic opportunities in Europe, says it's pursuing a sale of the European Printing Systems business, which will lead to a charge of $15 million to $20 million in the third quarter.
Staples is also rebranding its Australian business as it continues to move toward one global brand and as a result will record a $20 million non-cash charge related to accelerated trade name amortization.
The growth plan, partially designed to help Staples return cash to stakeholders, will help the company meet a goal of returning more than $1 billion of cash to them this year. The retailer is aiming for $450 million in buybacks this year and plans to pay down $325 million worth of debt.
"We are focusing on our biggest opportunities, aligning our organization to address the needs of our customers, and reducing exposure to our weakest businesses," Sargent said.
Shares of Staples ticked slightly lower on Tuesday premarket to $12.27 and are down about 11% since January.