Staples 3Q Profit Grows But Sales Miss Views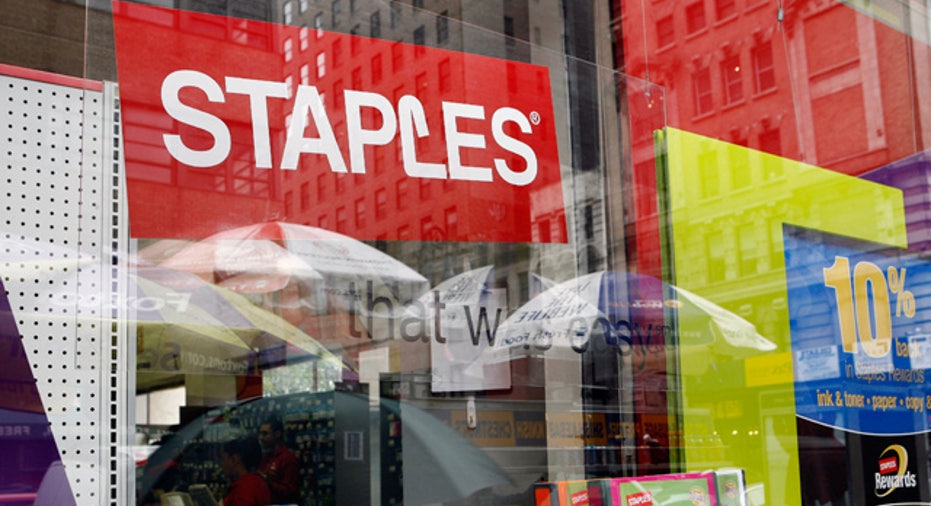 Staples (SPLS) said its third-quarter income shot up from a year ago but only met Wall Street expectations on Tuesday, as modest growth in the U.S. could not wholly offset declines in international markets.
The largest U.S. office supply retailer posted net income of $326 million, or 47 cents a share, compared with $288.7 million, or 40 cents a share, in the same quarter last year, matching the Street's view.
Revenue for the three months ended Oct. 29 was $6.6 billion, up slightly from $6.5 billion a year ago, below average analyst estimates polled by Thomson Reuters of $6.72 billion.
North American delivery sales were up 1.8% to $2.6 billion with the help of growth in facilities and break-room supplies, while the region's retail unit was flat at $2.7 billion on lower customer traffic and flat average order size.
Operating margins improved from the year-earlier period, led by stronger product margins that were partially offset by higher supply chain costs and investments in labor to support growth initiatives.
"Our results in North America reflect our team's ability to drive strong profit improvement in a tough environment," Staples CEO Ron Sargent said in a statement.
However, weaker-than-expected performance in its international markets contributed to the flat sales, as tight expense management could not offset "very challenging top-line trends," Sargent said. Shoppers in Europe pulled back a bit in the latest quarter as they continued to be weighed down by rising inflation and high unemployment amid persistent eurozone debt problems.
Looking toward the fourth quarter, the company expects to achieve flat to low single-digit sales growth compared with the year-earlier period with GAAP earnings between 39 cents and 43 cents a share.
For the full-year, Staples sees non-GAAP earnings in the range of $1.35 to $1.39 a share, down from its earlier outlook of $1.42 to $1.48. The Street is predicting $1.39 a share.