Staples 2Q Profit Jumps Ahead of Wall Street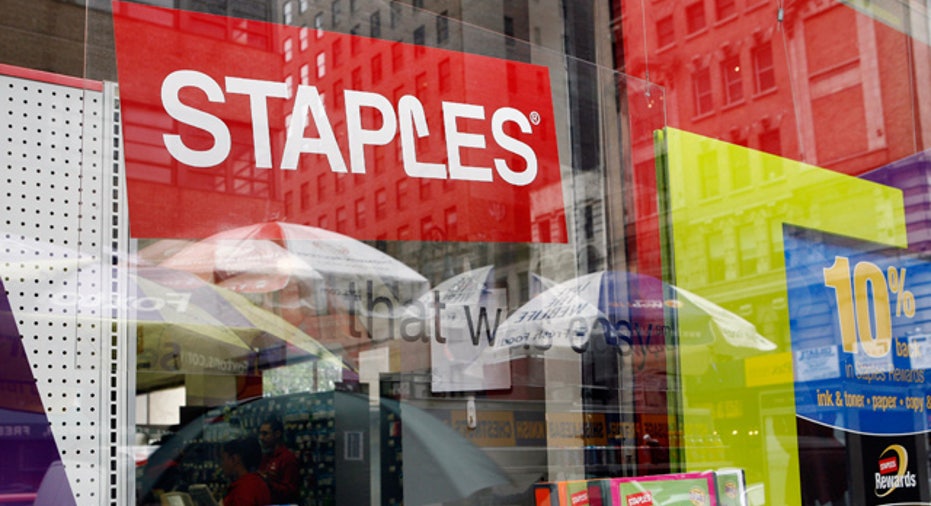 Fueled by growing demand in global markets and tighter expenses in North America, Staples (NASDAQ:SPLS) revealed on Wednesday a stronger-than-expected 35% increase in second-quarter profit.
The office supply retailer predicts a fiscal non-GAAP profit in the range of $1.39 to $1.45 a share, ahead of Wall Street estimates of $1.36. For the current quarter, the company expects to book earnings in the range of 46 cents a share to 48 cents a share. Analysts are predicting a profit of 46 cents.
The Framingham, Mass.-based office products giant posted net income for the second quarter of $176 million, or 25 cents a share, compared with $129.8 million, or 18 cents, in the same quarter last year.
Excluding special items, the company earned 22 cents a share, ahead of average analyst estimates polled by Thomson Reuters of 19 cents.
Revenue for the three months ended July 30 was $5.8 billion, up 5.2% from $5.5 billion a year ago, trumping the Streets view of $5.65 billion.
Our second quarter results show that our teams hard work continues to pay off, Staples CEO Ron Sargent said in a statement. Our core business is solid, our growth initiatives are building momentum, and we delivered better than expected earnings and cash flows.
The company, which competes with Office Max (NYSE:OMX) and Office Depot (NYSE:ODP), attributed a slide in operation income to investments made last quarter in labor and marketing in North America to support growth initiatives.
Staples has fared better in the face of economic headwinds than its rivals, with Office Depot reporting a widened second-quarter loss last month and OfficeMax earlier this month revealing a quarterly loss from a year-earlier profit.
Offsetting the expenses was improved product margins in North America with sales up 3.1% to $2.4 billion on facilities and breakroom supplies and new customers, and reduced overhead in its European office products business.
International sales were up15.2% to $1.3 billion.