Square Looks to Help Merchants with Mobile Payments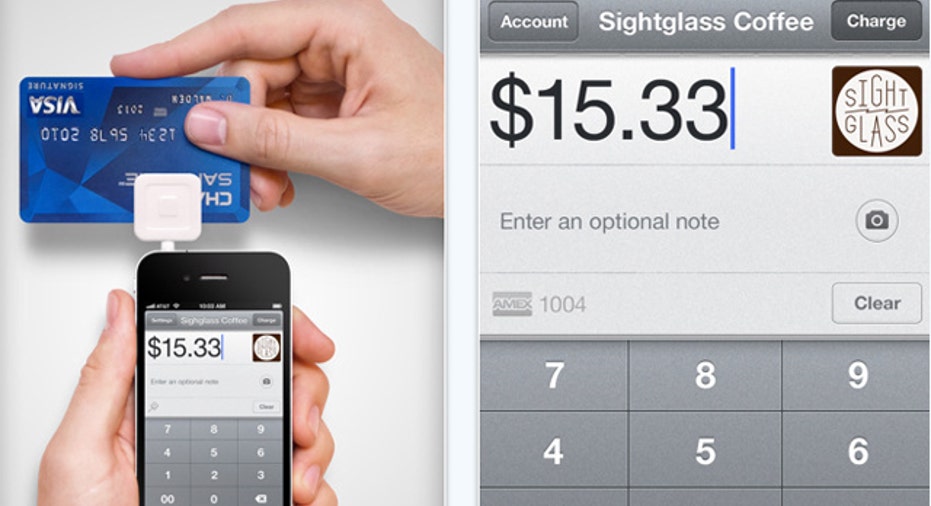 Jim McKelvey knew he was close to losing a sale when a potential buyer said she needed to talk to her husband about the purchase. Her credit card had failed to process, leaving McKelvey holding a blown-glass bathroom faucet he'd hoped to be shipping to Panama hours later.
"I know what it is like to sell things nobody needs," said McKelvey, who makes and sells blown-glass artwork and fixtures. "When her credit card wouldn't process, and she wanted to talk to her husband, I could hear that her husband was not going to approve the purchase."
The experience set McKelvey on the path to launch Square, a mobile payment service that enables anyone to accept credit cards no matter where they are. The credit card reader works on Apple phones and tablets as well as the Android-based phones.
Vendors can sign up for the service by downloading the app and are mailed a dice-sized card reader that attaches to their mobile device enabling them to accept payments. The company boasts that there is "no extra equipment, complicated contracts, monthly fees or merchant account required."
The mobile payment service is the brainchild of McKelvey and his once intern, Jim Dorsey, who happens to be the co-founder of Twitter.
"We noticed there hadn't been any innovation in payment in 10 years," said McKelvey, "The last innovation was PayPal. The market was populated by large institutions that are not really concerned with the small customer."
Dorsey and McKelvey invested a year and a half developing the software, hardware and obtaining the approvals necessary to "safely and legally move money around." Their pilot program began with three U.S.-based vendors and quickly grew to 50,000. In December 2009, the company fittingly launched with a 99-character Tweet. Since then, Square has raised $10 million in funding from Khosla Ventures and $27.5 million led by Sequoia Capital.
The allure of accepting mobile payments has fueled Square's customer base. "A lot of what we are seeing is word of mouth acceptance from merchants. We see clumps of users in various industries like flight instructors, food truck operators and traveling veterinarians," said McKelvey.
Dave Greenbaum, a computer repairman in Lawrence, Kan., heard about Square at a MacWorld Expo.  His company, DoctorDave Computer Repair, had been accepting credit card payments for eight years, and switched to Square six months ago.
"I signed up immediately because there was no risk," said Greenbaum, "With Square I know exactly how much I'm charged when the card goes through and I get e-mail confirmations nearly instantly."
As a small business owner, McKelvey remembers receiving a 42-page long merchant statement, which led him to simplify Square's statements. "My statement from Square lists the transactions and tells me, 'you had a transaction of X amount, we took these fees out, and this is what we are depositing to the account,'" said computer repairman Greenbaum, "It shows me four credit card numbers, a partial e-mail address, and the location of the transaction."
Square charges 2.75% + $0.15 for card-present transactions and 3.5% + $0.15 for card-not-present transactions. For Greenbaum, this was troublesome. "The one thing I don't like is they only give one Square credit card reader per account. I keep the reader on me so my two technicians have to manually input the credit card number causing me to get charged a higher rate," said Greenbaum. When asked for a comment on this issue, Square responded by offering Greenbaum additional readers and stated that they do offer more than one reader per account."
Because of the monthly fees associate with traditional credit card processors, Tammy Anvik had never accepted credit card payments for her seasonal business, Matty, until last year when she started using Square.
"It worked wonders for my business," said Anvik, who sells workout mats, bags, towels and water bottles at conventions, "Now I do 90% of my business on Square." Anvik did find that at one point Square took about three weeks to release $1,000 owed to her, but noted Square had been clear about that happening in her customer agreement.
While new customers are not subject to credit checks, existing customers looking to increase their weekly transaction limit beyond $1,000 have to prove that they are an established business. That could be proven through a credit check, bank check or through online resources.
Phil Thomas, owner of GotMemories.com in Tempe, Ariz., has upped his limit five times since initiating his Square service. "The process was pretty easy, they just want to know that you are established." Thomas uses Square for 60% of his payment transactions. He said he receives a more favorable rate from Square on credit card transaction, but gets a better rate with his other processor on debit transactions.
"I promote Square a lot because it helps other people grow their businesses. Vendors can quadruple their sales in a day because they can take mobile payment."