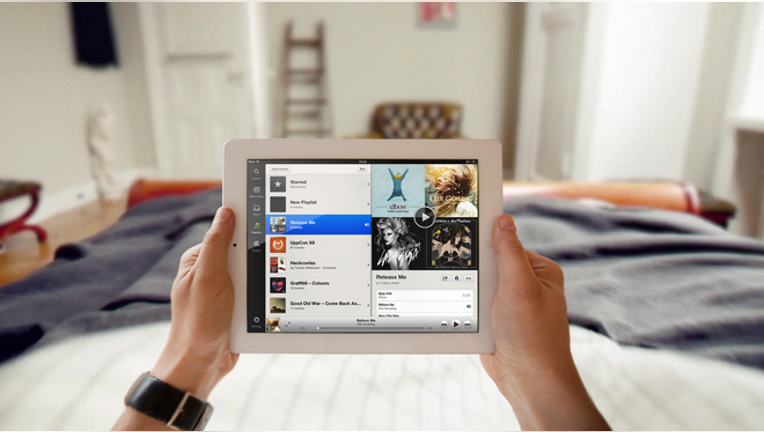 Spotify is branching out from its core streaming-music biz to include shortform videos, announcing partners including Disney's ESPN, NBC, Viacom's Comedy Central, Conde Nast Entertainment and Vice Media.
"We're a music company at heart," CEO Daniel Ek said at the company's press event Wednesday -- but it's now looking to bring those users to video as part of their daily media diet.
The idea is to steer Spotify's base of music listeners toward video: extending the "playlist" of their day in new ways, as Ek put it. But how successfully Spotify can make the leap into video remains unclear.
The privately held company has streamed more than 25 billion hours of music since it launched seven years ago, according to Ek. Spotify claims to have more than 15 million subscribers, paying $10 per month, plus more than 60 million active monthly users in 58 markets. Its music catalog includes more than 30 million songs, with 20,000-plus added to the library each day.
Sweden-based Spotify has been criticized for not paying artists fairly for music streamed through its free and premium services. The most notable fracas has been with global superstar Taylor Swift, who yanked her entire catalog from Spotify last year with her company claiming the singer's releases would make far more money if they remained off Spotify. Meanwhile, music bigwig Jay-Z last month launched Tidal, a music and video subscription service, arguing that services like Spotify don't provide a sustainable model for the industry.
With its foray into video, Spotify faces a host of rivals, including Google's YouTube; Facebook and Twitter; Internet-media hubs like Yahoo and AOL; and startups including Vessel, founded by ex-Hulu-CEO Jason Kilar, which offers exclusive early access to video content to subscribers.
Spotify video partners include Comedy Central's "Broad City," Legendary Entertainment's Nerdist Industries, Disney's Maker Studios, Fullscreen, the BBC and TED.
(By Todd Spangler)