Sports betting industry could fill state coffers
Lawmakers across the country are poised to take up efforts to legalize sports betting as states look to grab a piece of a billion-dollar industry.
Sports betting could be legal in 32 states within the next five years, market researcher Eilers & Krejcik Gaming estimated before the Supreme Court's decision Monday. Americans already wager an estimated $100 billion a year through illegal bookies and offshore sites – a potential windfall for sports books, venues and state governments as legal betting expands.
Analysts at investment bank Jefferies said a legal sports-betting market is worth up to $57.6 billion annually. Sports betting in Nevada alone accounts for an annual handle of about $5 billion. New Jersey bettors will probably double that amount, Joe Asher, CEO of William Hill US, said during an interview with Mike Francesa on New York radio station WFAN.
States and federal taxes on sports books are based on gross gambling revenue. Out of $4.9 billion in total wagers last year, Nevada sports books held on to $249 million in revenue. Nevada has a top rate of 6.75%, while the federal excise tax is 0.25%.
New Jersey, which led the effort to overturn the federal ban on sports betting, could see millions of dollars in new tax revenue. The state will bring in more than $173 million in taxes each year, according to Oxford Economics. The report also estimated that New Jersey will create 3,633 jobs through sports gambling.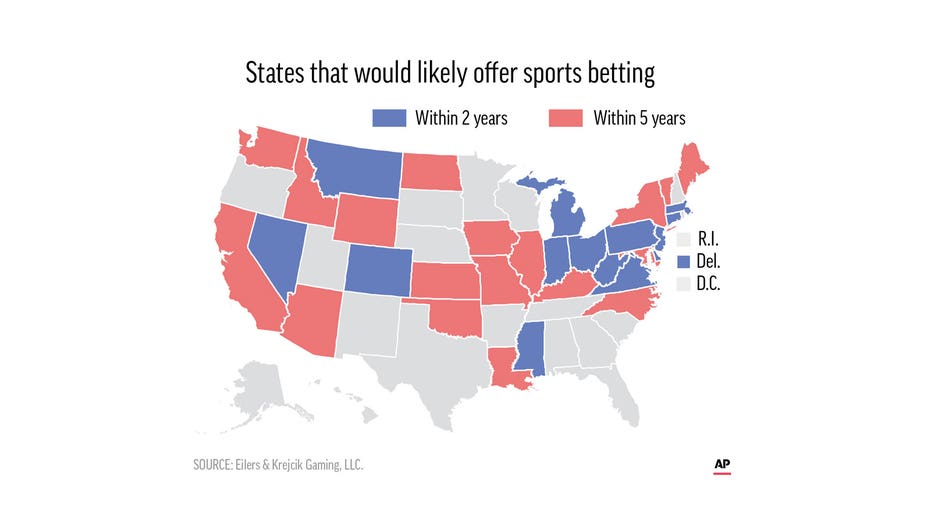 Nationwide, sports books will record as much as $2.9 billion in gross revenue, with about $410 million of that total going to state treasuries and sports leagues in the form of integrity fees, according to Jefferies.
In Pennsylvania, Democratic Gov. Tom Wolf signed a law regulating sports betting before the Supreme Court threw out the federal ban. The law calls for Pennsylvania to impose a 34% tax on gross revenue from sports bets, potentially generating millions of dollars for the state's coffers.
Nevada is currently the only state with full sports betting. Some wagering is allowed in Delaware, Oregon and Montana, which were also granted exemptions under a 1992 federal law.
Sports fans in Nevada set a March record by placing nearly $522 million in bets during the month.