Spending Less Cash on Going Green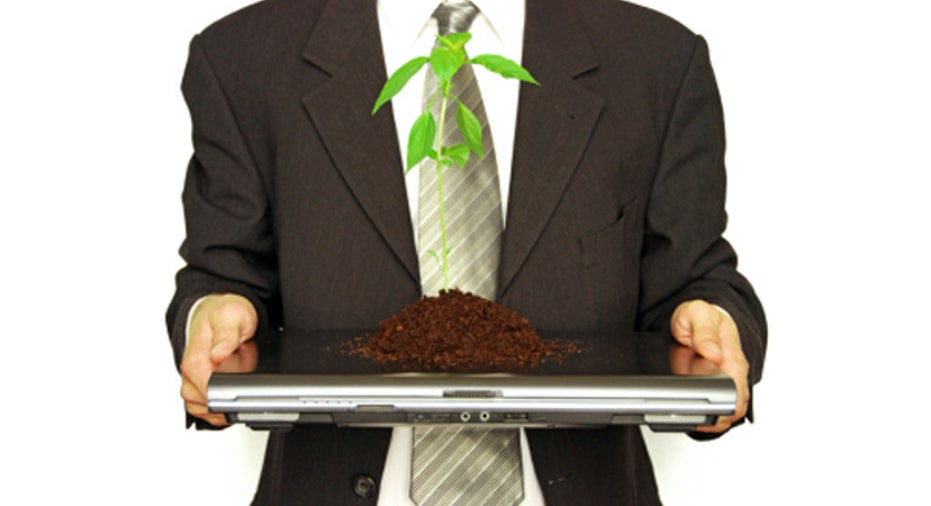 What is one way that you have made your business greener without investing a lot of your company's money? -- Joe Z. of Eugene, ORThe following answers are provided by the Young Entrepreneur Council (YEC). Founded by Scott Gerber, the YEC is an invite-only nonprofit organization comprised of the country's most promising young entrepreneurs. The YEC promotes entrepreneurship as a solution to youth unemployment and underemployment and provides its members with access to tools, mentorship, and resources that support each stage of a business's development and growth. E-mail your questions about best practices for starting up and/or managing a small business to smbs@foxbusiness.com.
No. 1: Convert your entire business model to the webFrom Laura Roeder of LKR
My company sells business-to-business training programs, which are traditionally delivered via DVD or in-person workshops. Instead, we've taken the whole thing digital by providing users with a login that they can use to access all of their training videos online. We're going green by not wasting a ton of resources manufacturing and shipping physical materials.
No. 2: Invest in an e-signature program From Kent Healy of The Uncommon Life
Running a business can involve a lot of paper. Sometimes printing long documents seems unavoidable when something must be signed. However, services such as DocuSign create legally-recognized signatures (in many cases) through a process executed completely online. At the end of the process, you are provided with a PDF that can be saved and shared with all parties involved in the transaction.
No. 3: Save money and the environment with coffee mugs From Vanessa Nornberg of Metal Mafia
We found that having paper cups around encouraged people to use them once and throw them away, which cost lots of money and killed lots of trees. To stop the waste, we got each employee a personalized mug. Now each person always knows which cup belongs to whom, and we no longer waste all the paper ones.
No. 4: Go paperless ... it's not that hard anymore From Derek Shanahan of Foodtree
We've taken every opportunity to take paper out of the equation; in today's technological climate you can remove physical paper from nearly every element of running a business. Our contracts live in Contractually, our invoicing and correspondence is all online. The primary use we have for paper is for brainstorming/sketching, for which it's easy to use scrap or recycled papers.
No. 5: Leverage technology and pass it on From Nathalie Lussier of Nathalie Lussier Media
We use EchoSign to reduce paper copies of contracts, Skype to have virtual meetings instead of in-person meetings and Google Docs to store internal documents. With all of the waste reduced (using mostly free tools), we can afford to donate a little extra jingle to our favorite tree-growing foundations to boot.
No. 6: Green solutions that save you money, not cost you money From Matt Wilson of Under30CEO.com
Going green doesn't mean spending a lot of money, it should actually save you money. Think simple and do things that reduce excess waste, both physically and monetarily. Encourage employees to bring their own lunches, assign each employee a reusable coffee mug, drinking glass and hand towel. Next time you have a company event, skip the beer cans and order a keg. Cleanup will be a breeze!
No. 7: We use RightSignature From Doreen Bloch of Poshly Inc.
One way our business has "greenified" is by moving our legal review and signing processes to RightSignature. RightSignature is a powerful Web and mobile app that makes it simple, seamless and secure to execute legal documents online. Our switch to digital legal docs has saved reams of paper for our company, with the additional benefit of saving time. Goodbye to faxes and scans.
No. 8: Empower your team to go green From Natalie MacNeil of She Takes on the World
At the collaborative workspace I co-founded, we chose a location with a bus stop in front of it and lots of bike racks outside. We have a shower at the office for people to use when they bike in. We don't offer people a parking space -- which actually saves us a ton of money -- and encourages them instead to bike or take public transportation. People love it and it is no expense to us.
No. 9: By being entirely virtual From Heather Huhman of Come Recommended
All of my employees work from home and we do most of our work in Google Docs or Microsoft Word. Essentially, our office is completely paperless -- almost everything is done online or over conference calls, eliminating the need for printing and paper, among other things.