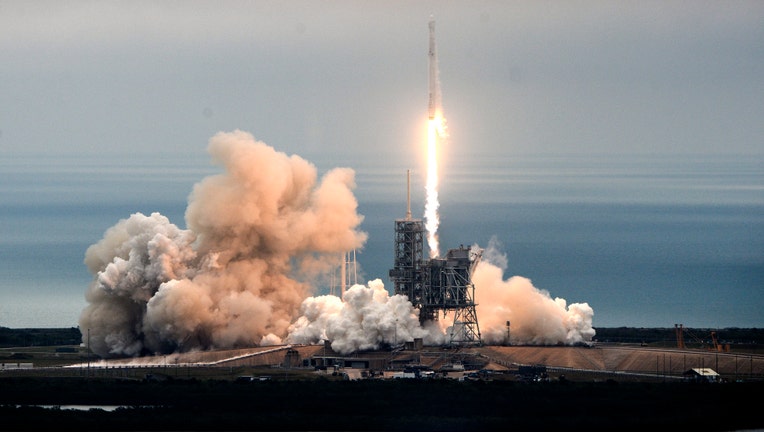 The U.S. Air Force picked Elon Musk's SpaceX to blast a second Global Positioning System satellite into orbit, part of a broader drive to open up various other launch contracts for competitive bidding through late 2019.
Tuesday's award of the $96.5 million, fixed-price contract to SpaceX indicates that faced with escalating budget pressures and heightened congressional prodding, Pentagon brass are stepping up efforts to give the Southern California company additional opportunities to become a significant provider of military satellite launches.
Space Exploration Technologies Corp. has battled for years and even took the military to court to be allowed to bid on such contracts using its Falcon 9 booster. The latest developments mark another victory in the company's campaign to snare business away from its dominant rival, a joint venture between Boeing Co. and Lockheed Martin Corp.
SpaceX became eligible to conduct military launches in May 2015 and won its first Pentagon contract, also for a GPS navigation satellite, in April 2016.
The rival venture, called United Launch Alliance, for more than a decade had enjoyed a monopoly boosting large military satellites into orbit before SpaceX entered the fray. Until then, the venture's average launch costs hovered around $200 million per mission.
United Launch still remains on top when it comes to lofting the largest, most expensive and highest-security spy satellites and other national-security payloads. It can cost more than $500 million to transport such satellites into space using the heavy-lift variant of the Delta IV rocket. Last month, two senior members of the House Armed Services Committee called on the Pentagon to ensure continued use of  the Delta IV.
But in announcing its award of the contract to SpaceX, the Air Force's Space and Missile Systems Center also said it was making the company eligible to compete for five additional contracts through late 2019. That brings to 14 the total number of launch contracts the Air Force has committed to make competitive through that period, according to the release.
Lt. Gen. Samuel Greaves, commander of the space and missiles center and the Air Force's senior space acquisition official, said Tuesday's award supports the goal of "delivering resilient and affordable space capabilities." The launch is scheduled for early 2019.
Gwynne Shotwell, president and chief operating officer of SpaceX, said "we appreciate the confidence that the Air Force has placed in our company."
SpaceX also is developing a more powerful rocket designed to launch the biggest intelligence satellites, some the size of school buses. But that rocket, the Falcon Heavy, isn't slated to fly until later this year. It is expected to take at least several years for Pentagon officials and leaders of the intelligence community to become comfortable using the Falcon Heavy for cutting-edge spy satellites, according to government and industry experts.
The Air Force said the decision to expand competitive bidding also was intended "to allow the development of new launch vehicles."
United Launch, which has slashed employees and otherwise cut costs, also seeks to end its dependence on Russian engines for its workhorse Atlas V rockets. It previously announced it was working on a lower-cost replacement booster called Vulcan, featuring U.S.-built main engines. Blue Origin LLC, the growing space startup founded and run by Jeff Bezos, chairman and chief executive of  Amazon.com Inc., is the front-runner to provide those engines.
Pentagon officials have said the results of competitive bidding between SpaceX and United Launch will depend on more than simply price. Previously, Air Force officials provided industry with strategy documents indicating the military didn't anticipate "full and open competition" between United Launch and SpaceX to begin until 2023.
Over the years, the Air Force has said its launch-acquisition strategy takes into consideration factors such as booster reliability and the impact of specific awards on the health of the country's industrial base.
Last year, Claire Leon, a top Air Force acquisition official, spelled out competing pressures to save money by choosing the lower-cost competitor while complying with high-level White House and Pentagon directives to maintain two separate launch providers. She told an industry conference in Pasadena, Calif., that until United Launch becomes a more agile competitor, the Air Force "may end up needing to compete a little differently," by unilaterally allocating certain launches.
"It's likely to be a split buy in some fashion," she said.