Sony's New Tablets to Face Fierce Competition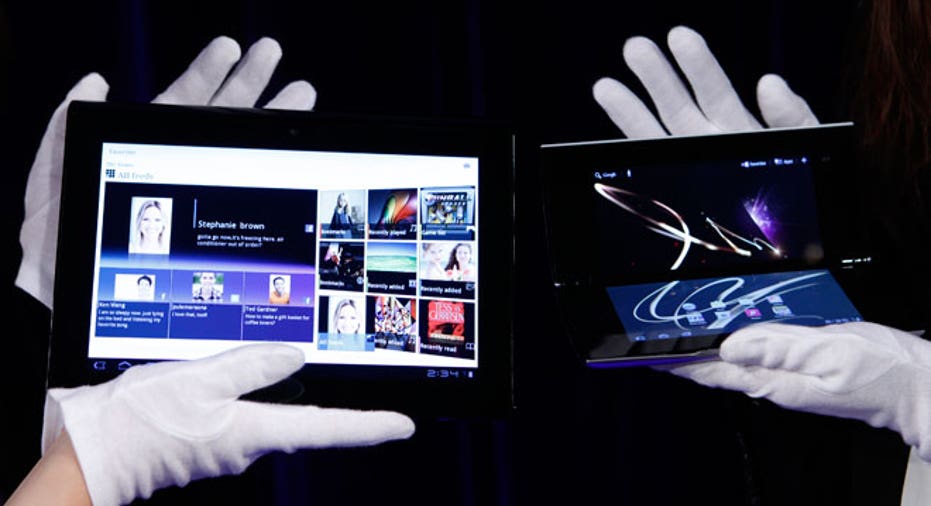 Sony Corp's (NYSE:SNE) new tablet computers, expected to be launched on Wednesday, face an uphill battle against dominant players Apple Inc and Samsung Electronics, with the gadget's expected pricing in particular raising red flags.
The Japanese electronics conglomerate behind PlayStation games consoles and Vaio PCs is struggling under the weight of its lossmaking television division and badly needs the boost of a new hit product.
"Sony really must be in the tablet market and must succeed," said Mito Securities electronics analyst Keita Wakabayashi.
Sony has said it is targeting Samsung's No.2 slot in the booming market, where the Korean company's Galaxy Tab range is a distant second to Apple's (NASDAQ:AAPL) blockbuster iPad.
At an industry event in Germany on Wednesday, Sony is expected to launch its tablets, which were first shown off at a Tokyo event in April.
One, codenamed S1, has a single 9.4-inch screen, while the other is a clamshell type with two 5.5-inch displays. Both run on an adapted version of Google's Android Honeycomb.
The company hopes features such as access to first generation PlayStation games and the single-screen version's unique curved design will help it stand out in the crowd of more than 100 iPad challengers based on Android.
But analysts say the price, to be announced later in the day, may be the determining factor.
"We worry that the S1 tablet could be priced too high (eg near $600), and thus sell poorly, and we think the S2 clamshell design will fail," Jeff Loff, an electronics analyst at Macquarie Securities, said in a report.
Hewlett Packard's (NYSE:HPQ) decision to drop its Touchpad tablet weeks after launch demonstrates how easy it is to fail in a market pioneered and dominated by the makers of the iPad.
Analysts estimate Apple had sold about 30 million iPads by mid-August, while distant runner-up Samsung is expected to sell about 7.5 million units of its Galaxy Tab this year, though sales are banned in Germany and delayed in Australia after Apple sued it over "slavish" imitation.
Both the iPad and Galaxy Tab sell for $500 and upwards, but HP's experience underlines the importance of keeping gadgets affordable amid weak consumer sentiment in Europe and North America.
Sales soared after HP slashed the price of its Touchpad to $99 from $399 and $499, prompting the company to announce a further "final run" of the tablets to meet demand.
Even if the Sony tablet does take off, investors say it will do little to revive the company's share price, which has lost about 17 percent since Sony reported quarterly earnings on July 28. The broader market has fallen about 10 percent in the same period.
"It won't be much of a boost in profit terms even if this product succeeds," said Shigeo Sugawara, senior investment manager at Sompo Japan Nipponkoa Asset Management in Tokyo.
"It is still a small category compared with the total PC market. It will certainly not be a catalyst for the share price...it's more of a branding exercise."
"The biggest factor in moving Sony's share price will be televisions," Sugawara added. "How far they can restructure that division is the biggest issue facing Sony and other electronics makers such as Panasonic and Sharp."
(Additional reporting by Miyoung Kim in SEOUL; Editing by Anshuman Daga)