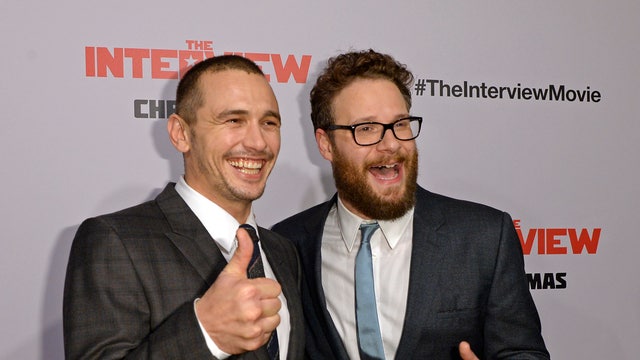 Sony Pictures on Tuesday gave the greenlight for a limited screening of "The Interview" at independent theaters across the U.S. on Christmas Day.
"We have never given up on releasing 'The Interview,' and we're excited our movie will be in a number of theaters Christmas Day," Sony Entertainment (NYSE:SNE) Chairman and CEO Michael Lynton said in a press release. "At the same time we are continuing our efforts to secure more platforms and more theaters so that this movie reaches the largest possible audience."
Alamo Drafthouse Founder Tim League said in a Tweet on Tuesday that the Austin, Texas-based theater chain has been given the go-ahead by Sony to screen "The Interview" on its original release date.
League told FOX Business that "the show will go on" in Alamo theaters, and the company's location in Richardson, Texas, already has at least four show times available for Dec. 25.
"This movie is an emblem of Freedom of Speech at this point, so I think there [are] a lot of people that want to support the movie," League said on FBN's Risk & Reward.
He said Sony didn't have to "twist his arm" to get the small theater chain to show the film, and that a group of some 400 independent theater owners -- members of the Art House Convergence -- signed a petition to play it.
League, who has already seen the film, said "it's not for everybody, but [he] really liked it." He applauded Sony for releasing the film, saying it's "fantastic that they're supporting the film" given the "unfathomable" pressure they've been under in the past couple weeks.
The independent theater operator added that most of the 19 theaters in the Alamo chain will be showing "The Interview," and that another 100 theaters would be, too.
Last week, Sony Pictures canceled the parody's release after hackers breached its databases and threatened attacks on theaters playing the movie -- and major chains cancelled scheduled showings. Earlier this week, FOX Business reported that talks between Sony and Dish to release the film online on-demand had fizzled, but a new report by the Wrap says Sony still plans to push the film out via on-demand. Completely foregoing a theatrical debut would have stood to negatively impact ticket sales during the highly trafficked holiday season.
The $42-million-plus comedy, starring Seth Rogan and James Franco, depicts the fictional assassination of North Korean leader Kim Jong Un. Hackers first attacked Sony's system in November, stealing troves of private information, including emails, and leaking them and some never-before-seen movies online. The FBI said last week an official investigation found that North Korea was behind the attacks.
Representatives for Sony did not immediately respond for comment to FOX Business.