Sony Chases Apple With Launch of Android Tablet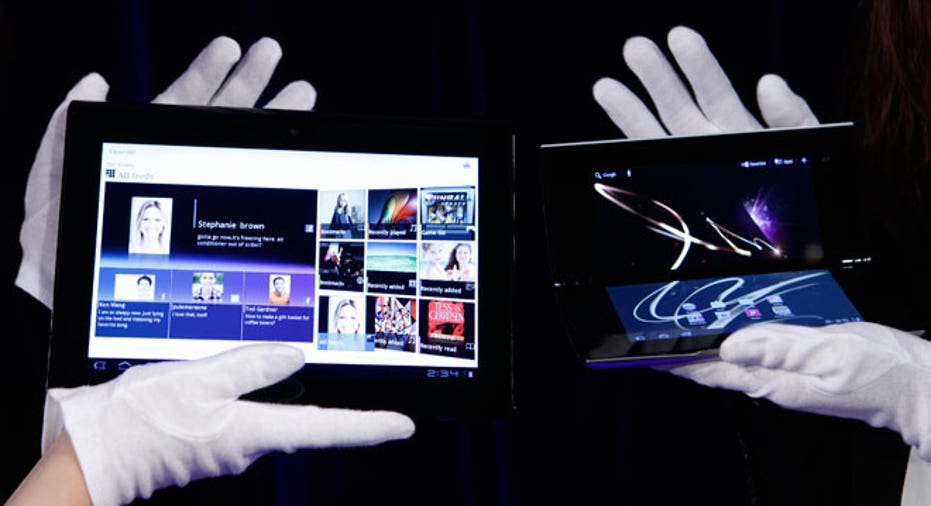 Sony launched its first tablet computers on Tuesday in an ambitious attempt to grab the No.2 spot from Samsung in a fast-growing market dominated by Apple's year-old iPad.
The gadgets, based on Google's Android 3.0 operating system, could be some of the Japanese company's most important new products since the Playstation game console made its debut in 1994.
Sony, also the inventor of the Walkman and once a symbol of Japan's high-tech might, is now struggling to come up with hit devices and improve profit margins as it competes with Apple, Samsung Electronics and Nintendo.
"Expectations are low that any company can present a credible challenge to Apple," said Jay Defibaugh, director of equity research at MF Global in Tokyo.
Sony's tablets join more than 100 iPad challengers based on Android, and may struggle to differentiate themselves, although Sony does have the advantage of being able to link the tablets to its gaming and entertainment offerings.
"Being late into the tablet market is not necessarily a bad thing," said Geoff Blaber, head of mobile device software research at British IT analysis firm CCS Insight.
"If certain manufacturers are taking their time to come to market with something genuinely differentiated from the iPad... that can be good for them in the long run."
Samsung's Galaxy Tab is Apple's strongest competitor while Motorola, LG Electronics and HTC are flooding the market with tablets running Android.
A survey published on Tuesday showed that Android is already losing some allure for software developers smitten with Apple -- meaning that fewer of the apps that attract customers to buy a product are likely to be available for Android.
Sony's black, glossy devices, code-named S1 and S2, will be the first tablets to enable the use of PlayStation games, Kunimasa Suzuki, deputy president of the consumer products and services group, said at Tuesday's media launch.
Sony is banking on the unusual, off-centre design of the S1 and access to first generation PlayStation games and its other networked content to differentiate the products from the flood of tablets in the market.
which has priced the PlayBook to match the iPad, has struggled to win consumer fans since launching the device last week.
Hewlett-Packard Co unveiled its entrant in the tablet race in February.
Sony's tablets will be WiFi and 3G/4G compatible. S1 has a 9.4-inch display and a curved design that Sony said makes it easier to hold for long periods of time.
The S2 has two 5.5-inch displays in a clamshell design, which Suzuki emphasised by producing one of them from his jacket pocket during the launch.
Sony has seen its share price slide in the past decade as it struggled to keep up with rivals. Helped by its success in TVs and other products, Samsung's market capitalisation of some $134 billion dwarfs Sony's $30 billion market value.
Sony's Kazuo Hirai, seen as a likely successor to CEO Howard Stringer, made his first public appearance at the event after the company promoted the gaming division chief to the number 2 position last month.
Google's Android chief Andy Rubin was also on hand.
Shares in Sony, which unveils its quarterly results on May 26, fell 2.1 percent on Tuesday in a Nikkei market down just over 1 percent. (Additional reporting by Miyoung Kim in Seoul and Georgina Prodhan in London; additional writing by Anshuman Daga; Editing by Jon Loades-Carter)