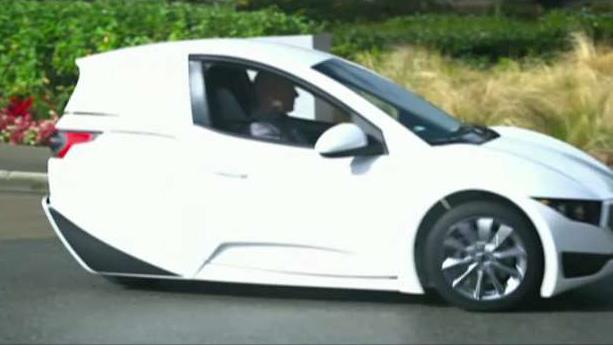 Electra Meccanica's SOLO electric vehicle is set to revolutionize the way people commute daily.
The Canadian auto manufacturer designed the SOLO single seater car to provide a unique driving experience for the nearly 80% of Americans commuting to work alone in their personal vehicle.
"This is a certified ready to go vehicle that will be on the streets by the third quarter of this year," Electra Meccanica SOLO designer Henry Reisner said during an exclusive interview with FOX Business' Liz Claman.
The SOLO is a two door, three wheel electric vehicle with a top speed of 85 miles per hour and can drive for 100 miles on a single charge.
"Instead of driving your big 3,000 pound car, you can drive a small car, pay for no gas, easier to park," Reisner said.
The SOLO all-electric vehicle retails at $15,500 and its lithium-ion battery system requires three hours of charging time on a 220-volt outlet or six hours overnight on a 110-volt system. SOLO can be reserved for $250 with delivery expected in the fourth quarter in 2018.
"This will do everything that your regular car commuter car will do, Reisner said on FOX Business' "Countdown to the Closing Bell." "Air condition, power breaks, power steering, everything that you need, except no more gas bills."
As a publicly held company, Electra Meccanica (OTCMKTS:ECCTF) began trading as an over the counter stock in September of 2017, and announced its application filing for a listing on the Nasdaq exchange last October.