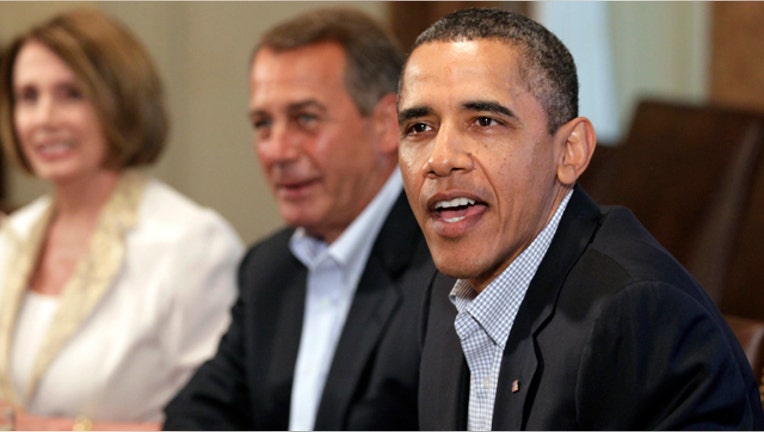 If Congress fails to reach a debt-ceiling deal before the government runs out of money, recipients of government safety net programs could get caught in the crosshairs of lawmakers' impasse.
If lawmakers fail to raise the federal government's borrowing capacity, some experts say Treasury can prioritize making payments with the limited funds it has left, and say the billions of dollars in Social Security and the Supplemental Nutrition Assistance Program (SNAP) payments could either be delayed or suspended.
Treasury Secretary Jack Lew argued against prioritizing payments payments when he testified to Congress last week, and said the consequences of a debt-ceiling breach could stall economic recovery. "Under any scenario, we would be defaulting on obligations." The government's next interest payment on its debts of $5.9 billion is due at the end of the month, according to an analysis released by Moody's last week. But before that, a $12 billion tab for Social Security benefits is due on Oct. 23.
As of June 2013, 47,760,285 Americans received SNAP benefits, with an average monthly benefit of $132.89. As of August 2013, the total number of Americans receiving Social Security benefits was 57,554,000 and the average monthly benefit was $1,161.73.
Pamela Villarreal, Social Security and retirement expert for the National Center for Policy Analysis, says Social Security recipients shouldn't worry over missing payments. She explains that Social Security payments are considered "mandatory spending" that have continued to be paid out during the partial government shutdown and doesn't expect any payments to be missed if we hit the debt limit.
"Even if the debt ceiling isn't raised, there is enough revenue coming in to pay the debt," Villarreal says. "We sometimes hear the president say that Social Security checks won't go out. We are still getting billions monthly in tax revenue, and with that coming in, we can fund about two-thirds of the government."
SNAP benefits, however, are considered discretionary spending, according to Villarreal, and is run by individual states with federal funding, and could face a cutback if Treasury runs out of money. She says some states may decide to use their own budgets to fund their SNAP program if the federal government can't afford payments.
"This could possibly not be funded, but that is still highly unlikely," she says. "Politically, that would be so unpopular that the chances are there will be measures put in place to continue funding."
However, some experts say safety net programs could be on the chopping block if the debt-ceiling is hit.
The Treasury Department's first duties are to pay its debts, says Ron Haskins, co-director of the Brookings Center on Children and Families. He says social programs will take a backseat to using funds to pay our creditors.
"There seems to be a universal agreement to pay our creditors, because the full faith and credit of the U.S. government will be dealt a much bigger blow if we don't pay the interest we owe."
And even if states decide to fund their own SNAP programs, they can't sustain doing so for long, he says. President Obama could do the unheard of, Haskins says, and just ignore the debt limit and continue to borrow money to pay the governments' bills. He points to a recent op-ed in the New York Times from Henry Aaron, outlining this scenario.
"If that were to happen, it would be a fascinating thing," he says. "Either way, he has a constitutional habit and obligation to pay off the debt for the U.S. and make payments that Congress has duly enacted."
Threatening to skip payments for these safety nets is more of a bargaining chip than anything else, says Villarreal.
"The same thing happened in 2011, that Social Security beneficiaries didn't receive checks—it was a scare tactic and never happened," she says.