Soaring Tuition With Massive Debt: How Students Can Fight Back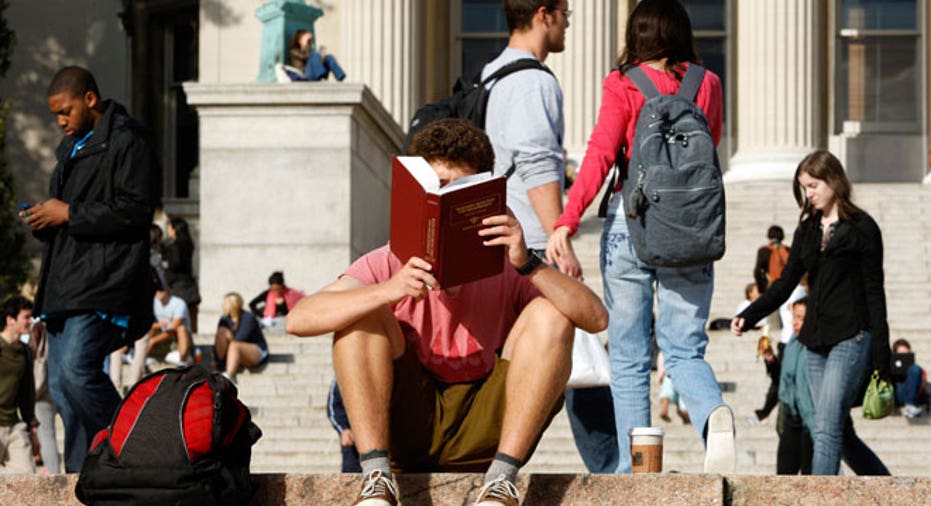 Growing up is tough enough without the worries of your financial future, so Money101  is here for you. E-mail us your questions and let us take off some of the pressure.
It's tough being a college student or recent grad in the current economic environment: not only are they taking on increasing amounts of student loan debt, college and universities are raising their costs at a time the job market outlook is still uncertain.
Campus Grotto's publication of the latest tuition numbers for the 2012-2013 school year show that for the first time ever, one college's price tag has passed the $60,000 per year mark in total cost (tuition, room and board, required fees) and 74 colleges now charge more than $55,000 per year (only 19 did last year and only one the year before that.).
This rapidly ballooning tuition cost paired with a rise in student loan defaults and more than $1 trillion in outstanding student loan debt is unsustainable for students and their families, says Ted Reimers of Campus Grotto.
"Unless something changes, it's only going to get worse--at this rate we'll be seeing $130,000 a year colleges by 2030," he says.
Although all of the universities on the top 10 list of most expensive colleges are private (with Sarah Lawrence College topping out at $61,236 and New York University slightly trailing behind at $59,837), public universities are also experiencing rising costs placing a bigger burden on students.
What's Driving Prices Higher
There are many reasons behind the cost increases with Reimers identifying reduced state appropriations, higher health care costs and increased utility costs as the main culprits.
While many universities are dealing with decreased endowments, public schools in particular are feeling the crunch.
"Both state and federal funding have declined substantially since the 90s, yet the schools' operating costs are heading in the opposite direction," says Jon Small, Vice President of College Prep at Veritas Prep. "Faculty salaries, for example, are at an all-time high."
In addition, colleges and universities are competing against each other to attract more students willing to pay the retail-price in exchange for a prestigious reputation, says Mark Maiewski, certified college planning specialist and founder of StopOverPayingForCollege.
"They dress everything up, from dorms to climbing walls to appearance to $60 million auditoriums, so it's a 'wow' [factor] for most people," he says. "You've got administration salaries and their ability to attract faculty shows we have more PhD's than anyone else so in people's minds, it's a better school for them."
How Students can Protect their Wallets
When narrowing down schools that would be the best fit academically, socially and financially, the experts recommend students look at a variety of colleges and universities despite the fact that private schools' sticker prices are generally higher.
"The published tuition rate is almost meaningless when families will be going out-of-pocket for a mere fraction of that, unless they are in the top 1% of household income," says Small.  "This gives students some latitude in exploring a variety of public and private institutions."
Look beyond name brand recognition. Students and families are often under the impression that a pricier school equals a better education, but a study conducted by the Bureau of Economic Research found that a top student attending an average college or university will fare better in life than an average student who attends a high profile college or university.
For brand-conscious students who want to continue their education, Maiewski suggests being more selective about their choice in graduate school.
"Don't fork out $40,000, $50,000, $60,000 a year for undergraduate school—go to a better graduate school," he says. "You'd be better off to go from Virginia Tech to have Yale on your resume as a grant-funded program in molecular biology than it is to go the other way around."
Check out all financial aid options. To avoid sinking into debt, Maiewski urges families to thoroughly research financial aid options before committing to a school.
"If you as a student or your parents cannot afford to do this, why do you need to go into deep debt just to attend a school? We have community colleges, we have online classes that are available."
Small points out that the net price calculator provided on university websites is an indispensable tool for college applicants to figure out what they can truly afford.
Students should also look into the plethora of scholarships and grants available to find funding that doesn't have to be repaid, says Small.
"There are now too many scholarship search websites to even name out there," he says. "This is one area where students can really help out their parents."