Snapchat Parent's IPO Filing Is Full of Surprises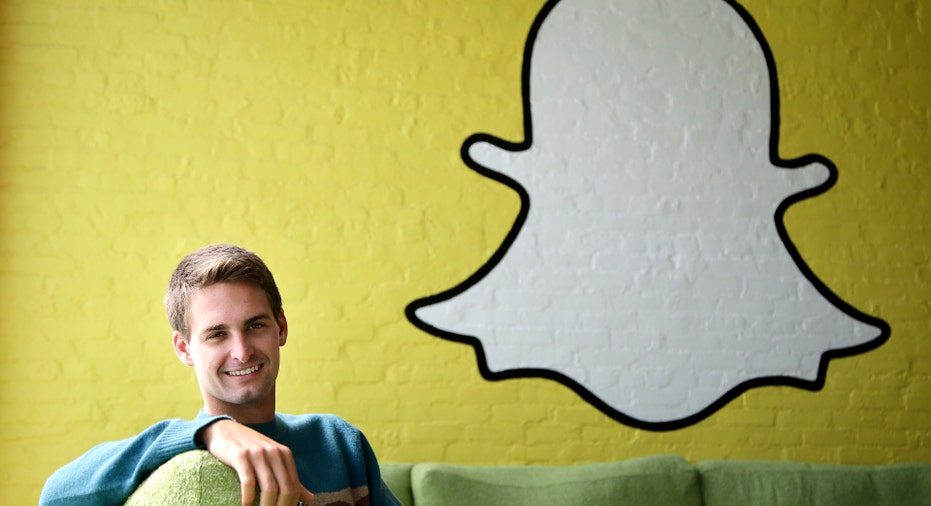 It's not at all surprising that the highly-anticipated IPO filing of one of the world's most secretive tech companies should be full of surprises. You can't miss the first: In big black letters against Snapchat's characteristic yellow background, it says, "Snap Inc. is a camera company."
Snap's growing horde of enthusiastic users would probably see it as a messaging app or social media platform. Aside from the newly launched Spectacles smart-glasses, the Venice, Calif. company doesn't actually make or sell cameras, so that's a bit of a stretch. I'm surprised that the nitpicky Securities and Exchange Commission (SEC) didn't have a problem with that.
Snap's enigmatic young CEO, Evan Spiegel, has been trying to convince us that Snap is indeed a camera company since last spring, arguing that Snaps are photos and videos taken by a smartphone camera. And the addition of Stories, Discover and Spectacles go considerably beyond messaging.
So, if Snap wants to call its flagship product "a camera application" that "empowers people to speak visually," I guess, we'll go with that.
Creative positioning aside, the filing does resolve the app's biggest complaint: many over the age of 35 can't seem to figure out how to use it. The S-1 provides an engaging visual and textual explanation of how and why the product and its ads work – a smart move since potential investors are not likely to be among Snapchat's 158 million daily active users, most of which are between the ages of 18 and 34.
It also explains why Snapchat is unique and possibly worthy of the $20 to $25 billion valuation it seeks: Unlike competitive services, posts are primarily visual, can be augmented with a dizzying array of creative tools and disappear in short order. Snapchat makes communication fun, easy and engaging, as evidenced by the 2.5 billion Snaps its fanatical users send daily.
The company approaches monetization in very much the same way, through seamless integration between products and advertisements. The same teams that design its products also help to design its ad products, which appear to be organic and engaging.
Snap avoids using the ubiquitous Monthly Active Users metric for good reason: Twitter's (NYSE:TWTR) MAUs peaked too soon around 300 million, while Facebook's (NASDAQ:FB) 1.8 billion are practically impossible to match. Instead, the company measures user engagement and monetization through Average Revenue Per User or ARPU, which grew from $0.31 during the last quarter of 2015 to $1.05 during the same period in 2016.
Snap recorded a net loss of $514 million for 2016, but revenues grew to $404 million in 2016, a seven-fold increase over the previous year, when it began to monetize. The company has never made a profit during its five-year existence. As with all high-growth startups, Snap is burning a lot of cash: about $1 billion over the past two years. It has roughly $1 billion in cash and access to a $1.1 billion line of credit.
Since the product is bandwidth intensive, its user-base is primarily in highly developed nations of North America and Western Europe. About 85% of Snap's current business is in the U.S. Along with a highly-concentrated young demographic, that could spell limited growth or unlimited potential, depending on future developments.
Growth did seem to flatten out somewhat during the latter part of last year. That could either be an aberration, perhaps related to seasonality and the introduction of several new product features, or the result of copycat products from Facebook and Instagram. Something to watch closely, in any case.
Another potential concern is the management team. Co-founders Spiegel and CTO Robert Murphy – aged 26 and 28, respectively – control the voting rights through Class-C stock. Executive turnover has been high: most of the current team joined after 2015. There currently is no chief operating, revenue or marketing officer.
Adult supervision is supposed to come from chairman and former Sony Pictures chief Michael Lynton, but that move was just announced three weeks ago – suspiciously close to the IPO filing. By many accounts, Spiegel is secretive, controlling and combative. He's also a self-professed work in progress. Time will tell if the wunderkind benefits from Lynton's mentorship and evolves into a mature leader.
So what is the big takeaway for potential investors? Snap's strategy is very much Facebook-like: product improvement through innovation and risk-taking. That drives user engagement and monetization through advertising.
The company has executed and scaled extremely well so far, and if Snap's March IPO succeeds, I predict it will unleash a stampede of offerings from a pent-up horde of highly valued tech Unicorns such as Palantir, Airbnb and Spotify.