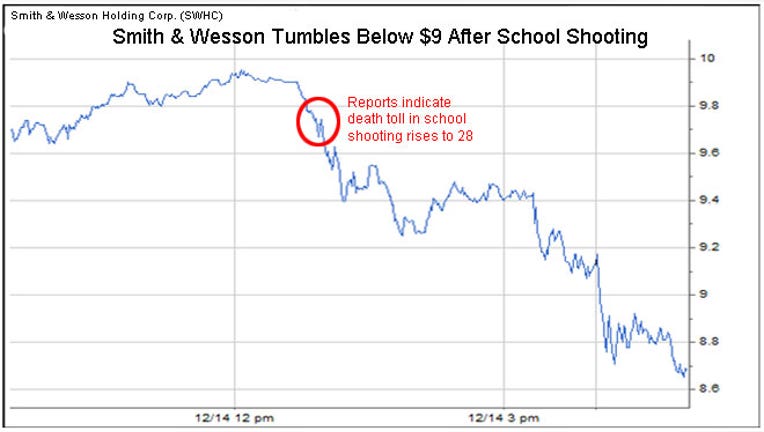 Shares of firearm manufacturer Smith & Wesson (NASDAQ:SWHC) tumbled as much as 5% on Monday as politicians begin to call for tighter gun control legislation in the wake of last week's massacre that left 28 dead in Connecticut.
The selloff leaves Smith & Wesson shares down as much as 10.54% since December 13, the day before the shooting at Sandy Hook Elementary School in Newtown, Conn.
A growing chorus of political leaders have called for stricter gun laws in the days since, including some pro-gun advocates like conservative Democrat Sen. Joe Manchin of West Virginia on Monday.
Over the weekend, Democratic Sen. Dianne Feinstein revealed that Senate Democrats plan to reintroduce legislation on a federal assault weapons ban.
Reports indicate that Adam Lanza used a Bushmaster .223 assault rifle in the massacre in Newtown that left 20 children dead.
"The purpose of this bill is to get just what [New York] Mayor Bloomberg said, weapons of war, off the streets of our cities," Feinstein said on "Meet the Press," which airs on Comcast's (NASDAQ:CMCSA) NBC.
President Barack Obama in a speech on Sunday evening pledged to use "whatever power this office holds" to prevent more tragedies like the one in Newtown.
"Are we really prepared to say that we're powerless in the face of such carnage, that the politics are too hard?" Obama said.
It's not yet clear if a push for tighter gun control would even be successful in Congress, where the National Rifle Association holds considerable sway.
Nor is it clear how stricter gun laws would impact short- and long-term sales for Smith & Wesson, which generated $412 million in revenue last year.
Earlier this month Smith & Wesson logged a 48% leap in second-quarter sales to $136 million and management raised its 2013 financial guidance.
Springfield, Mass.-based Smith & Wesson saw its shares drop 3.84% to $8.77 in recent trading on Monday.
But even with the recent slide, Smith & Wesson's stock has surged about 100% year-to-date and 124% over the past 12 months.
Shares of fellow gun maker Sturm, Ruger & Company (NYSE:RGR) were also under pressure on Monday, dropping 1.25% to $45.00.