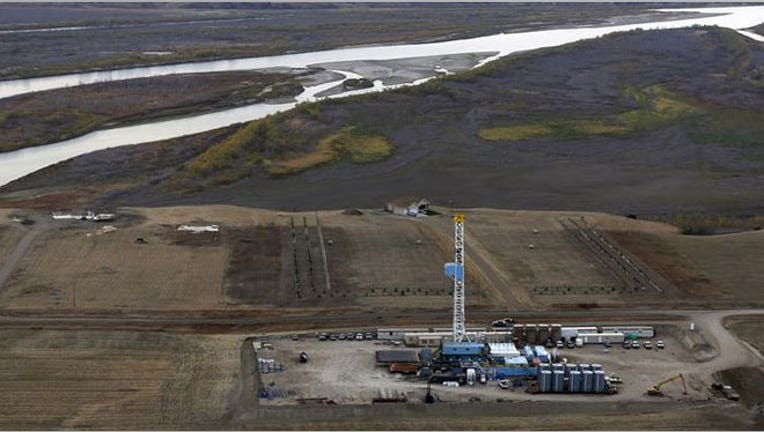 Some of the oil industry's smaller players could be poised to reap the most rewards from increasing U.S. crude oil production.
Monthly production is expected to surpass imports later this year for the first time since February 1995, according to a report from the Energy Information Administration. By the end of next year, the gap between domestic production and imports is projected to be nearly 2 million barrels per day.
Production may top 8 million bbl/d in the fourth quarter of 2014, the EIA said, which would reflect the highest level since 1988.
Meanwhile, by that period, net crude oil imports are projected to fall below 7 million bbl/d for the first time since 1995.
The timing of the crossover between production and net imports could change, the EIA noted. A decrease in supply, perhaps if a strong 2013 hurricane season disrupts offshore oil production, could delay or prevent production from surpassing imports. An increase in domestic production could mean a reversal happens sooner than forecast.
The EIA explained that its current projection is a result of rising domestic crude oil production, particularly from rock formations in North Dakota and Texas.
Continued growth in U.S. crude oil production will certainly benefit some of the industry's giants like Chevron (NYSE:CVX), ConocoPhillips (NYSE:COP) and ExxonMobil (NYSE:XOM).
But others, such as the smaller EOG Resources (NYSE:EOG) and Occidental Petroleum (NYSE:OXY), rely heavily on domestic production and stand to benefit the most from a continued upward trend.
EOG Resources, valued at $34.3 billion, produces nearly 95% of its crude oil domestically. For the full year 2012, the company's U.S. crude oil and condensate production increased 46% over the prior year.
"EOG has been a pioneer in all these resource plays," Wunderlich Securities analyst Irene Haas said, referring to U.S. shale formations. "It's planted in all the shale plays."
In its financial report released last month, EOG Resources increased its estimate for recoverable oil at the Eagle Ford shale in Texas.
"EOG made strides in increasing the amount of crude oil recoverable from both its Eagle Ford and Bakken resources by testing various drilling densities and further refining completion practices," the company said.
Occidental produced 265,000 bbl/d of crude oil in the U.S. during the fourth quarter, about 54% of its crude oil output and 34% of its total oil production, including natural gas. Occidental, which has a market value of $63.4 billion, produces more crude oil in the U.S. than any other region in which it operates.
Concho Resources (NYSE:CXO), Oasis Petroleum (NYSE:OAS) and Rosetta Resources (NASDAQ:ROSE), three firms with market values under $10 billion, are also major players in U.S. crude oil production.
Oasis, which Wunderlich Securities called in a recent report a "very well-run producer," is very focused on its Bakken assets. The Bakken formation lies beneath 12 counties in North Dakota and parts of Montana and Saskatchewan, Canada.
According to Wunderlich, Concho has more than 10,600 gross locations in the Permian Basin, located in western Texas and southeastern New Mexico.
Innovation Driving Oil Production
Technological advancements in the oil industry have largely fueled the increase in production. Hydraulic fracturing has been around since the late 1940s, but 15 years ago, it was combined with horizontal drilling to allow for oil recovery that previously was impossible.
"We've seen huge advances. They're producing in rocks we wouldn't have dreamt of," Haas said, adding that she expects further innovation and more exploration for oil-rich formations.
Last month, the EIA said overall U.S. crude oil production topped an average of 7 million bbl/d in the final two months of 2012 to reach its highest level in more than 10 years.
Production in North Dakota, largely from the oil-rich Bakken formation, dipped slightly in November before rising again in December, when the state posted a record high of 770,000 barrels per day.
In 2012, North Dakota production, which accounted for 10% of total domestic crude oil production, trailed only Texas and the U.S. Federal Offshore region.
The Bakken and Eagle Ford formations, like others in the U.S., became successful oil plays because of smaller companies, which Haas said were able to build operations quicker than companies with international footprints. Big firms, meanwhile, are increasing their U.S. production primarily through acquisitions.
"Smaller companies have faster cycle times and decision-making times. It requires more nimble organization," Haas explained. "In the U.S., companies are growing organically and through acquisitions."