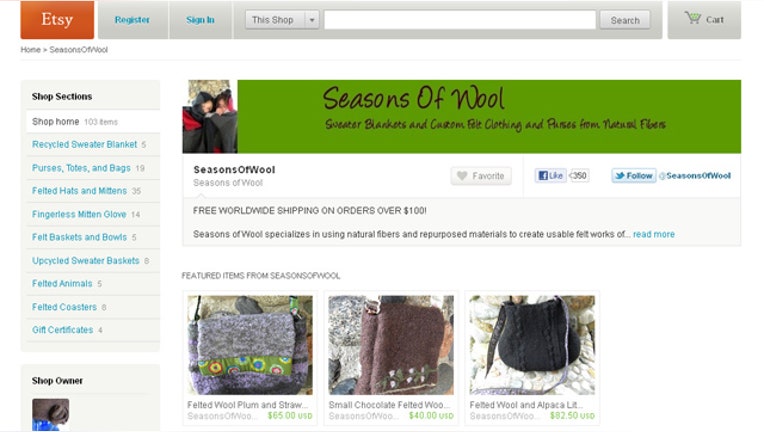 We're highlighting small businesses from around the country as nominated by you, our readers. If your favorite small business is using Twitter to communicate with customers, let us know about it @fbsmallbiz with the hashtag #mysbc, and it may be featured as an upcoming Small Business of the Day.
Small Business of the Day: Seasons of Wool
Who: Lucy Chapman, 37, @SeasonsOfWool
What: Handmade felted products sold online at Etsy.com
When: January 2009
How: Chapman began selling knitted and felted products 15 years ago. In 2009, she created an online store on Etsy.com, a website that gives artisans and designers a platform to sell their products.
Chapman, who operates her business out of her home, was an environmental science teacher until this year.
"People kept telling me, 'You should try to sell your stuff.' I eventually took the leap. It kept growing to the point where it was either keep it as a hobby, or take it to the next level."
Chapman makes felted products by knitting animal fibers and washing them to create a more solid material. Her handmade products include purses, hats, mittens and blankets made from natural materials and can be purchased online
"I make things that appeal to a wide variety of people, and I love to work with customers to make custom pieces."
Where: Ohio
In her own words: "I went into this as a hobby, and now I'm looking to build a shop here at home. It's been worth it. I like the fact that I can get up and I'm at work."