Slumping Overseas Sales Eat into Staples 1Q Results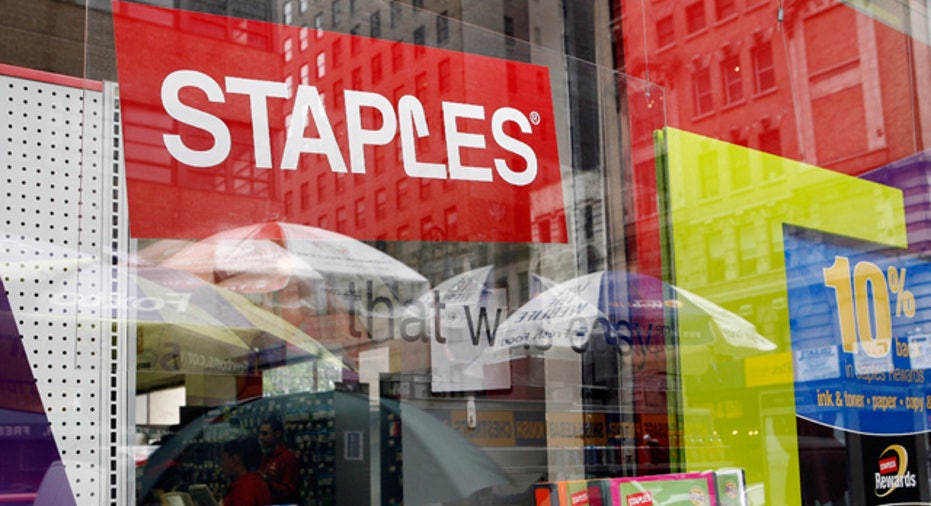 Hit by troubles in its international arm, Staples (NASDAQ:SPLS) revealed an in-line 5.6% decline in first-quarter earnings and weaker-than-expected sales on Wednesday.
The mixed earnings report sent shares of the office-supplies retailer retreating more than 6% in early trading.
Staples said it earned $187.1 million, or 27 cents a share, last quarter, compared with a profit of $198.2 million, or 28 cents a share, a year earlier. Excluding one-time items, it earned 30 cents a share, matching consensus calls from analysts.
Sales declined 1.1% to $6.1 billion, narrowly trailing the Street's view of $6.18 billion. Gross margins slipped to 26.4% from 26.5%.
"In North America we continue to build momentum in categories beyond office supplies while trends in our international business remain soft," CEO Ron Sargent said in a statement.
Staples said its North American retail sales were flat at $2.3 billion as same-store sales were unchanged. The company's North American deliveries revenue rose 2% to $2.6 billion.
International revenue dropped 8% to $1.2 billion as same-store sales fell 6% in struggling Europe and sales were soft in Australia.
The retailer may have disappointed some shareholders by declining to increase its financial guidance, holding its view for a high-single digit increase in 2012 non-GAAP EPS and low-single digit sales growth.
Staples said its outlook "assumes continued slow growth in the U.S. economy and a soft demand environment in Europe."
Wall Street punished Staples for the sales miss, sending its shares 5% lower to $14.03 Wednesday morning. The selloff leaves the shares up just 1% on the year.