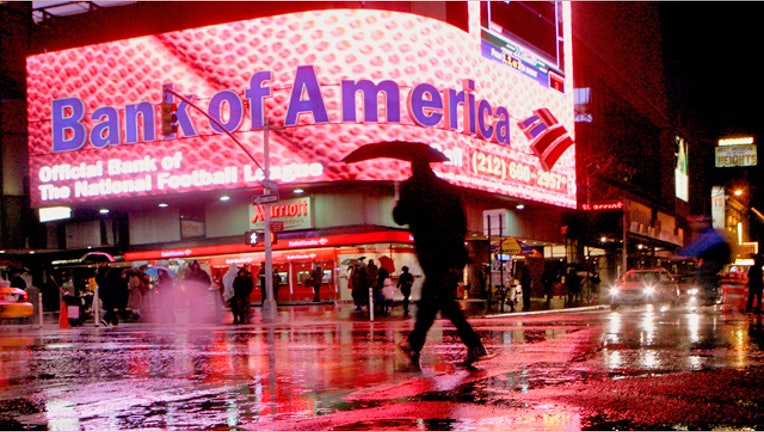 Bank of America (NYSE:BAC) disclosed a 63% dive in fourth-quarter profits on Thursday as the banking giant's improving health was offset by a litany of crisis-era charges.
Shares of the second-largest U.S. bank by assets ticked lower on the results.
BofA said it earned $732 million last quarter, compared with a profit of $1.99 billion a year earlier. The company's per-share results dropped to 3 cents from 15 cents in the same period the year before.
Last quarter's EPS of 3 cents were offset by a slew of charges, including 16 cents from last week's $10.4 billion settlement with Fannie Mae over soured mortgages. Analysts had called for EPS of 2 cents.
Net revenue slumped 25% to $18.66 billion, but came in at $22.6 billion excluding debt valuation and other impacts. Analysts had anticipated revenue of $21.03 billion.
Among other items, BofA took a charge of $1.1 billion, or 6 cents a share, tied to the independent foreclosure review acceleration agreement and $900 million, or 5 cents a share, for total litigation expenses.
Charlotte-based BofA also had a one-time gain of $500 million, or 3 cents a share, thanks to its sale of a Japanese brokerage joint venture.
"We addressed significant legacy issues in 2012 and our strengths are coming through," Chief Financial Officer Bruce Thompson said in a statement. "Capital and liquidity remain strong and credit continues to improve. Our primary focus this year is to grow revenue, manage expenses and drive core earnings growth."
BofA's consumer and business banking net income rose 15% year-over-year to $1.4 billion as provisions for credit losses tumbled to $334 million from $963 million amid improving credit conditions.
The company's global wealth and investment management business logged net income of $578 million, up from $272 million the year before. Revenue rose 6% to $4.2 billion as asset management fees grew and brokerage transactional revenue increased.
BofA's global banking net income inched up by $95 million to $1.4 billion as revenue gained 8% to $4.3 billion amid higher investment-banking fees. Debt underwriting fees surged 84% to a post-merger record.
"We enter 2013 strong and well positioned for further growth," said CEO Brian Moynihan. "Double-digit growth since last year in mortgage production, commercial lending, and Global Markets revenue demonstrates the power of deeper customer and client relationships as we intensify the focus on connecting all our capabilities."
Wall Street had a muted response to the BofA numbers, as the company's stock dipped 0.17% to $11.76 in premarket trading on Thursday. BofA has been among the best performing banking stocks, surging 78% over the past year.
Shares of rival Citigroup (NYSE:C) retreated about 2% in premarket trading after disclosing a weaker-than-expected 25% rise in fourth-quarter profits.