Skip the Gifts This Year and Shift Your Mindset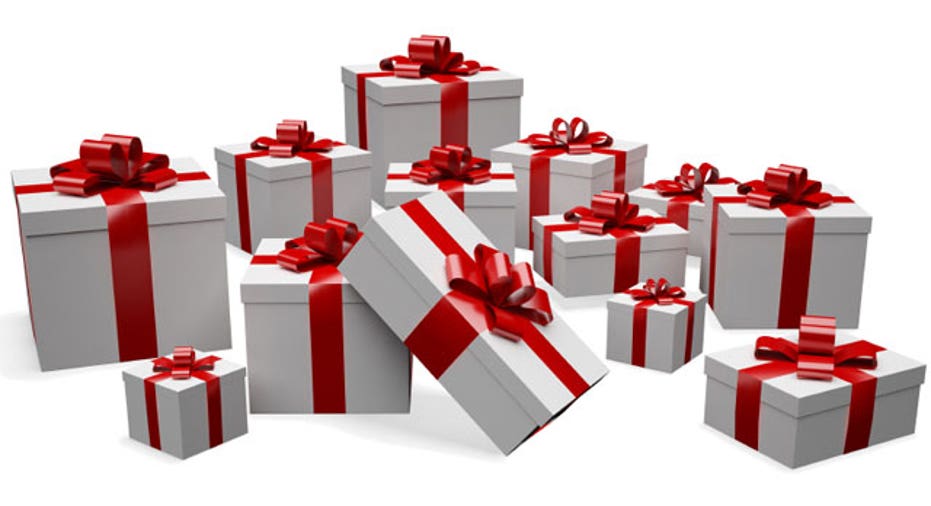 Blair and Kirk Souder, brothers and co-founders of ShiftMyGift.com, would like to create a movement. In fact, when I mention to Kirk in our recent interview that this will require a collective shift in mindset, I can hear him smile through the phone.
"That was actually the idea behind the period in our logo," he says. "We wondered, how do we indicate in this mark a bigger meaning here?"
As we are speaking, I look more closely at the logo on the website and I see that after the word 'shift' printed in green is a red period, followed by the words 'my gift' in a darker shade of green on the second line. It puts more emphasis on 'shift' in a big-picture way.
"There are two levels [expressed] – shifting consciousness and shifting gifts," Kirk Souder says.
The idea of Shift My Gift is to have individuals create a registry of nonprofits and/or causes they're passionate about and to divert gift givers in their lives to that registry in lieu of getting gifts themselves. For example, if Joan Smith wishes to tell her friends and family she'd prefer not to have gifts this holiday season but to have them donate to Heifer International or The Hunger Project instead, she can send them to her page. Shift My Gift streamlines the process.
Read: Expert Tax Tips for the Giving Season
Nonprofits can create landing pages on the site, but registrants are not limited to donating to those causes. Shift My Gift also provides access to over one million nonprofits through the Guidestar database.
The concept was conceived by Blair Souder almost exactly a year ago upon his return from Nepal. As near empty nesters, he and his wife were already in a place of simplifying their home and had become aware of the freedom that brings. But last November Souder felt the jolt of going from remote Sherpa villages where people don't have much in the material sense to the harried tone of the holiday season here at home.
"That really hammered it home for me," Blair says. "They had a joy and peace about them. It really hit me. I transitioned from peace to rush."
Souder is not an anti-consumerist, but he did feel a profound awareness that something needed to change. He searched for a website that would allow him to tell his loved ones where he'd like his holiday gifts diverted and there was no such destination.
"I thought, wouldn't it be cool to start a movement around this?" he says. "People will spend about $150 billion in gifts during the holidays and $20 billion of that is not even wanted. Where else could that go where people have a need? Imagine the impact we could have."
An engineer on the East Coast (Chester County, Pa.) in need of a creative partner, he called his brother Kirk in California. The two brainstormed for a weekend, bought some URLs and created Shift My Gift within a year. It's worth noting neither of these baby boomer brothers is a stranger to giving or professional success and both have made meaningful shifts in their careers.
Since 2009 Blair Souder has been running his own leadership consulting firm called Entheos Partners "focused on creating values-driven, fully engaged workplaces aligned to a meaningful purpose and mission." Prior to that he spent 25 years as a global marketing executive with GE and as executive director of Victrex PLC. According to the Shift My Gift website, he is also "active as an angel investor and is a partner in Investor's Circle and the Patient Capital Collaborative, both groups dedicated to supporting for-profit ventures with a positive societal mission."
Pair that with Kirk Souder's resume and it is no stretch to imagine how Shift My Gift was pulled together. Currently the executive creative director of GOOD/Corps, a division of GOOD Inc that helps brands align business strategy with positive social impact, Kirk has spent 25 years as a creative director in the field of branding, including for his own firm, Ground Zero. Among GOOD/Corps projects are the Pepsi Refresh and Starbucks "Create Jobs for USA" campaigns.
Well-equipped to create a vision with scope and reach, the brothers see Shift My Gift going beyond individuals.
"It would be cool for businesses to use this," Blair says. "Along the lines of, how could we make our holidays more meaningful? Instead of vendors bringing them a ham, they can create a registry."
I note that it seems the shift must come one individual or one business at a time, as even when faced with express requests to make donations instead of giving gifts, many won't do it. Most of us are used to expressing our love and thoughtfulness with tangible, material presents. I recently saw a Facebook post where a man asked what to bring to a 50th birthday party when "no gifts" was the request; several responded with "donation" and others shot it down.
"You have to stress to people that you're really being serious," Blair says. "You say, if you want to give me a gift, this is what I want. If you want to hand me something, hand me a card."
As we talk of shifting, Kirk tells me a story that happened to his family about two years ago. They live in Topanga, Calif. and were returning from a camping trip when they heard a report on the radio about a mandatory evacuation due to wildfire spreading near their home. He and his wife created a plan to grab what they could and come back to the van.
"Anything of importance fit into one medium suitcase," Kirk says. "We had everything we needed and each other. It took 20 minutes. It got us thinking, what kind of energy drain is this stuff?"
The fire came within a quarter mile of their house, but they returned to all their goods with a shift in perspective.
"What can create happiness and fulfillment if not shopping and the getting of things?" Kirk says.
Perhaps shifting your gifts -- and your consciousness -- is one way to find out.
Nancy Colasurdo is a practicing life coach and freelance writer. Her Web site is www.nancola.com and you can follow her on Twitter @nancola. Please direct all questions/comments to FOXGamePlan@gmail.com.