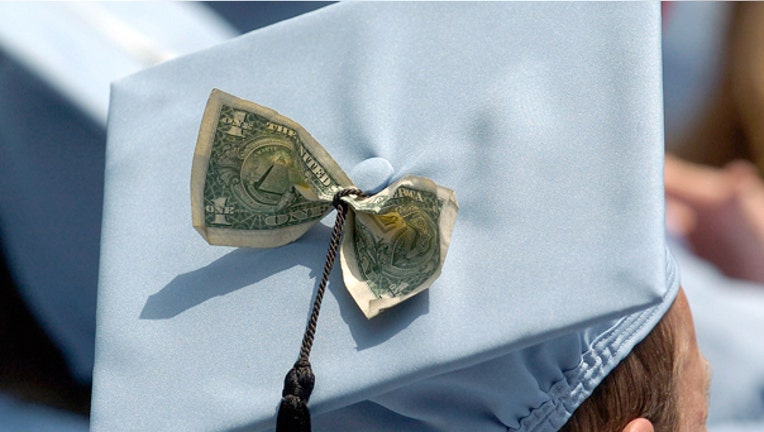 Growing up is tough enough without the worries of your financial future, so Money101  is here for you. E-mail us your questions and let us take off some of the pressure.
It's rare to find a college student flush with cash, but a few simple budgeting steps and avoiding common money pitfalls will keep students out of the debt.
Especially during the first few months, it's easy for students to fall into bad habits that can be hard to break, warns Kimberly Palmer, author of Generation Earn.
"Deciding up front what you want to be spending each week (and what you don't) makes it easier to get into routines that work for you and your budget," she says.
Although there are more restrictions on college credit card use through the CARD Act, Scott Gamm, founder of HelpSaveMyDollars urges students to avoid swiping plastic every time an unexpected expense arises.
"Set a dollar amount that you can afford to spend for each of these items and use cash for it--don't get into credit card debt," he says.
Here are six examples of college budget busters and how students can avoid dropping major dough.
Grabbing a Quick Bite or Pick-me Up
That sandwich between classes and cup of coffee to make it through a boring lecture may seem like just a few dollars—but they really add up over the semester.
"Consider the math: $5 a day at Starbucks is $1,825, dinner out at $30 a week is $1,560," says Renee Hanson, private wealth advisor with Ameriprise Financial.
"That is a total of $3,385, which could be enough for the average cost of one year of community college."
Palmer suggests setting aside $10 to $20 a week for splurges, which allows students to space them out and stay in their limit.
Overspending on Meal Plans
It can be hard to squeeze in three trips to the dining hall every day and students should study their schedule and recognize their eating habits to pick the most applicable meal plan to avoid over paying.
Before purchasing a campus meal plan, Gamm recommends taking the total cost of the plan and dividing that number by the number of meals the plan allots (it may be necessary to also subtract 'dining dollars,' a feature of campus meal plans giving students a certain amount of money to spend at campus stores).
"Doing this math will give you the cost per meal – which sometimes can be as high as $10 or $11 – and even going to the local deli or pizza parlor can be cheaper than an $11 meal at the dining hall – so your campus meal plan may not be the cheapest option."
Overdoing it on Social Events
Although socializing and going out with friends is part of the college experience, students have different budget sizes and everyone needs to know their financial limits.
"[Try to] find friends and activities that match your own interests and budget level instead," suggests Palmer.
It's important for students to keep social spending in moderation and set aside a monthly limitation for weekend expenses.
"If you're in student loan debt and are still figuring out how you'll finance next semester's textbooks, you want to reconsider how much you spend on weekend activities," says Gamm.
Keeping a Car on Campus
Having a car on campus can be convenient—but it's not cheap. Between parking, gas, parking permits and unexpected repairs – especially when students become the accidental chauffer for their carless friends, says Palmer.
"If you go to school where public transportation, buses, or campus transportation is an option, then be sure to take advantage of it," she says. "You can burn off all those dining hall calories by walking and biking whenever possible."
Over-committing to Campus activities
Getting involved on campus is a great way to meet people but can be a huge drain on a bank account if students don't budget accordingly.
The experts suggest that students find out about fees and dues before committing to any kind of activity.
"You have to think where this money could be diverted to if you didn't join the [group] – maybe to paying the interest on your student loans while you're in school, paying for textbooks for next semester or into a savings account," says Gamm.
Spring Break
Spring and summer vacations are the perfect times to get away, but students need to budget accordingly for these trips or risk running out of funds.
Out-of-state students also need to carefully budget for the trips home for breaks.
"Set in advance a budget for these items and alternatives for connecting with friends and family such as Facebook, Skyping, and chatting," says Hanson.
Although tropical destinations are ideal for Spring breakers, students should be realistic and may want to consider coming home to see their friends and family instead, says Palmer.
"You might just not be able to fit the $2,000 trip to the Caribbean into your budget, even if it's for a good cause- plus, a trip home might give you the break that you really need!"