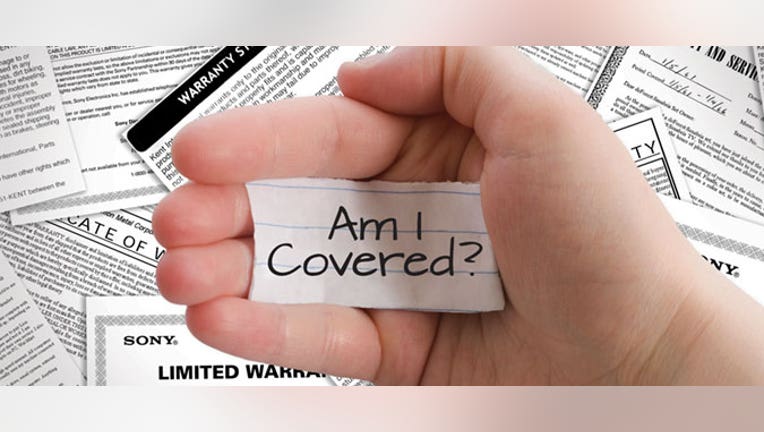 You're buying a new computer. As you pay, the salesperson asks if you want an extended warranty. The cashier may call it a protection plan, insurance or a service agreement. You're already making a large purchase. Should you pay even more for coverage you may never need?
It all depends, says James Talaga, Ph.D., a professor of marketing at La Salle University. Look at several factors, he says, including your risk tolerance. Also consider if the product is new or likely to fail.
A traditional extended warranty extends the terms of a manufacturer warranty usually by one to two years, says Ty Shay, chief marketing officer at warranty company SquareTrade, and only protects you against the device failing for manufacturer reasons. It doesn't necessarily cover wear and tear or accidental damage.
Accidental damage may be something you want included, though. "We have claims data from tens of thousands of devices, and most of the claims are from accidental damage," says Shay. His company covers accidental damage under its extended warranties.
Before you make that big purchase, find out if you really need an extended warranty. While some companies give you 30 days to add it, most require that you purchase the extended warranty at the same time as the product.
Computers
When his clients ask about whether to buy extended warranties for computers, computer repair technician Dave Greenbaum of DoctorDave in Lawrence, Kan., recommends them for PC laptops, but not desktops. Laptops are more expensive to repair because of smaller, more proprietary parts. Plus, carrying them around jostles them, with more opportunity for damage. Desktops fail infrequently and are less expensive to repair, he says.
For Mac computers, though, Greenbaum recommends AppleCare, even for desktops. "Apple products are extraordinarily expensive to repair," he says, and the policy's value includes getting the computer fixed at its retail locations, plus three years of tech support.
Three years is plenty for any computer warranty, says Greenbaum, because the average laptop lasts around three years; the desktop averages five. "The other issue is that technology makes it obsolete after that time."
Another concern is accidental damage, which isn't usually covered under the extended warranty, says Greenbaum. If that's coverage you want, make sure to read the warranty first or buy an upgraded policy that includes accidental coverage. He says that some companies sell them for an additional $100.
Cellphones
That new cellphone may not last until the end of your contract. "Our latest estimate is that 1 in 3 smartphones will break in a two-year period," says Shay.
Smartphones are typically subsidized through the carrier's two-year service contract. If the phone breaks before two years, consumers are "stuck paying for a repair or replacing it themselves," at upward of $649 for a new phone, says Shay.
Make sure you understand the coverage, though. For example, AppleCare+ covers just two incidents of accidental damage during the coverage period, with each claim subject to a $79 service fee. According to a 2012 SquareTrade survey, 17% of iPhone owners damaged their phones more than once during the previous year.
Find out what it would cost to repair or replace your smartphone under the extended warranty. You're likely looking at a deductible of $99 to $199, depending on the model and plan.
Check your cellphone plan, too. Mark Nachlis, a parent of three in San Mateo, Calif., says he stopped buying cellphone warranties because he could usually get an inexpensive replacement phone through his family plan -- someone is usually eligible for an upgrade.
Tech gadgets
For other devices, such as MP3 players and tablets, consider who uses them. It's easy enough for an adult to drop a tablet, but what about your kid? With accidental damage coverage, "if you drop your tablet or accidently damage your device, it's covered," Shay says.
While Nachlis never bought a warranty for his wife's iPod, and his 10-year-old son was on his own if he lost or broke his iTouch, he did buy AppleCare+ for their iPad Mini. He knew that his 7-year-old might drop it and shatter the screen. He's already used the $99 warranty coverage, forking over the $49 deductible to replace the screen. Under the plan, two such incidents are covered.
Also consider the price of the item you're buying. "If the product is below $200, I never buy the warranty on it," says Nachlis. "The warranty might be $8 to $12, but by the time you try to find the paperwork and you have to go through the hassle of trying to return it," it isn't worth it, he says.
Appliances
An extended warranty for appliances usually covers parts and labor for a mechanical or electrical failure beyond the standard manufacturer warranty period. So, if your oven's heating element dies while under warranty, it should be replaced at no cost to you.
While free repair is great, Consumer Reports cautions that products rarely fail within the extended warranty period. Even if they do fail, that out-of-pocket repair costs only $16 more on average than what the extended warranty costs.
If you're still considering an extended warranty for your appliance, make sure you understand how claims are handled -- and how quickly. "There's an industry average of 2.5 'truck rolls' to get your item fixed," Shay says, with at least one trip for the diagnosis and another for installation.
For Nachlis, who bought Sears' three-year extended warranty when he purchased his washer, dryer and dishwasher, the coverage proved worthwhile. He paid $200 for a warranty on a $1,400 washer and dryer set. A dryer repair cost $300, but he was fully covered.
Nontraditional warranties
You may find warranty coverage in unexpected places.
Visa, MasterCard, American Express and Discover all offer some form of extended warranty and may offer short-term accidental coverage as well. Usually they double the manufacturer's warranty, up to 12 months. When making a claim, you will need your store receipt and original warranty, and must follow their detailed submission guidelines. If you do plan to rely on your card for protection, make sure to read the fine print first and save all documentation.
Or, go with a homeowners insurance rider. You can cover a $1,000 item such as a camera or computer for around $10, and it includes accidental damage, says Greenbaum. Talk to your insurance broker about what the policy covers and whether deductibles apply.
Store policy might even offer some protection. For instance, Costco extends the manufacturer's warranty on televisions and computers to two years after the date of purchase. When Nachlis returned a malfunctioning computer he purchased there, "they totally swapped it out for a new one 12 months after, with no questions asked."
If you buy an extended warranty, keep it and the original receipt in a safe place, such as a special folder in your file cabinet, or taped to the back of the item, says Nachlis.
Read More from Bankrate:
Retirement funds that last as long as you do
Can my wages be garnished for old judgment?