Should You Get a Dog in College?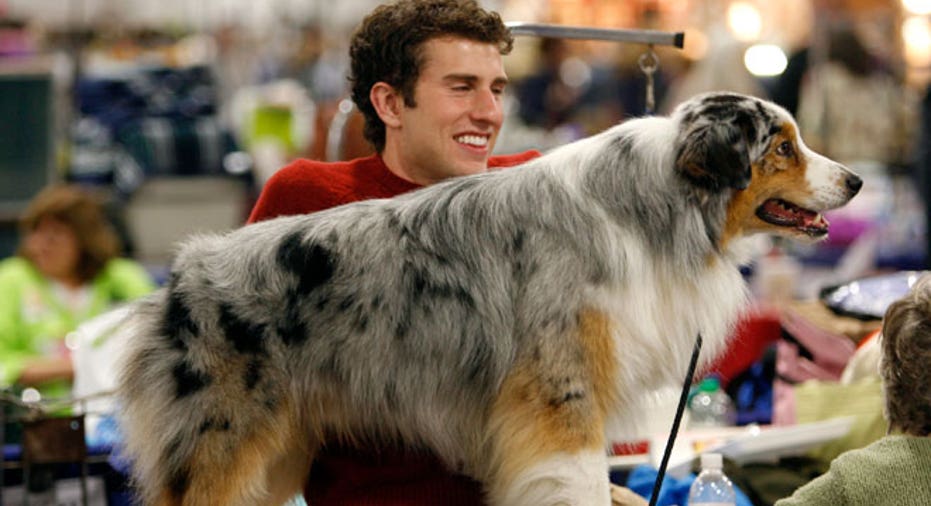 Growing up is tough enough without the worries of your financial future, so Money101  is here for you. E-mail us your questions and let us take off some of the pressure.
College students wondering just 'how much is that doggie in the window?' may be surprised by the answer: a lot.
According to RaisingSpot.com, the yearly cost of having a dog can range from $360 to $2,520 or more. Considering the average lifespan is 12 years for a dog, raising a puppy could cost between $4,620 and $32,990 over its lifetime.
Having a dog can be a great addition to college life and perhaps provide stress relief and companionship, but experts warn against making the decision to become a dog owner on a whim and based on emotion.
"You're going to have that dog longer probably than the life of two or three cars, longer than the time it takes for you to go through college, even if you get a doctorate degree, and often longer than one or two jobs," says pet behavior and lifestyle expert Arden Moore. "This will be your constant for the next 15 plus years--remember that this isn't just for today or next year."
There are also a variety of financial and lifestyle considerations for college students to mull over--here are some tips from pet and personal finance experts that students need to factor in before bringing a dog home.
What type of dog to get
Breeders and pet stores can charge hundreds to thousands of dollars for purebred dogs, but  Greg Daugherty, executive editor at Consumer Reports, suggests students first visit a local animal shelter to see if they can find a good fit for them,
"Sometimes they come with a free vet check up and shots--plus you're saving an animal," he says.
Moore explains that although it may be tempting to get a puppy, college students who are already strapped for time should adopt an older dog from a shelter or breed rescue group.
"It takes a lot to be able to spend the first year with a puppy--get an adult dog or a senior dog and you'll be able to have a good relationship with that dog and they will be very grateful that you gave that dog a second chance."
Prepare for a lifestyle change
Dogs of any age require owners to make a complete lifestyle change.
"You have to make sure you're scheduling times to take your dog out for walks, for training," says Moore. "You have to ask yourself honestly, 'am I really going to be able to give some time to this dog while I'm a student?'"
As many students rent apartments or houses in college, it's very important to make sure they are living in a pet-friendly rental, says Kristi Littrell, sanctuary adoption manager of Best Friends Animal Society.
Apartment buildings and landlords may charge students a pet deposit (usually $200-$500) to cover any damages or cleaning costs and students need to be upfront about their pet situation.
"It is never OK to sneak a dog or a cat, or any other pet into a dorm room," Littrell says. "Almost any university or college has stories of abandoned animals dumped on campus at the end of the semester."
Budget for day-to-day costs
Students need to budget their dog's needs, including food, bedding, toys and grooming, says Littrell.
Dog food in particular can be expensive and Daugherty suggests asking the vet to recommend a brand if the dog has some kind of medical issue or special food requirement.
"We've found in terms of shopping for pet food, if one of the big brands is suitable for your pet, it's often cheaper at the big box stores like Target (NYSE:TGT) and Wal-Mart (NYSE:WMT) than it is at the supermarket or a pet specialty store," he says.
Moore recommends enrolling in an obedience class with positive dog training to bond with the dog and fix behavioral issues. Depending on the length of the course (they typically run six to eight weeks), courses can cost anywhere from $100 to $150.
Budget for long-term costs
Students should do their research when it comes to pet health insurance. It could make more sense to put aside money for routine vet visits unless the dog has an expensive ailment, says Daugherty.
"If you are interested in pet insurance, you should take a close look at any exclusions on the policy because you want to make sure that your dog is covered for what you think is likely to happen."
Daugherty also recommends shopping around for flea and tick medicines, which are often cheaper online than in stores or from the vet.
"A lot of the medicines that dogs use are the same that we humans use and you can get them at your local drug store through a generic program and you can pay no more than $4 for the prescription," he says. "There are some drugstore chains that allow you to register your pet as a member of the family to entitle yourself to these discounts."
Getting involved in the pet community in your area
Instead of hiring professional pet sitters or dog walkers, Moore suggests seeking out dependable friends and other dog owners who can help when work or school obligations come up.
"Pet sitters are certainly an option but they do charge and if you board, it can be pretty pricey," she says. "You can create a network for yourself of possible pet people and you might be able to help each other out."
If students decide that it would be better to wait to get a dog until after graduation, Littrell says that pet lovers can spend time volunteering at a local animal shelter or getting involved with fostering a dog for a week or two.