Should Kids Pay for College?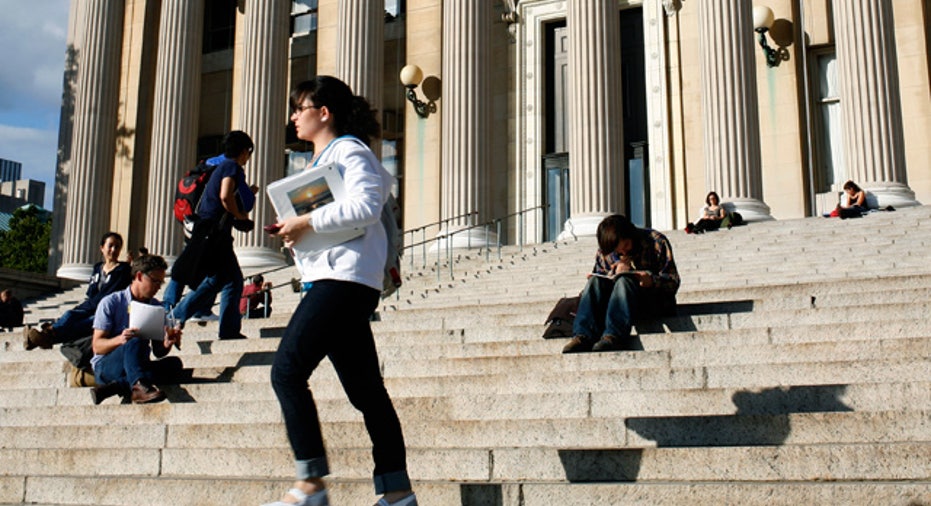 As college application deadlines come and go, and students eagerly await acceptance letters, the question now becomes: "who's going to pay for this?" And for many students, they will be responsible for footing the tuition bill.
"According to a survey of hundreds of students by Public Agenda, 42% of students whose parents did not pay for college still managed to graduate from school," says Farnoosh Torabi, author of Psych Yourself Rich, Get the Mindset and Discipline You Need to Build Your Financial Life. "By working part time, earning grants, scholarships and a small federal student loan, it is possible to pay for school without mom and dad footing the bill."
There are options available to students to help them pay for their education, but is it too much to ask them to take on? Or is it a valuable lesson in responsibility and financial independence?
Pros of Kids Paying for College
Some experts claim asking kids to pay for at least a portion of their education instills a sense of accountability. Mark Maiewski, certified college planning specialist and founder of StopOverPayingForCollege, explains that kids should understand that college is a valuable experience.
"College is not an entitlement program, it's an opportunity," he says. "With an opportunity comes a cost."
Maiewski says that students should acknowledge that they are the ones who reap all of the advantages of an education: independence, the opportunity to explore different courses and choose their major and that they will graduate with a degree and (hopefully) a job as a result of their investment.
When students know they are picking up the tab for their education, they might be less inclined to drag their feet getting to the graduation stage.
"I think that when kids feel as if they have some sort of skin in the game, it actually helps them get focused and to care about getting out in four years," says Jean Chatzky, author and founder of JeanChatzky.com.
If students sit down and do the math of how much their indecision is costing them, it could surprise them.
"Think about it -- the extra year you spend in school could end up being another $25,000," says Torabi.
Potential Pitfalls 
While learning the value of money and investing in an education can be a good lesson, it may be unrealistic to ask students to finance four years of tuition and expenses, some experts argue.
"Few children have the ability to pay for college entirely on their own," says Mark Kantrowitz, publisher of FinAid.org and FastWeb.com."Paying for college should be a collaboration between the student and his or her parents. Planning and paying for college is a complicated project that requires the family to work together."
Chatzky cautions that some students that are responsible for paying their way through school can graduate with significant loans and debt and may experience a delay in adulthood; they get married, buy homes and have children later on in life.
"I think if parents can take some of this burden off of their kids, it's an incredible gift." she says. "If parents are in a position to help without really sabotaging their own retirement, I think that's what parents are for."
Working Together to Obtain the Degree
Should parents decide that the student is accountable for picking up the education tab, there are ways to reduce the burden.
"They may have to look at the fact that by attending a private college [if] it's worth it to have to fund $40,000 a year even with tuition discounts if they're doing it on their own," says Maiewski.
Students can apply for federal loans to help them with the costs, but will need assistance in acquiring the loans.
"Students are limited to what they can borrow in their own name because they don't have any credit, so you actually have to go get a co-signer, parents, grandparents, aunts and uncles, in order to qualify," says Maiewski.
Once your eligibility for loans is determined, Chatzky warns students against borrowing more than you think you'll earn in your first year out of school
"It's an important exercise not to just look at the overall dollars that you'll be borrowing as a student, but the monthly payment on those dollars once you get out of school," she says.
In the past, students have turned to scholarships to help them with the cost of school. Unfortunately, scholarship funds are more limited these days.
"Private scholarships have been flat to slightly increasing during the credit crisis, after years of steady growth," says Kantrowitz. "At the same time, more students have been looking for scholarships, increasing the competition."
Kantrowitz explains that students shouldn't completely rely on scholarships, saying about 1 in 10 students enrolled in a four-year college win a scholarship with an average amount of $2,500 per year.
"It's still worthwhile to search for scholarships at free Web sites like Fastweb.com, but one must be realistic about one's chances of winning a scholarship," he says.
Tips for Students Facing Tuition Bills
If a student is footing the tuition bill solo, it might be a good idea to explore different options to lessen the financial burden without sacrificing quality.
FBN Tool: How Much Should I Be Saving For College?
"[Look into] the idea of doing two years at a community college that has an agreement with a four-year school who can accept those credits and allow those students to graduate with a four- year degree as long as they make grades," suggests Chatzky.
Students can also work part time or find a work-study position with the school to generate some cash. Balancing school with work can teach students invaluable time management and personal finance skills, but be careful when deciding where to work.
"Make sure that your jobs are close to campus and have a flexible enough schedule to support your course load," says Torabi.