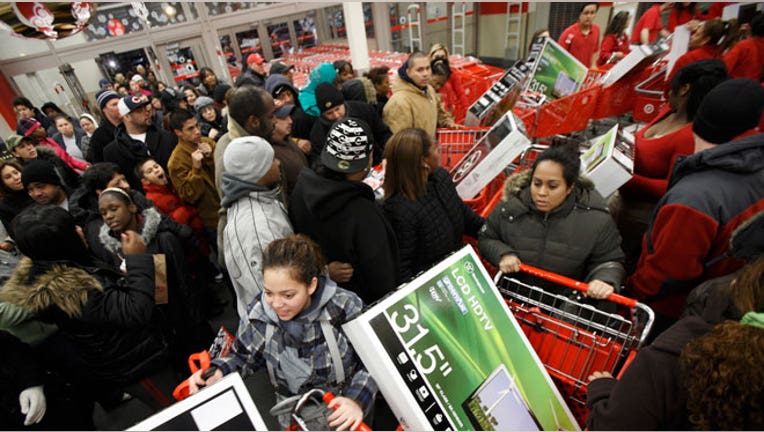 While millions of consumers hit the mall and shopped online over the Thanksgiving holiday weekend, the average American spent less this year than they did in 2012.
The National Retail Federation projects American shoppers spent $407.02 from Thursday through Sunday a drop from $423.55 last year.
Retail spending overall for the four-day period came in at an estimated $57.4 billion, down 2.8% from $59.1 billion in 2012. The NRF reports 141 million unique consumers shopped this weekend, up from 139 million the same time last year.
For those who shopped multiple times, the NRF finds that more than 248 million customers waited in lines, shopped in malls and shopped on retailers' websites during the weekend, up from 247 million last year.
The NRF survey was conducted by Prosper Insights & Analytics and found retailers' push to kick off the shopping weekend on Thanksgiving Day was successful as foot traffic on the turkey holiday up 27% from 2012 with 45 million shoppers. This is 31.8% of total holiday shoppers for the four-day weekend and up from 35 million shoppers in 2012. What's more, 25.4% of shoppers say they were in stores by 8 p.m. on Thanksgiving night and 37.3% of consumers were in stores by midnight.
As usual, Black Friday was the biggest day with more than 92 million shoppers, up from 89 million in 2012.
Artemis Berry, vice president of Shop.org, says shopping season kicked off much earlier this year than in the past, which may have been what drove so many to buy over the weekend.
"We saw cyber week and really cyber month promotions throughout November, beginning early last week," Berry says. "We are expecting record-breaking numbers again."
Cyber Monday is expected to draw even bigger crowds with more than 131 million holiday shoppers hitting the web this year, according to the NRF. This is up from 129 million who participated last year.
"We are expecting a big increase on Cyber Monday with browsing and shopping on mobile and tablet devices," Berry says. "Consumers have a shorter holiday shopping season this year and are taking advantage of deals."
The NRF finds 18.9% say they will use their mobile devices, up 22% from 2012's users, and a drastic uptick from the 3.7 million in 2009.