'Shop the Look' With Google's Virtual Lookbook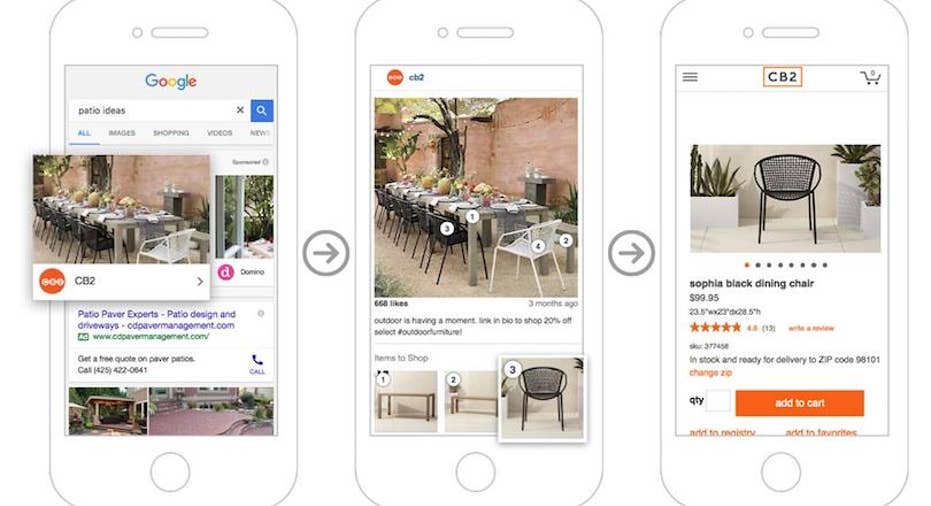 Most mobile shoppers are unsure of what brands to browse, and often turn to blogs for new trends and ideas. But now, you can just use Google, which is testing a new apparel and home decor experience for retail advertisers in the US
Don't have anything to wear to a friend's wedding next month? Simply search for "cocktail attire," and you may see an image of a fashion blogger wearing a black dress, heels, and sunglasses. Tap the image to shop for exact (or visually similar) products as well as relevant merchandise.
Featured images come from brands, bloggers, retailers, and publishers, and are sourced from partners like rewardStyle's LIKEtoKNOW.it, Polyvore, and Curalate.
"Discovery is about stumbling upon things you didn't even know you were looking for," Curalate CEO Apu Gupta said in a statement.
Search "patio ideas," for instance, and you may find inspiration in an image of a lush outdoor setting with a table, chairs, planters, and dinnerware. Tap to learn about and purchase the featured products or related goods.
"Google is able to bring more product discovery to search using imagery as a jumping off point," Gupta said. "Essentially, search now becomes even more eye-catching and inspiring."
Interested vendors can go online to create a Google Shopping campaign. As with standard Shopping ads, retailers are charged on a cost-per-click basis.
Announced on Tuesday, "shop the look" follows last week's Fashion Week experiment, which enables folks to browse and buy products directly from curated images on google.com. Users also gain access to backstage snapshots, front-row images, street scenes, and party pics.
This article originally appeared on PCMag.com.