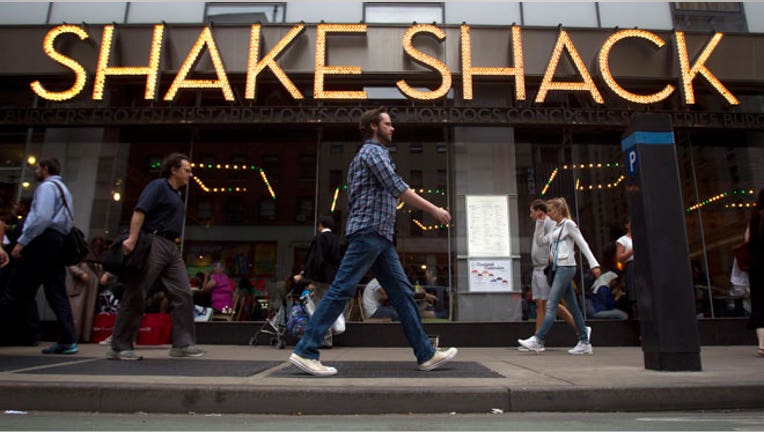 Shake Shack Inc <IPO-SHAK.N>, a burger chain that grew out of a hot dog stand in New York's Madison Square Park, said it expected its initial public offering to be priced at $14-$16 per share, valuing the company at up to $568 million.
The offering follows a string of successful IPOs by casual dining chains last year, including Habit Restaurants Inc , El Pollo Loco Holdings Inc and Zoe's Kitchen Inc.
El Pollo Loco's shares rose as much as 33 percent in their debut in July, while shares of Zoe's Kitchen jumped more than 70 percent when the company listed in April. Habit Restaurants' shares more than doubled in their debut in November.
Shake Shack, known for its Shackburgers, flat-top hot dogs and eponymous milkshakes, has developed a cult following since it was founded by restaurateur Daniel Meyer in 2001.
Meyer's Union Square Hospitality Group LLC, private equity firm Leonard Green & Partners LP and employee-owned hedge fund sponsor Select Equity Group LP are Shake Shack's major shareholders.
New York-based Shake Shack has 63 outlets, including 36 in the United States. The company's international outlets include those in Dubai, Istanbul, London and Kuwait.
Shake Shack's offering of 5 million class A shares is expected to raise up to $80 million, according to a regulatory filing. (http://1.usa.gov/1ztnm4S)
The company said its class A shareholders would hold 14.1 percent of the voting power after the IPO.
Shake Shack's net income fell 20 percent to $3.6 million in the 39 weeks ended Sept. 24. Revenue rose 41 percent to $83.8 million.
J.P. Morgan and Morgan Stanley are among the lead underwriters for the IPO. (Reporting by Amrutha Gayathri in Bengaluru; Editing by Kirti Pandey)