Seven Ways to Cash in on Spring Cleaning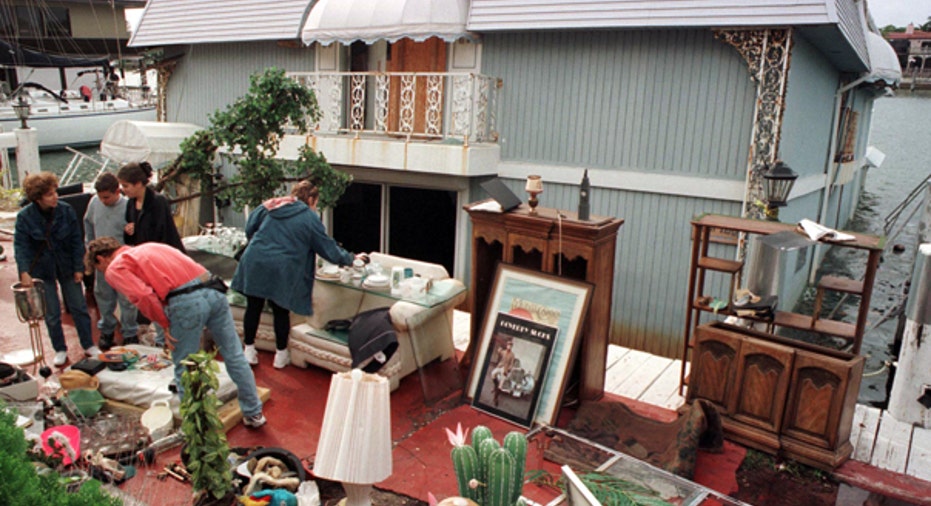 If you think spring cleaning just means elbow grease and throwing out junk, you might be sending cash to the landfill. With a little bit of legwork, the common stuff we all purge while spring cleaning can fatten your wallet and strengthen your bottom line. Here's some expert advice -- beyond the "sell your junk on eBay or Craigslist" -- on how to make money from your spring cleaning.
Cash in on Fashion
Your old wardrobe won't make you wealthy, but it can make you quick cash. To get top dollar, only sell clothing currently in season, says Leah Ingram, author of "Toss, Keep, Sell."
"I've found that if I bring in clothes at the beginning of the season, or my daughters try to sell their clothes to a place like Plato's Closet, we come away with $50, $80 or $100," Ingram says. "The times that I haven't been timely about thinning out my wardrobe, I've only made $10 or $20."
If you purge fall or winter clothing during spring cleaning, Ingram suggests keeping these in a separate, marked box to sell later, as those seasons approach.
Labels and style also matter for where you should sell your clothing, Ingram says. For example, Plato's Closet, a nationwide resale chain, primarily buys and sells teen clothing and lists the top brands it currently buys on its website, including Aeropostale, Roxy and True Religion.
To find the best local consignment store for your duds, Ingram suggests the store-finder listings through The Association of Resale Professionals at NARTS.org.
Do Some Collectible Bargaining
Vintage lunchboxes, anything Beatles and animation cells produced from the 1930s through the 1960s are among the spring-cleaning items that can attract high-paying collectors, says Aaron LaPedis, author of "The Garage Sale Millionaire." Don't expect huge profits from collectibles made after the 1970s unless they are limited edition items, LaPedis says. The reason: overproduction.
To get the highest amount, follow these rules. Don't clean your collectible or try to fix any blemishes. "You run the risk of ruining that item. You need to leave it the way it is," LaPedis says.
LaPedis advises selling collectibles on eBay, with one caveat. "If you are finding out your items are worth several thousand dollars, I do not think (eBay) is the way to go," he says. "A lot of high-end collectors don't shop on eBay."
Instead, LaPedis suggests selling valuable collectibles through auction houses such as Christie's or Sotheby's. Just expect your profit to take a hit. Auction houses generally take a larger commission on sales than eBay does.
Learn the Value, Earn the Value
One man's junk might be another man's treasure -- but a true antique, by definition, is generally at least 100 years old.
Local auction houses are a good place to sell antiques found during spring cleaning. Most auctions start bidding at $1, but LaPedis suggests putting a reserve, or minimum bid, on your item. "Otherwise, it might come back to bite you if the right buyers aren't in the audience that day," he says.
To sell to an antique dealer, get at least three appraisals and never take your first offer. "If you start to hear the same number over and over again, that's probably what it's worth," LaPedis says.
Keep in mind that dealer appraisals will be lower because they need to sell at a profit. An objective appraisal for the full value of the item costs $50 to $150, LaPedis says.
Whatever you're pricing, do your homework. "There's also a lot of books on every single collectible and antique you can imagine. And the Internet is amazing," LaPedis says. The Antique Appraisal Association of America in Boulder City, Nev., maintains an online list of appraisers by state.
Become a Multimedia Mogul
Books, videos, DVDs and other media found during spring cleaning sell well at garage sales and flea markets, Ingram says. "Have a box or a bin where it's 50 cents a book or maybe five for $1," she says. "It's not going to get you money to send your kid to college, but you are going to have some extra pocket change."
Another great way to sell media is to group items into lots and sell them on eBay or Craigslist. "On 10 or 20 Disney movies, I've probably made $30," says Ingram.
If maintaining a current media library is important, Ingram suggests swapping what you have for what you want on sites like SwapaDVD.com or PaperBackSwap.com. "You can keep your collection fresh. The only thing you'll be spending is on the shipping," Ingram says.
Vinyl albums, especially those from the '50s, '60s and '70s -- and particularly any from the Beatles -- are making a comeback, says LaPedis, with rare and mint-condition ones often selling for thousands of dollars.
The Forever Vinyl website offers auction and appraisal services and buys collections of singles, albums, CDs and live concert recordings.
Make Extra Money From Toys and Sports
There's a lot of money to be made in child's play. The same rules for selling collectibles apply to vintage toys that are discovered in spring cleaning.
When it comes to collectible toys, the most popular are tin toys and train sets from the '40s, '50s and '60s, especially those still in their original packaging, LaPedis says.
"Packaging won't end the value, but it can increase the value," LaPedis says.
For sports equipment, Ingram likes selling to nationwide reseller Play It Again Sports. "They buy stuff all year-round," Ingram says. "So if you have a bunch of sports equipment your kids aren't using or they've grown out of, try Play It Again Sports first to see what they might give you for it."
Join the Electronics Revolution
With new versions of smartphones, e-readers and tablets coming out all the time, you probably have at least one outdated electronic device or appliance you want to replace.
"The longer you hold onto something like a computer, VCR, something like that, they go down in value. So if you don't think you are going to use it, you should probably sell it before it loses any more of its value," says LaPedis.
Sites such as Gazelle.com and YouRenew.com pay cash for your electronics and offer trade-ins and free recycling. While it costs $39.99 to $299.99, depending on the device, to buy into Best Buy's new Buy Back Program, the nationwide electronics retailer also has select stores that let you trade in certain electronics and musical instruments for a store gift card or check of lesser value, and also provide free electronic recycling services. You can check the estimated value of your electronic item on the chain's website.
Turn Wedding Sentiments to Dollars, Cents
Who doesn't have a rarely used wedding gift that always seems to turn up during spring cleaning? "We have eight sets of china and crystal in the basement. We've just celebrated our 18th wedding anniversary and we've used the china once," says Ingram.
In researching her latest book, Ingram discovered Replacements Ltd., a showroom based near Greensboro, N.C., with an inventory of nearly 14 million pieces of china, crystal and flatware, and that buys settings and individual pieces. Ingram priced out her china pieces on the showroom's website and is considering selling them there.
"I know my guests spent more than that buying this china for me," says Ingram. "You have to let go of that gift guilt."