Seven Tips for Dealing With College Debt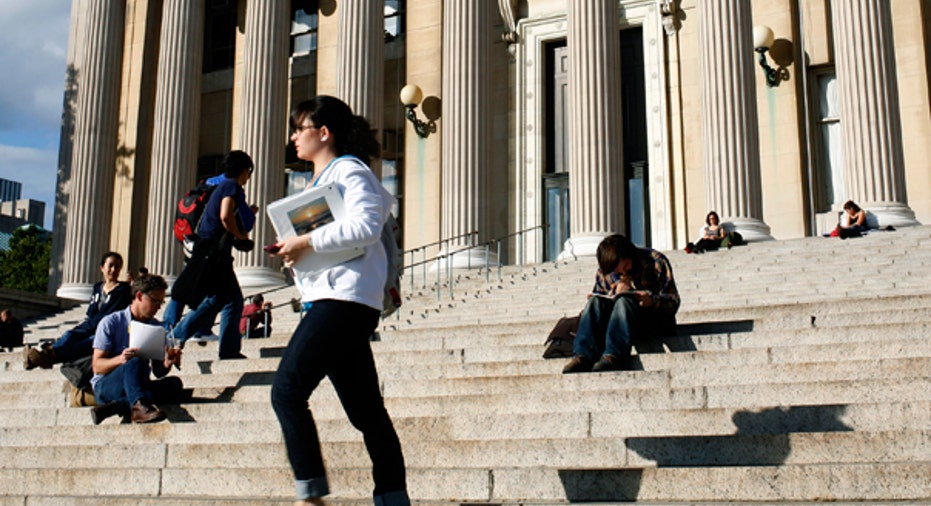 Congratulations, graduate! Now that you've got your degree, you have to put it to use to figure out how to get out from under your huge student loan debt. You're not alone -- student loan debt in the United States has soared over $1 trillion and now exceeds credit card debt -- but experts say graduates can benefit from learning the ins and outs of repayment.
"Don't panic. You're not going to have to pay this off tomorrow," says Reyna Gobel, author of AudioGO's "How Smart Students Pay for School: The Best Way to Save for College, Get the Right Loans and Repay Debt." If you follow these seven tips, though, you should pay it off -- or find a way out -- eventually.
1. Take advantage of your grace period. Depending on the loan, you may have a post-graduation grace period of six months, such as for federal Stafford Loans, or nine months, such as for federal Perkins Loans. On other loans, including private loans, terms vary, so it's important to check with your loan servicer. "This is a great time to look at all the repayment options and really figure out what you can afford," Gobel says.
2. Know your options. Standard repayment for federal student loans involves making fixed monthly payments of at least $50 over a term of up to 10 years -- so you end up paying less interest than if you stretch payments over a longer term. "The rule of thumb is, if your total debt at graduation is less than your annual starting salary, you should be able to pay the loan back in about 10 years," says Mark Kantrowitz, publisher of FinAid.org. "But if your debt exceeds your annual income, you're going to struggle to repay the loan." In those cases, other options for federal loans include: income-based repayment, extended repayment and graduated repayment. However, you might end up paying a lot more: "Let's say you do extended repayment and you increase the term from 10 years to 20 years," Kantrowitz says. "The monthly payment will go down by about a third, but the total interest you pay over the life of the loan will more than double." (Student Aid on the Web, a site from the U.S. Department of Education, offers a list of all repayment plans.
3. Test several repayment plans. During your grace period, experts recommend crunching numbers on online student loan calculators to see how different repayment plans would affect your budget. "Start making pretend student loan payments," Gobel says. She recommends trying out your different repayment options each month during your grace period and banking the money. Not only do you make room in your budget for your loan payment and decide which repayment plan makes the most sense, but you build up an emergency fund that can help you stay out of credit card debt, she says. "If your student loan payment would have been $300, you can amass $1,800 in that time," Gobel says. "It's a nice starter."
4. Be careful about consolidating. Consolidation can make sense, experts say. For example, if you want income-based repayment and your lender doesn't offer it, if you want a no-hassle way to remove a co-signer from a private loan or if you're juggling many loans. However, keeping loans separate also has benefits. "It allows you to accelerate repayment," Kantrowitz says, by paying down several loans at once rather than making one payment a month toward one loan. If you're trying to decide which loan to pay extra on right now, though, he says you should add about 4 percentage points to the interest rate of a variable-rate private loan, when comparing it to a fixed-rate federal loan, to factor in future rate hikes. He says: "If you've got extra money, you want to be able to target it to the highest-rate loan. That will save you more money in the long term."
5. Get smart about payments. Make savvy decisions about your student loans and you can have them paid off more quickly and save thousands of dollars, experts say. Here are some ways to diminish your debt:
Have a plan. "When you're being pulled in six or seven different directions -- credit card debt, student loans, retirement and savings for short-term things such as buying a home, getting married or having a baby, it's important to have a clear plan," says Alexa von Tobel, founder and CEO of money management site LearnVest.
Find ways to pay extra. "Every little bit helps," says Gobel, who recommends looking for painless ways to save, such as trimming $15 off a monthly cellphone bill or shopping for a better deal on car insurance. She also recommends using the SallieMae site Upromise.com when doing regular shopping to get cash back rewards toward your student loan. One borrower, she says, was able to get $300 a year in rewards by booking travel for work and printing and using grocery coupons from the site. "That's a payment a year," Gobel says.
Don't overuse forbearance or deferment. Forbearance, which typically is easier to get, allows you to put off or reduce payments for up to three years. Deferment allows you to temporarily stop making payments for a certain period in specific situations, such as a return to school, unemployment or having a baby. You must still pay the interest, either during the deferment or forbearance, or later, except for a deferment on a subsidized federal loan. Use these options only if you're in a real jam, experts say. "You don't want to use it because you'd really like to go on vacation," Gobel says. If you do use them, don't overdo it. "I don't recommend using them for more than a few months because interest continues to accrue, digging you into a deeper hole," Kantrowitz says.
6. Know your escape hatches. The federal government offers several options for limiting the size of your monthly payments and total amount paid over the life of the loan and even offers a few escape routes for qualified borrowers. Here are some options:
Income-based repayment can be forgiving. First, experts say, income-based repayment limits the chunk your student loan can take out of your budget each month, now to 15% of your discretionary income and soon to 10%. "Income-based repayment represents a pretty good safety net for borrowers who are overwhelmed by their federal loans," Kantrowitz says. Then, after you pay for 25 years -- or 10 years if you work full-time in a public service field -- you're done paying. Eligible public service jobs include: public school teachers, firefighters, government workers, public librarians, public university professors and employees of nonprofit organizations, Kantrowitz says.
Volunteer, teach and other ways out. For some borrowers, there are options for erasing part or all of a federal student loan. According to FinAid.org, options include volunteering for a program such as AmeriCorps -- a year of service now gets you about $5,500 toward your loans -- being in the military or teaching in a low-income area, which allows you to shave increasing percentages off your loans for five years.
7. Avoid default at all costs. "You don't want to default on federal student loans because it won't do you any good," says Kantrowitz, noting that you can't get rid of student loan debt via bankruptcy, and the federal government can intercept tax refunds, garnish as much as 15% of your disposable pay without a court order and even take a cut of your Social Security check. He says: "Just the garnishment will be higher than what you would be paying under income-based repayment, so there isn't any financial benefit to defaulting."
Instead, if you're in serious trouble, Kantrowitz recommends tracking what you spend, then slashing all non-mandatory expenses such as cable, cellphone and restaurant meals, and even moving back in with mom and dad if necessary. He says: "These are tough love types of choices."