Seven Ingredients of a Money-Saving Garden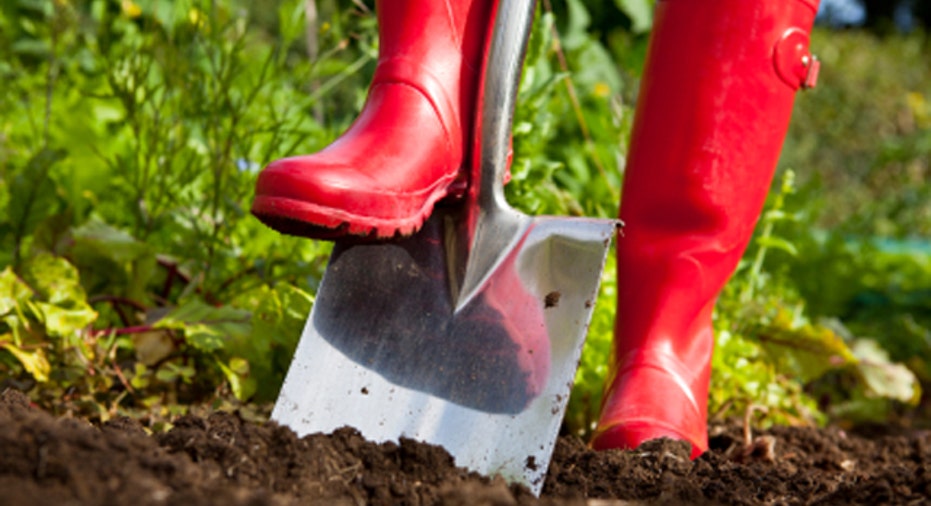 What's green, great exercise and can save you money?
Your home's garden.
Whether it's a few containers on the patio or a full-fledged vegetable patch, consumers are becoming producers via their own backyard gardens.
And it's not too soon to start planning for a bountiful harvest. As you thumb through seed catalogues, surf Internet gardening sites or troll home supply stores, here are a few garden ingredients that can help you maximize your harvest this year.
Good Soil With Direct Sunlight
Sunlight is free, and "it's my priority for production," says Sal Gilbertie, co-author of "Small-Plot, High-Yield Gardening" and chairman of Gilbertie's Herb Gardens.
A high-yield garden needs direct sun "a minimum of eight hours a day," or two-thirds of the day, Gilbertie says.
Some believe that you can get away with a little less.
You want at least six hours a day, says P. Allen Smith, host of P. Allen Smith Gardens and author of "Seasonal Recipes from the Garden." But it must be direct sunlight, not half-shade, he says.
Pick up a handful of soil and squeeze it. "It should fall apart when you let go of it, not stick together," Gilbertie says. That way the roots can grow unhindered.
"If it's a new bed or new containers, then you want to get a soil that's rich in compost," Gilbertie says. If you need it, you can buy "all sorts of prepared compost" in bags to supplement your soil.
Another important point for in-ground gardeners: Since you're eating what you grow, make sure the area you're using hasn't been previously contaminated with anything that could be harmful.
A Small Patch With Elbow Room for Plants
"People get excited about going out and planting a garden," Smith says. "And what they do is take on more area than they should and don't prepare the soil properly. The result is lackluster. They squander their resources."
If you're just starting out with a home garden, Smith recommends keeping it to a small area, either a series of containers or a small patch (say, 4 feet by 8 feet). "What you'll find is that you can produce more than you think in a small space," says Smith.
If you want volume, "it's all about crop rotation," he says. "You don't have to back a tractor into your backyard and rip it all up."
Another problem is overcrowding the plants, Gilbertie says: "You'll get more production out of six tomatoes planted 3 feet apart than out of 12 tomatoes planted 18 inches apart."
Finding out just how much room each plant needs is easy, Gilbertie says. Hit the Internet, consult your seed catalogues or chat with the folks at your gardening center.
Compost and Manure
"The world's very best fertilizer -- 100 percent, tested for 10,000 years -- is compost," says Eliot Coleman, author of "Four-Season Harvest: Organic Vegetables from Your Home Garden All Year Long." "And it's made for free, in your backyard from waste products."
If you do nothing to it -- no equipment, no turning -- what goes into your compost pile will be ready to use in about six months, he says. Gardening doesn't have to be expensive, Coleman stresses. "You can do this without spending any money at all."
If you buy, look for compost "that is loose enough but has the nutrient value that you can mix with your soil," says Gilbertie. Enriching ingredients can include everything from oyster shells or fish to bark, peat moss or sphagnum moss.
Another good fertilizer is manure. It "will also add to the composition and will give you what you need so that these plants really take off," Gilbertie says. And "it goes a long way."
Look for certification from the Organic Materials Review Institute, or OMRI, he says.
Containers or Raised Beds
Gardening doesn't have to mean bending over a hoe. You can adapt your home's garden to your lifestyle.
Containers are a great option for first-time gardeners, Smith says. His advice is to use three or four large containers -- 22 inches in diameter or larger -- along with saucers underneath (which cuts down on watering), he says.
If you want to take the next step beyond containers, try raised beds, Smith says. Not only are they easier to weed and easier on the back, but they look tidy and "you can do some fun designs with them in the backyard," he says.
Pro tip: Smith uses untreated wood for the beds. Favorites include western cedar, Spanish cedar, redwood and cypress.
The beds will be about 7 inches above the ground, "and you'll dig down under that another 3 inches," says Smith. So the entire bed is about 10 inches deep. And just as with any other garden area, you want to prep the soil and "you want soil that is very loose," he says.
The Pricier Items You Like to Eat
If you want to know what to plant, look no further than your shopping lists and grocery receipts.
If you're spending $10 per week on fresh herbs, then you might be smart to cultivate those, rather than the cabbage you can get for 22 cents per pound, Smith says. Instead, "you can spend $20 on herb plants and have enough to use all summer," Smith says. "Just do the math."
Tomatoes are a favorite in almost every household.
"I wouldn't let a summer go by without planting tomatoes," says Smith. And home gardeners have three basic categories, he says: slicers, sauce tomatoes and cherry tomatoes.
But it all comes back to planting what you would pay a premium for in the store. If slicers are cheap, maybe what you do is "pick up the big tomatoes at the farmers' market and support a local farm, and grow the little ones," he says.
Lettuce and Onions
"Early in the season, before tomato season, I plant lots of lettuces," Smith says.
"Basically, it's a big salad bowl out in your raised beds," he says. And once the first batch comes in, "I tend to plant a second crop of the same thing."
Some of Smith's favorites are buttercrunch, red sails, romaine and arugula. "You can buy them in flats," says Smith. "Or you can sow some seeds."
Another kitchen staple that is very doable for the first-time home gardener is onions, Coleman says.
You can get onion sets at any supply store, he says. "They're about the size of a dime. You put them in the ground and shortly you have scallions. Shortly after that you have green onions, and shortly after that you have bulb onions."
Green Vegetables With Great Flavor
"If I were starting out and I only had a possible garden the size of my kitchen table, I would plant it up with some nutritious, leafy greens," Coleman says.
His choice for homes in northern climes is Tuscan kale. "This is not the kale you were supposed to eat because it was good for you," he says. "This is the kale you want to eat." He suggests the Toscano variety.
In the south, collards are a good option, he says.
"Both types of greens can be used in a variety of meal situations, from sauteed with a little olive oil to complement your morning scrambled eggs, to dropped in a pot to perk up leftovers or soups.
Collards and Tuscan kale "will keep sprouting all summer if you pick the first leaves," Coleman says.
Broccoli is fairly easy to grow. It's a beautiful plant, Smith says. Even better, "anyone can grow broccoli if you start with little plants," he says. His favorite variety is Green Comet.