Seven Great Bachelor Getaways Other Than Vegas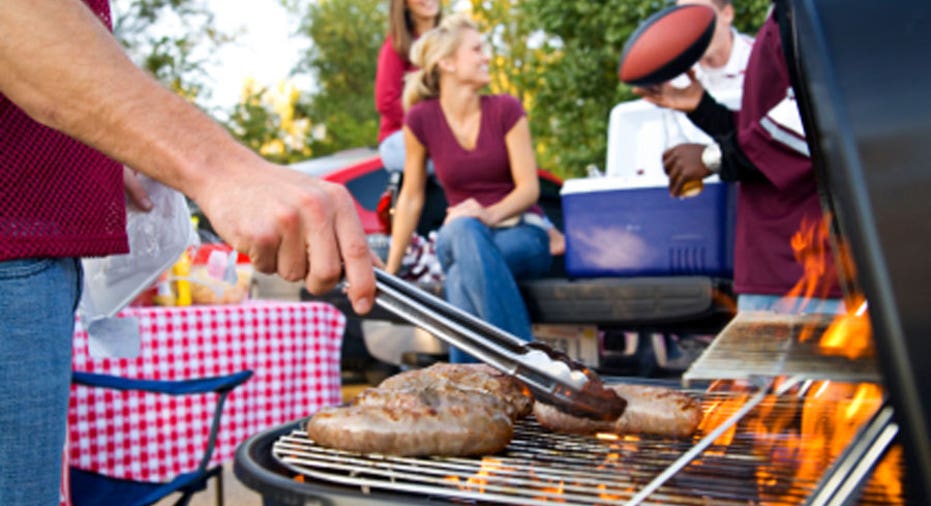 I Do ... Need to Plan a Party
To some guys, realizing you accidentally tipped the stripper in casino chips can only mean one thing: It's time for a wedding. Along with a splitting headache and a very foggy recollection of the previous night, it's become expected for bachelor parties to consist of hitting the roulette tables, the gentleman's club, and then seeing the hit to your wallet -- but maybe it's time to mix it up a bit.
There's an unmistakable honor and two primary responsibilities that come with being asked to be the best man at a wedding. Once you realize an anecdote and a stiff drink are all you need to get through your speech, it's time to plan an amazing bachelor party that can be talked about for years among your friends. All it requires is a little creativity.
"I think the biggest misconception is that the only way to celebrate is dropping a ton of cash and being as irresponsible as possible," says Susan Waits, senior associate weddings editor for TheKnot.com. "Don't feel like you have to follow a ridiculous pattern that's been set by others if it doesn't work for your crew."
Seeing as how those ridiculous patterns can be the easiest solution to a daunting task, what is a best man to do?
Know Your Man
Assuming the groom asked you to be his best man because you're more than a passing acquaintance, the planning should be simple so long as you keep it focused.
"The biggest challenge that the best man usually has to overcome is the idea that he needs to please everyone in the party when deciding what to do," says Tom Clary, writer of TheDoomedGroom.com. "There is only one person whose opinion he should be concerned with, and that's the groom."
If you have trouble pinning down a fun idea that he hasn't done before, Clary recommends asking the groom-to-be for a "bucket list" of things he's wanted to do as a guideline for schedules and where to go.
Once you settle on the general idea of the bachelor party, it's important to keep in mind that you are in essence managing a vacation or party for a group of potentially very different people.
"I think it's always hard for the best man to make sure they're doing what the groom would want while also adding elements of surprise," Waits says. "Whether it's the location, cost or activities, there are a lot of moving parts and personalities to juggle. You just have to be patient with everyone's needs and requests, and communicate as best as you can."
Take the Plunge
Whether the man of honor is a veritable outdoorsman or hasn't tied a knot besides his shoes, there is a host of outdoor excursions perfect for large groups of guys.
"Adventure-packed weekends are always a sure bet for an awesome time," says Waits. "Whatever your hobbies are, or anything you've been dying to try, why not take advantage of the opportunity to do it now?"
You could finally conquer your fear of white-water rafting after watching "The River Wild." Taking a two-day slosh down a river can include riverside camping, prepared meals, horrifying rapid names such as "the washing machine," and the inevitable camaraderie and entertainment that comes from pulling your buddy back into the raft. Two-day trips can cost about $250 to $300 per person, but be sure to ask about large group discounts and bachelor party specials.
If you're near the coast, check for surfing camps. Eli Howard's Surf School north of San Diego offers two days of surfing instruction, surfing gear, tents and food for $150 per person. Ron Jon Surf School in Cocoa Beach, Fla., provides a three-hour lesson at $85 to $135 per person, but be sure to ask about special group rates. There might not be a cooler type of school, and there's bound to be metaphors galore if you're hurting for speech material.
His Other Lady is the Sea
If your groom wants to get as far away from everyday life as possible with his best friends, why not confine him to a small boat with them several miles out at sea? Multiple-day fishing charters offer a sense of adventure and perhaps a once-in-a-lifetime experience, not to mention the larger catches (and stories) that typically come with fishing waters farther offshore.
Consider companies such as That's Right and Pretty Work Charters, which offer charters for up to two days and 20 people out of Ocean City, Md., or the Florida Keys, for $450 to $5,500.
Newport Landing Sportfishing in Newport Beach, Calif., offers a two-day charter that sleeps 25 and runs from $5,495 to $6,195, depending on the days. Throw in rod rentals, a tackle bag and a temporary fishing license, and the cost comes out to around $255 per person for 25 people on trips on most weekdays. Manager Thor Brisbin says they book many bachelor parties on the overnighter, with revelers playing cards, watching movies and having a few beers on their way to deep waters to catch big game fish such as tuna and yellowtail.
"We don't want anyone to be unsafe, but they have a good time," Brisbin says.
Be prepared: The sea can invoke the sentimentality and bonding that a campfire can many times over. Motion sickness medication is a must, or "I love you, man" won't be the only thing you find flying out of your mouth.
Road Trip
Let the groom-to-be spend some time with his best buds on the open highway with a good old-fashioned road trip. Pick a destination, and let the journey be half the fun. Depending on your group size, caravan or rent a recreational vehicle from a place such as Cruise America, which offers vehicles large enough to sleep eight. Prices vary significantly based on season, location and trip time, but the larger vehicle averages several hundred dollars for a trip of a few nights.
Picking a music-and-arts festival as your destination not only provides a bit of nostalgia for the college days, along with a realization that everyone has developed a secret affinity for Kelly Clarkson singles. Major draws such as Coachella in California (April), Bonnaroo in Tennessee (June), and South by Southwest in Texas (March), will provide nonstop entertainment for a few days, and your accommodations will already be covered.
Be prepared to spend anywhere from $200 to more than $1,000 per ticket to these festivals, which can draw more than 80,000 people per day. As is generally the case with transportation and festivals, you can save a lot of money by booking as far in advance as possible.
Unite the Parties
If planning a trip just isn't going to happen or it's not what the man wants, make it a local bachelor party -- just don't use it as an excuse to mail it in.
Get tickets to a baseball or football game or a standup comedy act in town, then rent out a room or patio at your favorite bar to debrief. It goes without saying, but unless your friends could drink Betty Ford under the table, make sure to do the math so enough tabs are opened to offset the bulk of the bar's rental minimum.
Along the same lines, why not invite the ladies to meet your group at the bar? It might seem counterintuitive, but if you're all friends, why not party together?
"We're seeing a huge trend in dual-gender bachelor and bachelorette parties, and honestly, why not?" Waits says. "I'm telling you, it's the best. A raucous night out with your entire group can be just as memorable (as separate parties)."
In the end, there are enough options for having a fun and memorable time that as long as you keep the bachelor's preferences as your priority, you won't have to worry about a hangover of regret and incriminating photos.
"The list (of ideas) is endless," Clary says. "The best man is only limited by his imagination."