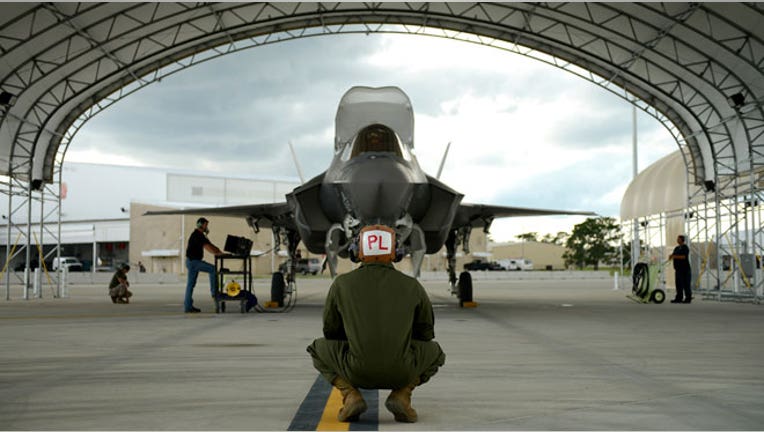 The defense industry will likely see some accelerated merger and acquisition activity if Washington's plan for spending cuts kicks in as scheduled, analysts said this week.
Sequestration, a set of automatic spending cuts triggered on March 1 if Republicans and Democrats don't reach a deal, would reduce the federal government's budget by $85 billion in 2013 and $1 trillion over the next decade.
The Department of Defense would be responsible for $46 billion of those spending reductions this year, while the Pentagon's budget could be slashed as much as $500 billion in the next 10 years.
Adding to the uncertainty for the Pentagon and defense contractors is the pending expiration of a continuing resolution that has held defense spending at 2012 levels. The continuing resolution expires March 27 and Congress must choose to renew it or approve a defense budget bill.
With reductions in military spending nearly official, defense contractors are bracing for the impact as fewer and smaller contracts may spur some companies to join forces or diversify through acquisitions.
"Any further reduction in defense spending poses a risk and could lead to consolidation," said Marina Malenic, an industry reporter for defense and security consultant IHS Jane's. "We're more likely to see consolidation at mid-tier and low-tier levels."
While the M&A field is often hard to predict, Malenic explained, it's unlikely any of the larger companies like Northrop Grumman (NYSE:NOC) or Lockheed Martin (NYSE:LMT) would consider a merger.
Lockheed Martin, the product of a 1995 merger between Lockheed Corporation and Martin Marietta, is a prime example of consolidation in the defense industry. In 1998, Lockheed Martin was considering an $8.3 billion merger with Northrop Grumman but scrapped the plans amid government concerns.
"The U.S. government won't allow for consolidation of the big guys," said Brian Ruttenbur, an analyst with CRT Capital Group.
Ruttenbur said the cuts to defense spending would lead to contractors seeing their multiples narrow in the near-term, while dwindling Pentagon contracts would also lead to lower margins.
Diversifying Their Defense Portfolios
The industry's big players are more likely to weather the storm and act on acquisition opportunities, particularly in cyber security and IT.
"Cyber security and IT are potential areas for diversification. Traditional areas (weapons systems and vehicles) are not hot targets," Malenic said.
Malenic added that cyber security and IT are seen as still growing and could continue to grow despite defense contraction, providing an attractive option for companies looking to diversify.
"The big players look to move into areas they have little exposure," she said.
Just this month, a string of cyber attacks have hit Apple (NASDAQ:AAPL), Facebook (NASDAQ:FB) and others. The Twitter pages of Burger King and Jeep were also hacked this week.
Technology security firm Mandiant, founded by retired Air Force officer Kevin Mandia, released a report Tuesday alleging that a Chinese military unit hacked into 141 businesses.
The threat of cyber attacks have increased substantially in recent years, fueling the notion that services protecting the military against such threats will be in greater demand.
General Dynamics (NYSE:GD), the original creator of the F-16 fighter jet before selling the division to the former Lockheed Corporation, acquired software maker Ascend Intelligence in 2010. In September, the company announced the acquisition of Open Kernel Labs, which provides security for mobile devices.
Companies consider acquisitions in cyber security and IT to be less risky, although "some companies have already been burned," she said.
"That's the thought," Malenic said when asked if defense companies have looked to spread out risk by diversifying in cyber security. "Whether or not it's a good one remains to be seen."
Ruttenbur also indicated that in the event sequestration takes effect, DoD will cut services the most and cyber security may not get cut as much as other areas.
Winning the Sequestration Battle
The industry has warned that spending cuts at the Pentagon could lead to hundreds of thousands of jobs lost.
Outgoing Defense Secretary Leon Panetta said in a speech at Georgetown University that sequestration would force the Pentagon to put up to 800,000 civilian employees on unpaid leave for 22 work days and reduce some military operations.
Ruttenbur said the industry will continue to feel the impact of the automatic cuts for several years. But given both the threat of future conflicts and how many companies have thrived during peacetime, "the defense industry will survive," he said.
"Pre 9/11, defense spending was about $277 billion. Core defense alone is now $525 billion, and sequestration cuts less than $50 billion of that," he said. "Things will slow down, but it's probably a near-term thing."